The Wizard of Oz is a 1939 American musical fantasy film produced by Metro-Goldwyn-Mayer. Widely regarded to be one of the greatest films in cinema history, it is the most commercially successful adaptation of L. Frank Baum's 1900 children's book The Wonderful Wizard of Oz.
Purchase THE WIZARD OF OZ on Ultra HD Blu-ray Today!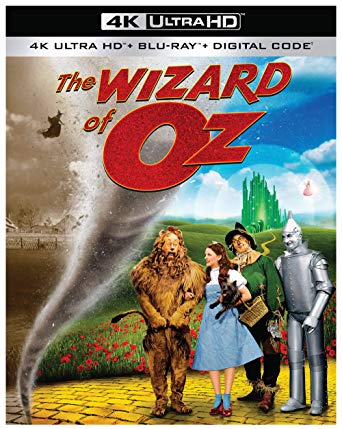 THE MOVIE:
Since 1959, about almost every year, thousands waited for The Wizard of Oz to air. Families would sit at home around the television, cozy in the winter months with excitement as the credits started to roll to where the story takes us into Kansas. It has become an annual event for families all across America as they watch Dorothy's adventure down the yellow brick road.
A film that has been nominated for several Academy Awards, including Best Picture, Best Visual Effects, but only won Best Song and Best Original Music Score, turned out to be one of America's Classic films of all time. Although the film only grossed approximately $3 million compared to their production cost, $2.8 million, MGM didn't consider the film to be profitable when the film was released in 1939. They did consider the film to be profitable however when the film was re-released ten years later.
The Wizard of Oz has touched every person from all over the world from the age of a toddler to as old as any person's life will take them. For those of you who unfortunately haven't seen this spectacular, one of a kind film, here is your chance to see it 80 years later in Ultra HD 4K Blu-ray.
VIDEO QUALITY / AUDIO QUALITY:
The Wizard of Oz comes to Ultra HD Blu-ray 4k boasting HDR10+ Dolby Vision. It looks absolutely remarkable given it's age. Worth noting is Using state of the art technology, a new 8K 16bit scan of the original Technicolor camera negative became the basis for the 4K UHD scan. The process was overseen by MPI colorist Janet Wilson, who has overseen every remaster of The Wizard of Oz for the past 20 years. I think that is pretty big not only technically but from the human element you have a person who is truly improving on their past work. In addition we get DTS HD Master audio 5.1 track. Likely the same track we've had in prior releases like the 3D for instance.
Dialogue is delivered with great precision and clarity, as do sound effects that fill the rears immersing you deeper into the movie. All speakers are used to full effect throughout and really spring to life when the musical numbers start. Orchestral music and lyrics will fill your room with a fantastic surround experience. LFE is constant throughout the track, whether it be from the musical numbers or to thunder claps from the Wizard himself.
SUPPLEMENTS:
The Wizard of Oz Ultra HD Blu-ray contains the following previously released special features:
· Commentary by John Fricke with Barbara Freed-Saltzman, Margaret Hamilton, Ray Bolger, Jack Haley, John Lahr, Jane Lahr, Hamilton Meserve, Dona Massin, William Tuttle, Buddy Ebsen, Mervyn LeRoy and Jerry Maren.
· 1990 CBS Special "The Wonderful Wizard of Oz: The Making of a Movie Classic."
The Wizard of Oz Blu-ray contains the following previously released special features:
· Commentary- Commentary by John Fricke with Barbara Freed-Saltzman, Margaret Hamilton, Ray Bolger, Jack Haley, John Lahr, Jane Lahr, Hamilton Meserve, Dona Massin, William Tuttle, Buddy Ebsen, Mervyn LeRoy and Jerry Maren
· The Making of The Wonderful Wizard of Oz
· The Wonderful Wizard of Oz Storybook (narrated by Angela Lansbury)
· We Haven't Really Met Properly…
o We Haven't Really Met Properly: "Frank Morgan"
o We Haven't Really Met Properly: "Ray Bolger"
o We Haven't Really Met Properly: "Bert Lahr"
o We Haven't Really Met Properly: "Jack Haley"
o We Haven't Really Met Properly: "Billie Burke"
o We Haven't Really Met Properly: "Margaret Hamilton"
o We Haven't Really Met Properly: "Charley Grapewin"
o We Haven't Really Met Properly: "Clara Blandick"
o We Haven't Really Met Properly: "Terry"
· Music & Effects Track
· Original Mono Track
· Sing Along Tracks
· Audio Jukebox
· Leo is on the Air Radio Promo
· Good News of 1939 Radio Show
· 12/25/1950 Lux Radio Broadcast
· Stills Galleries
o Oz on Broadway
o Pre-MGM
o Sketches and Storyboards
o Richard Thorpe's Oz
o Buddy Ebsen
o Oz Comes to Life
o Behind the Scenes
o Portraits
o Special Effects
o Post Production
o Deleted Scenes
o Original Publicity
o 8/15/1939 Hollywood Premiere
o 8/17/1939 New York Premiere
o 2/29/1940 Academy Awards® Ceremony
o Oz Abroad
o Oz Revivals
· Trailers
The 1956 television broadcast premiere of the film on the CBS network reintroduced the film to the public; according to the Library of Congress, it is the most seen film in movie history. – wikipedia