At the 1992 Cannes Film Festival, Van Damme and Lundgren were involved in a verbal altercation that almost turned physical when both men pushed each other only to be separated. On his website, Dolph Lundgren confirmed that it was just a publicity stunt to promote the film.
Purchase UNIVERSAL SOLDIER on Ultra HD Blu-ray Today!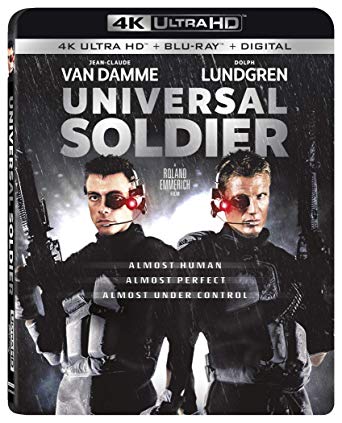 THE MOVIE:
The film tells the story of Luc Deveraux (Jean-Claude Van Damme), a former U.S. Army soldier who was killed in the Vietnam War in 1969, and returned to life following a secret military project called the "Universal Soldier" program. However, he finds out about his past even though his memory was erased, and escapes alongside a young TV journalist (Ally Walker). Along the way, they have to deal with the return of his archenemy, Sgt. Andrew Scott (Dolph Lundgren), who had lost his sanity in the Vietnam War, and became a psychotic megalomaniac, intent on killing him and leading the Universal Soldiers.
VIDEO QUALITY / AUDIO QUALITY:
Starting to be very typical for Lionsgate is many back catalog releases coming to Ultra HD Blu-ray 4k with Dolby Vision and a 5.1 DTS HD Master audio track. I definitely cant complain about the Dolby Vision and I think many older films just can't justify new audio tracks like Dolby Atmos if never had one before. The film has many dark scenes and the Dolby Vision HDR definitely helps intensify those to be as dark as they can be when compared to previous blu-ray versions.
SUPPLEMENTS:
Audio commentary by Roland Emmerich, Dean Devlin, Jean-Claude Van Damme, and Dolph Lundgren
Audio commentary by Roland Emmerich and Dean Devlin
"A Tale of Two Titans" Featurette
"Guns, Genes, and Fighting Machines" Featurette
Alternate Ending
"Behind the Scenes" Featurette
Trailer
Universal Soldier was released by TriStar Pictures on July 10, 1992. Despite mostly negative reviews, the film grossed $36 million in the U.S. against its budget of $23 million and spawned a series of films, including several rather poorly received direct-to-TV films. – wikipedia