Order your copy on 4k UHD from Amazon
In Shanghai, there is a laboratory that has a Yeti held prisoner. He breaks out of there and wanders into the city. The facility is owned by a wealthy man named Mrs. Burnish who collects exotic animals and wants to show off the Yeti to the world. After escaping, the Yeti is lost and confused, he hides while the guards search for him.
In the city, a girl named Yi, who lives an apartment building with her mother and Nai Nai, works so much to make sure she is constantly busy. Yi has friends with Peng and his cousin Jin but because she is so busy, she has no time for her friends or family. In her private time, she plays the violin on the roof and one night she discovers the Yeti is hiding up there amongst the junk. She names him Everest when she figures out that's where he is from and wants to get him home somehow.
ABOMINABLE is directed by Jill Culton and Todd Wilderman. They have worked on a few of the same projects but this is the first time they have co-directed a movie together. In this movie, the story really does flow with takes some time out to actually see the places they go. What I mean is that China is a beautiful place and they captured it well. The voice actors are very good and it surprises me how different the ages are for the three main characters but, to be fair, Chloe Bennet does have a younger voice.
Cast
Chloe Bennet as Yi
Albert Tsai as Peng
Tenzing Norgay Trainor as Jin
Eddie Izzard as Burnish
Sarah Paulson as Dr. Zara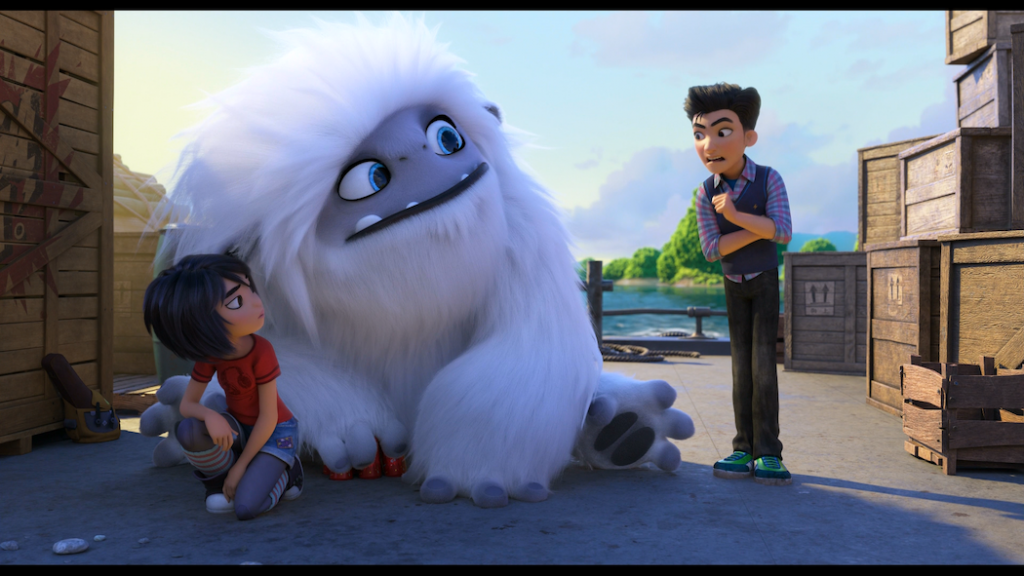 VIDEO QUALITY:
The video is a 2160p HEVC presentation that looks spectacular. Animation in general in 4k is a sight to see due to the clarity and colors. The HDR does make the coloring bold but slightly darker. Not a lot but it is subtle. The film is colorful, to begin with, and everything is beautiful from the foliage to the various settings that they go through. There is sharp detailing in clothing and plant life but especially in the hair. Everest has wispy, white hair where stands look separated. Contrasting is also well done with blacks looking deep and dark.
AUDIO QUALITY:
The audio is a Dolby Atmos mix that defaults to a Dolby TrueHD 7.1 mix depending on your equipment. The movie is effects-heavy and it all works well together. There are some big sounds in the action moments but it is an immersive mix. The Atmos kicks in the larger action moments where the groups are being chased or one great scene with the wave of nature. The music and score blend well with the other elements. The dialogue is prioritized properly.
SUPPLEMENTS & PACKAGING
-Audio Commentary:
with writer/director Jill Culton, co-director Todd Wilderman, producer Suzanne Buirgy, producer/chief creative officer Peilin Chou, head of character Animation John Hill, production designer Max Boas, and visual effects supervisor Mark Edwards.
-DreamWorks Short – Marooned:
About a robot who is left behind at a base.
-Show & Tell:
This is a short about the Yeti and objects in the film.
-Making a Myth:
This discusses how the inspiration to create the Yeti came to play.
-Animating Abominable:
This gets into the settings from the movie and animating them.
-Meet the Cast:
These are interviews with the cast.
-Your Yeti Care Guide:
Care tips for animals.
-Courage to Dream:
This explores Yi as a character.
-An Abominable Tour with Chloe Bennet:
Chloe Bennet, who plays Yi, gets into elements of the film.
-Everest's Talk Box:
Joe Izzo gets into creating the voice fo Everest.
-Cooking with Nai Nai:
Making some food with Tsai Chin and Chef Shirley.
-How to…Abominable:
This two-part feature on how to draw and creating lanterns.
-You Can Speak Yeti-Ese:
How to speak Yeti with Chloe Bennet.
-Nai Nai Says:
Advice from the elder.
-Deleted Scenes
Disc Details
2-Disc Set w/ 1 4k UHD and 1 Blu-ray
Digital Copy
Running Time
97 mins
Edition Ratings
Rated PG
Region Coding
Region Free
4k UHD
Video Resolution
2160p HEVC H.265
HDR: HDR10+
Aspect ratio: 1.85:1
Audio Mixes
English Dolby Atmos
English Dolby TrueHD 7.1
French Dolby Digital Plus 7.1
Spanish Dolby Digital Plus 7.1
Subtitles
English SDH
French
Spanish
Blu-ray
Video Resolution
1080p AVC MPEG-4
Aspect ratio: 1.85:1
Audio Mixes
English Dolby Atmos
English Dolby TrueHD 7.1
French Dolby Digital Plus 7.1
Spanish Dolby Digital Plus 7.1
Subtitles
English SDH
French
Spanish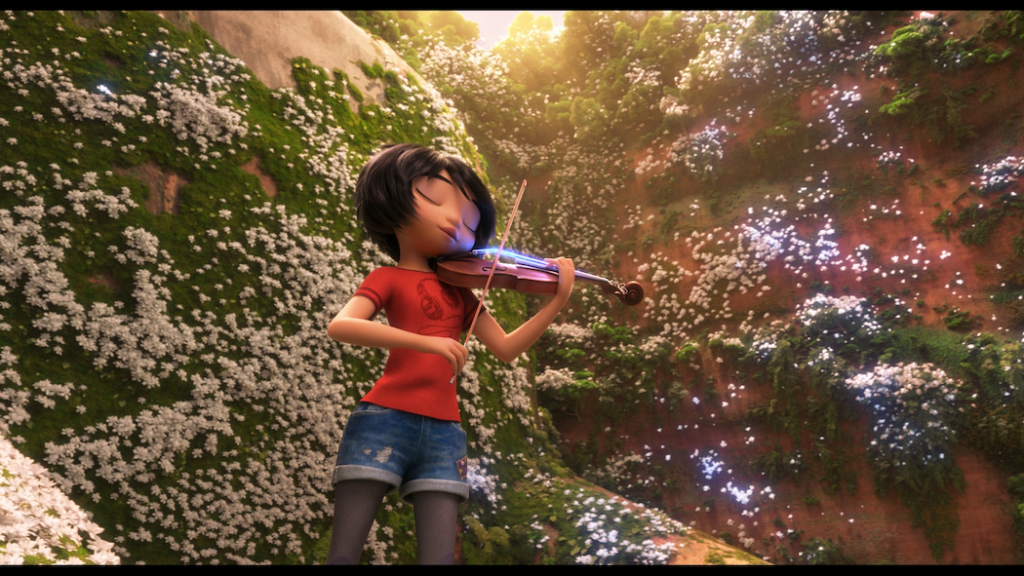 THE BOTTOM LINE:
ABOMINABLE is an entertaining film with characters that I really enjoyed on screen. The animation is smooth and beautifully done with enticing scenery. The transfer is excellent and shows the brilliance of animation in this format. There is a nice set of extras that appeal to both children as well as adults. I recommend checking this out or if you've seen it, pick it up.