Frank Penny is a disgraced cop looking for a shot at redemption after killing a child abductor. With the police chief's 11-year-old daughter's life on the line, Frank goes rogue to try and save her..
Own LINE OF DUTY on Blu-ray on January 14th, 2020!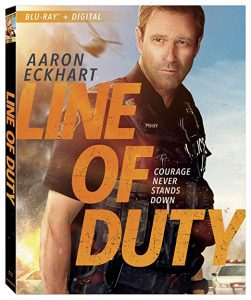 THE MOVIE:
Frank Penny (Aaron Eckhart) is a normal beat cop that doesn't have the greatest reputation within the police force. While on his standard street patrol Penny hears that there is a suspect on the run within his area. He decides to spring into action and chase down the suspect, but the story about who this suspect is gets a little more complex after Penny has to shoot the suspect.
After the shooting Penny discovers that the 11 year old daughter of the Police Chief  Volk (Giancarlo Esposito) who forces him to give up his weapon and head home. Penny runs across an online reporter Ava Brooks (Courtney Eaton) that is trying to interview Penny.
The two team up and try to solve the case of the missing child, all while being live on the news and without any help from fellow police officers. Frank Penny is out to prove that he isn't the disgraced officer that the force and himself thinks he is.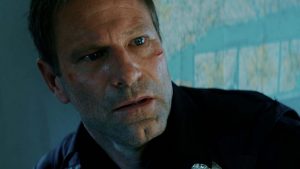 VIDEO/AUDIO QUALITY:
The video on blu-ray is a 1080p quality and the visuals are clear through the film. The majority of the film is taken place in well light areas during the day so the visuals were not any issue.
The audio for the film were clear throughout. The film is fairly dialogue heavy and I was able to hear it all without any complaint. There was some constant gunfire during the last 45min or so of the film so that was really the only time the audio was louder than the rest of the film.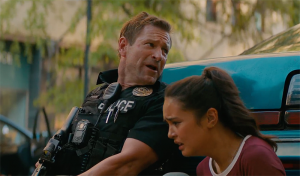 SUPPLEMENTS:
Bonus Features:
Audio Commentary with Director Steven C. Miller
Meaningful Action: Making LINE OF DUTY
Disc Details:
Blu-ray
DVD
Digital Copy
Running Time:
99 min.
Edition Ratings:
Rated R
Region Coding:
Region A
Video Resolution:
Resolution: 1080p (2.39:1)
Audio Mixes:
English (Dolby Digital 5.1)
Spanish
Subtitles:
English
Spanish