Doctor Sleep is a 2019 American horror film based on the 2013 novel of the same name by Stephen King, a sequel to King's 1977 novel The Shining. The film, which also serves as a sequel to the film adaptation of The Shining, directed by Stanley Kubrick, is set several decades after the events of the original and combines elements of the 1977 novel as well. Doctor Sleep is written, directed, and edited by Mike Flanagan. It stars Ewan McGregor as Danny Torrance, a man with psychic abilities who struggles with childhood trauma. Rebecca Ferguson, Kyliegh Curran, and Cliff Curtis have supporting roles.
Own DOCTOR SLEEP on Blu-ray on NOW!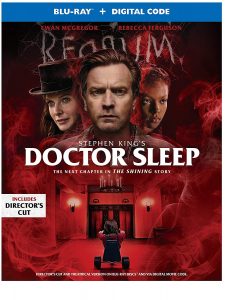 THE MOVIE:
This film follows Danny Torrence (Ewan McGregor) the child from the classic Stephen King film "The Shining". Danny was obviously traumatized from the events that took place at the Overlook Hotel when his father went mad and changed his life forever. Danny eventually finds people and ways to change his life for the better and get sober and try to put his troubled past behind him as much as possible. But, what Danny doesn't know is that there are other people that also share the same special feeling that he has felt ever since his time at the Overlook Hotel.
DOCTOR SLEEP was by far the best sequel that could have come from the original film The Shining. Ewan McGregor was the best person I could imagine playing the role of older Danny Torrence. The supporting cast was also a great pairing throughout the film. When the film eventually made it to the Overlook Hotel that was the icing on the cake. The way the film makers were able to re create such iconic moments was the highlight of the film for myself.
The only downsides were that I wish there was a little more emphasis on the story of the "shine" and the crew that was trying to steal everyones "shine". I also wish that the character Bradley played by Jacob Tremblay was more dominant. He is such a up and coming skilled actor so I wish he was in there for a bit more of the film. But of course those are both just nitpicking factors.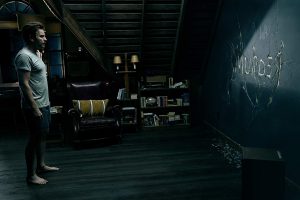 VIDEO/AUDIO QUALITY:
The video on blu-ray is a 1080p quality was amazing. The visuals were some of the best I have seen in 2019. The greatest factor was when the film made it to the Overlook Hotel and the way they made the hotel look in current day and in past was spectacular. Being able to witness the hotel when the flashback scenes happened was A+. Especially the iconic carpet and elevator scene.
The audio was also very well done. A lot of the film was dialogue mixed with some creepy tones and every sound came across very well. No complaints on the audio department. It will sound just as good in your living room as it will in the movie theater.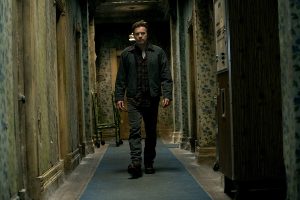 SUPPLEMENTS:
Bonus Features:
From The Shining To Sleep: Author Stephen King and Director/Screenwriter Mike Flanagan look back at the original novel and classic film to discuss how they took on the sequel.
The Making of DOCTOR SLEEP: A New Version
Return to Overlook
Disc Details:
Blu-ray (Theatrical Cut)
Blu-ray (Director's Cut)
Digital Copy
Running Time:
152 min. (Theatrical Cut)
180 min. (Direc†or's Cut)
Edition Ratings:
Rated R
Region Coding:
Region A
Video Resolution:
Resolution: 1080p (1.85:1)
Audio Mixes:
English (Dolby Digital 5.1)
Spanish
Portuguese
French
Subtitles:
English
Spanish
French
Portuguese