Ford v Ferrari (titled Le Mans '66 in some European territories) is a 2019 American sports drama film directed by James Mangold and written by Jez Butterworth, John-Henry Butterworth, and Jason Keller. It stars Matt Damon and Christian Bale, with Jon Bernthal, Caitriona Balfe, Tracy Letts, Josh Lucas, Noah Jupe, Remo Girone, and Ray McKinnon in supporting roles.
Purchase FORD V FERRARI on Ultra HD Blu-ray Today!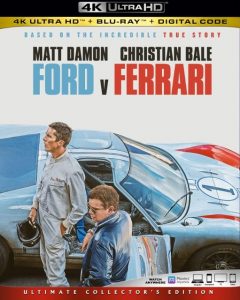 THE MOVIE:
American automotive designer Carroll Shelby and fearless British race car driver Ken Miles battle corporate interference, the laws of physics and their own personal demons to build a revolutionary vehicle for the Ford Motor Co. Together, they plan to compete against the race cars of Enzo Ferrari at the 24 Hours of Le Mans in France in 1966.
VIDEO QUALITY /AUDIO QUALITY:
Boasting a strong HDR10 presence and a Dolby Atmos track that rivals the look but in sound the Ford v Ferrari release is sure to please aside from the special features. The blacks are dark, the brights are rich in depth and you'll have a racing good time watching this visual and sonic treat.
SUPPLEMENTS:
The lowest point in the release is the lack of special features. Perhaps with the Oscar nod we'll get some more in the future on a re-release. So what does this one have? Well you won't find it on the UHD but instead on the blu-ray disc and that is a well made 8 part documentary dubbed Bringing the Rivalry to Life.
The plot follows a determined team of American engineers and designers, led by automotive visionary Carroll Shelby and his British driver, Ken Miles, who are dispatched by Henry Ford II and Lee Iacocca with the mission of building the Ford GT40, a new racing car with the potential to finally defeat the perennially dominant Ferrari racing team at the 1966 24 Hours of Le Mans race in France. – wikipedia