Uncut Gems is a 2019 American crime thriller film directed by Josh and Benny Safdie, who co-wrote the screenplay with Ronald Bronstein. The film stars Adam Sandler as Howard Ratner, a Jewish jeweler and gambling addict in New York City's Diamond District, who must retrieve an expensive gem he purchased to pay off his debts. The film also stars Kevin Garnett, Idina Menzel, Lakeith Stanfield, Julia Fox, and Eric Bogosian. Filming took place from September to November 2018.
Purchase UNCUT GEMS on Blu-ray Today!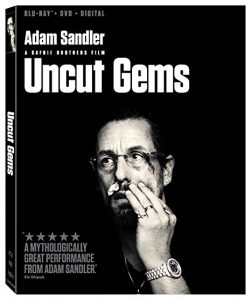 THE MOVIE:
A charismatic jeweller makes a high-stakes bet that could lead to the windfall of a lifetime. In a precarious high-wire act, he must balance business, family and adversaries on all sides in pursuit of the ultimate win. A crazy trip of a movie and a wild ride in which it will take you on as Adam Sandler commands the screen. Sandler puts forth one of his strongest performances proving he is more then just his comedic schtick people like to type cast him as.
VIDEO QUALITY /AUDIO QUALITY:
UNCUT GEMS comes to blu-ray presented in 1080p at 2.39:1 aspect ratio with a DTS-HD Master Audio 5.1 soundtrack. Subtitles are provided in English SDH and Spanish. The audio track is piercing due to the vibe the director and composer wanted to portray. It's every bit a part of the movie's embodiment.
SUPPLEMENTS:
UNCUT GEMS comes with a digital copy and the blu-ray has a bonus featurette titled "Money on the Street: The Making of Uncut Gems". An informative piece worth the watch.
Uncut Gems had its world premiere at the Telluride Film Festival on August 30, 2019. It entered into a limited release in the United States on December 13, 2019, before a wide release on December 25, by A24. The film received critical acclaim, with its screenplay, direction, editing, Sandler's performance and Darius Khondji's cinematography receiving much of the praise.- wikipedia