Charlie's Angels is a 2019 American action comedy film written and directed by Elizabeth Banks from a story by Evan Spiliotopoulos and David Auburn. It stars Kristen Stewart, Naomi Scott, and Ella Balinska as the new generation of Angels who are working for a private detective agency named the Townsend Agency.
Purchase CHARLIE'S ANGELS on Ultra HD Blu-ray Today!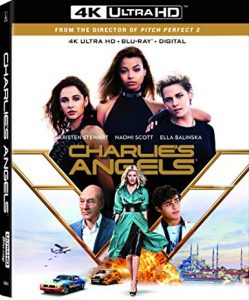 THE MOVIE:
Elena Houghlin is a scientist, engineer and inventor of Calisto — a sustainable energy source that will revolutionize the way people use power. But when the cutting edge technology falls into the wrong hands, Elena turns to the Townsend Agency for help. Now, it's up to the Angels ; Jane, Sabina and the newly recruited Elena to retrieve Calisto before it can be transformed into a weapon of mass destruction.
VIDEO QUALITY /AUDIO QUALITY:
CHARLIE'S ANGELS comes to Ultra HD Blu-ray with a 4K 2160p presentation with HDR (High Dynamic Range). Deep dark blacks, and vibrant brights make for a great picture quality. The soundtrack which has mainstream hit songs and even exclusive soundtrack songs sounds high and punchy with the stellar DTS X audio track. Heavy in the fronts and center channel and good use of the sub as well.
SUPPLEMENTS:
CHARLIE'S ANGELS BONUS MATERIALS:
Gag Reel – Check out these fun and never-seen-before bloopers saved from the cutting room floor!
5 Deleted Scenes
4 Behind-the-scenes Featurettes
"Stronger Together: The Sisterhood of the Angels" – Watch how the Angels trio of Kristen Stewart, Naomi Scott & Ella Balinska prepared for their iconic roles and formed a genuine sisterhood on set.
"Elizabeth Banks: As BOSSley" – We'll take a look at why the Charlie's Angels Director, Actress, Writer and Producer Elizabeth Banks is the perfect person to reintroduce audiences to this beloved, fun and action-packed franchise.
"Warriors on Set: Angels in Action" – The cast & crew take a look at some of the biggest action scenes from the film, including a peek behind-the-scenes of the stunt rehearsals with the cast.
"Tailored for Danger: Styling the Angels" – Learn all about the glamourous costumes, hair and make-up used to create the glitzy world of Charlie's Angels!
"Don't Call Me Angel" Music Video featuring Ariana Grande, Miley Cyrus & Lana Del Rey
The film is the third installment in the Charlie's Angels film series and serves as a continuation of the story that began with the television series of the same name by Ivan Goff and Ben Roberts, and the two previous theatrical films, Charlie's Angels (2000) and Charlie's Angels: Full Throttle (2003). – wikipedia