Top Gun is a 1986 American action drama film directed by Tony Scott, and produced by Don Simpson and Jerry Bruckheimer, in association with Paramount Pictures. The screenplay was written by Jim Cash and Jack Epps Jr., and was inspired by an article titled "Top Guns" published in California magazine three years earlier. The film stars Tom Cruise, Kelly McGillis, Val Kilmer, Anthony Edwards, and Tom Skerritt.
Purchase TOP GUN on 4K Blu-ray Today!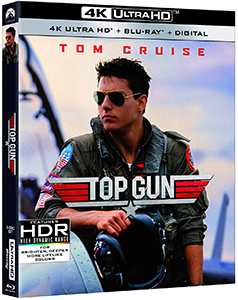 THE MOVIE:
The Top Gun Naval Fighter Weapons School is where the best of the best train to refine their elite flying skills. When hotshot fighter pilot Maverick (Tom Cruise) is sent to the school, his reckless attitude and cocky demeanor put him at odds with the other pilots, especially the cool and collected Iceman (Val Kilmer). But Maverick isn't only competing to be the top fighter pilot, he's also fighting for the attention of his beautiful flight instructor, Charlotte Blackwood (Kelly McGillis).
VIDEO QUALITY /AUDIO QUALITY:
TOP GUN comes to Ultra HD Blu-ray 4K with Dolby Vision HDR and Dolby Atmos. TOP GUN sounds and looks better then it ever has before. Immersive sound and fantastic visuals will make you feel the movie as much as you watch it. A great soundtrack to boot definitely makes this old classic sound amazing.
SUPPLEMENTS:
Top Gun comes with the following special features on the Ultra HD Blu-ray disc:
The Legacy of Top Gun
On Your Six – Thirty Years of Top Gun
-Looking Back
-America's Best
-Into the Danger Zone
-Going Ballistic
-Narrow Targets and the Future
Commentary by Producer Jerry Bruckheimer, Director Tony Scott, Co-Screenwriter Jack Epps, Jr., and Naval Experts
The UHD Special Features are on the blu-ray disc as well.
Danger Zone: The Making of Top Gun
-From the Ground Up – Pre-Production
-Playing with the Boys – Production: Land and Sea
-The Need for Speed – Production: Air
-Back to Basics – Visual Effects
-Combat Rock – The Music of Top Gun
-Afterburn – Release and Impact
Multi-Angle Storyboards
-Flat Spin
-Jester's Dead
Best of the Best: Inside the Real Top Gun
Music Videos
Original Theatrical Promotional Material
Top Gun was released on May 16, 1986. Upon its release, the film received generally mixed reviews from film critics but many particularly praised the action sequences, the effects, the aerial stunts, and the acting performances with Cruise and McGillis receiving the most praise. Despite its initial mixed critical reaction, the film was a huge commercial hit grossing US$356 million against a production budget of only US$15 million. – wikipedia