Sonic the Hedgehog is a 2020 action-adventure comedy film based on the video game franchise published by Sega. The film is directed by Jeff Fowler in his feature directorial debut and written by Pat Casey and Josh Miller. It stars Ben Schwartz as the voice of Sonic the Hedgehog and Jim Carrey as Doctor Robotnik, as well as James Marsden, Tika Sumpter, Natasha Rothwell, Adam Pally, and Neal McDonough.
Purchase SONIC THE HEDGEHOG on 4K Blu-ray Today!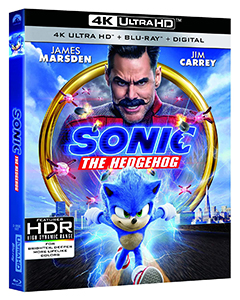 THE MOVIE:
The world needed a hero — it got a hedgehog. Powered with incredible speed, Sonic embraces his new home on Earth — until he accidentally knocks out the power grid, sparking the attention of uncool evil genius Dr. Robotnik. Now, it's supervillain vs. supersonic in an all-out race across the globe to stop Robotnik from using Sonic's unique power to achieve world domination.
VIDEO QUALITY /AUDIO QUALITY:
SONIC THE HEDGEHOG comes to Ultra HD Blu-ray 4K with HDR10 and Dolby Atmos. This film is picture quality at it's best. While Jim Carrey can offer some entertainment the film lacks some substance, however the picture quality sure does pop when it needs to; and is deep and dark in contrast where need be as well. Sonic sounds great with immersive sound so crank this one up and enjoy the ride! The kids will love it.
SUPPLEMENTS:
The 4K Ultra HD special features include:
-Commentary by director Jeff Fowler and the voice of Sonic, Ben Schwartz
-Around the World in 80 Seconds—See Sonic's next adventure!
-Deleted Scenes—Director Jeff Fowler introduces deleted scenes
-Bloopers—Laugh along with Jim Carrey and the cast
-"Speed Me Up" Music Video
-For the Love of Sonic—Jim Carrey and the cast discuss what Sonic the Hedgehog means to them
-Building Robotnik with Jim Carrey—See Jim Carrey bring supervillain Dr. Robotnik to life
-The Blue Blur: Origins of Sonic—Explore the origins of the legendary Blue Blur
-Sonic On Set—Visit the set with the voice of Sonic, Ben Schwartz
Development for a film began in the 1990s, but did not go beyond the planning stage until Sony Pictures acquired the film rights in 2013. Production involved the collaboration of Sega Sammy's Japanese studio Marza Animation Planet, with Fowler brought in to direct in 2016. After Sony put the project in turnaround, Paramount Pictures acquired it in 2017. – wikipedia