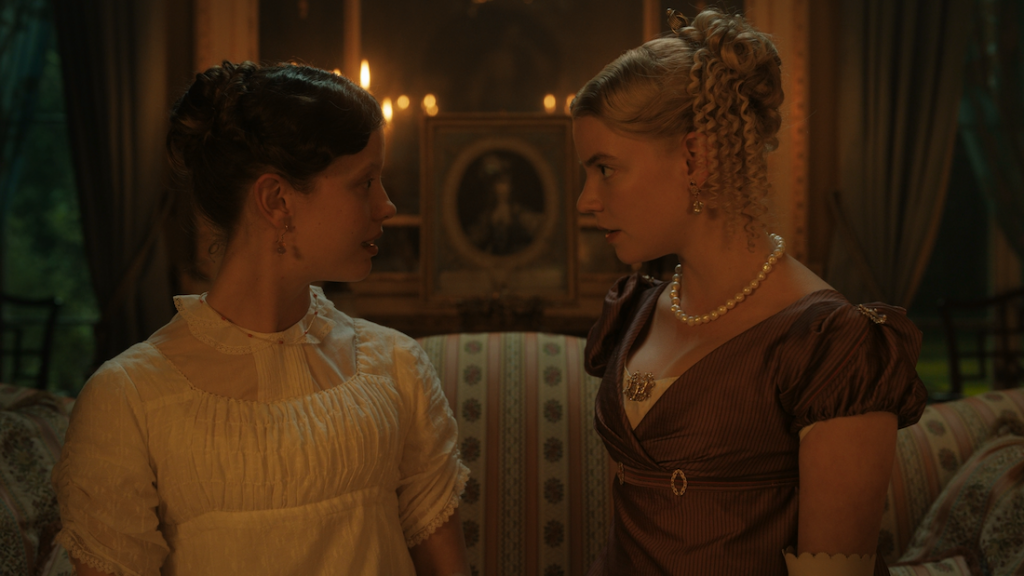 In the early 19th-Century England, Emma Woodhouse is a mix of a troublemaker and a gossip. She used to have fun with her friend Miss Taylor but she married and now Emma needs a new companion. She goes with Harriet Smith, a girl who has her education taken care of but she doesn't know who her parents are. She has a man who has proposed to her but Emma has some meddling to do if she wants to hang on to this partner.
EMMA. is directed by Autumn de Wilde and the screenplay is written by Eleanor Catton. It is based on the 1815 Jane Austin novel of the same name. This has a great cast with young actors who are a mix of knowns and unknowns. Anya Taylor-Joy is typically excellent in whatever role she takes and in this, she does the story justice.
Cast
Anya Taylor-Joy as Emma Woodhouse
Johnny Flynn as George Knightley
Mia Goth as Harriet Smith
Miranda Hart as Miss Bates
Bill Nighy as Mr. Woodhouse
Josh O'Connor as Mr. Elton
Callum Turner as Frank Churchill
Amber Anderson as Jane Fairfax
Rupert Graves as Mr. Weston
Gemma Whelan as Mrs. Weston
Tanya Reynolds as Mrs. Elton
Connor Swindells as Robert Martin
Oliver Chris as John Knightley
Chloe Pirrie as Isabella Knightley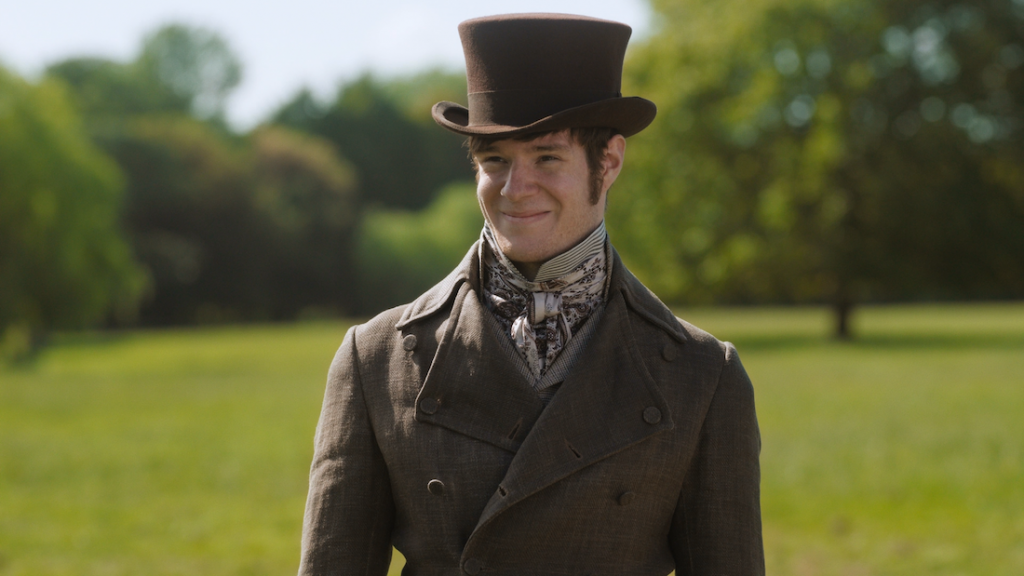 VIDEO QUALITY
The video is a 1080p AVC presentation that looks gorgeous. The film has been filmed digitally in 4k and uses the format to the fullest. Looking at the locations and focusing inward, the countryside is stunning no matter the weather. The misty fog and English weather has some grain but never washes out what it is covering. The brighter, daytime scenes look like paintings. The greens a brilliant and plant life are separated. Clothing is detailed with lacy collars and frills on the ladies. On the men, the textures of the fabrics in their suits have an intricacy on a whole other level. Skin textures are also detailed and pores are clearly visible. Skin tones are warm and natural.
AUDIO QUALITY
The audio is a lossless DTS-HD Master Audio 5.1 mix that has a solid mix. There aren't large moments like in an action movie but the sound creates the environment but it is also dialogue centric. Clean music is wonderfully composed to set the mood of the film. Outdoor scenes use all of the channels, with animals and the way that sound carries in these moments. These effects are evenly mixed and prioritized well with the dialogue.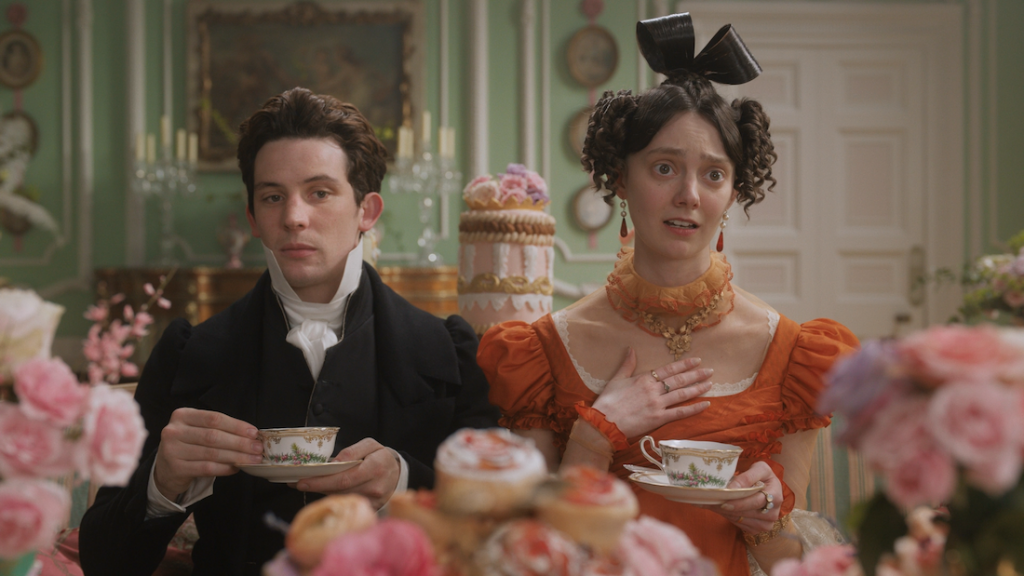 SUPPLEMENTS & PACKAGING
-Audio Commentary: with Autumn de Wilde, Screenwriter Eleanor Catton, and Director of Photography Christopher Blauvelt.
-A Playful Tease: This featurette discusses casting and how well the actors fit their roles. It looks like a fun production to be invaded with.
-The Autumn Gaze: This looks at Autumn de Wilde's debut film.
-Crafting a Colorful World: This is about creating the sets for the period.
-Gag Reel
-Deleted Scenes
Disc Details
2-Disc Set w/1 Blu-ray and 1 DVD
Digital Copy from Movies Anywhere
Embossed Slipcover
Running Time
124 mins
Edition Ratings
Rated PG
Region Coding
Region Free
Video Resolution
1080p AVC MPEG-4
Aspect ratio: 1.78:1
Audio Mixes
English DTS-HD Master Audio 5.1
French DTS 5.1
Subtitles
English SDH
French
Spanish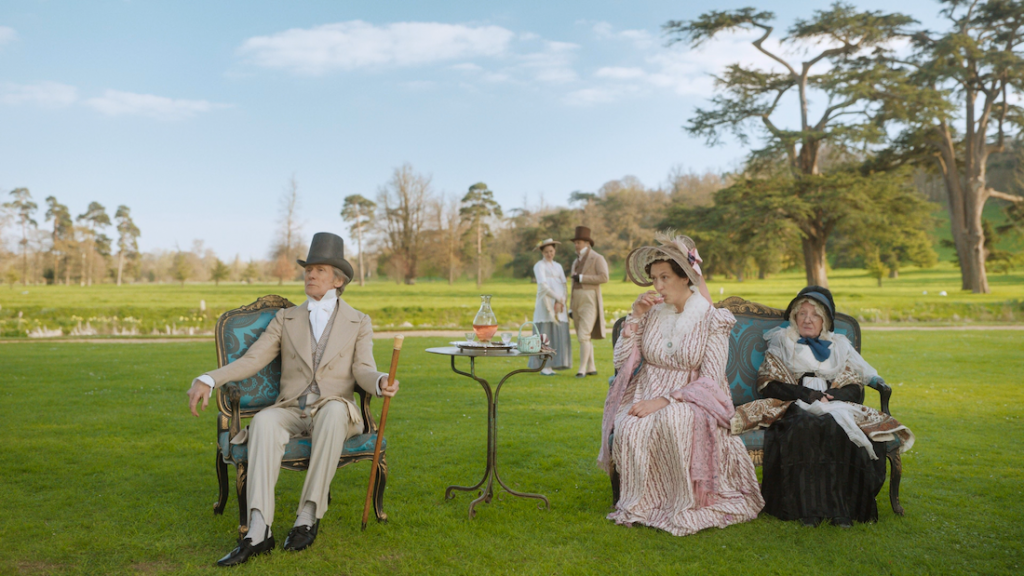 THE BOTTOM LINE
EMMA. is a very good version of this story/film and there are so many contributing factors to that. The acting, the writing, and the chemistry between the actors make for a great film. The Blu-ray has superb video and near erect audio. The extras are really good and do get into the production enough to provide a good amount of insight. I can highly recommend checking this out and makes for another successful role from Anya Taylor-Joy.