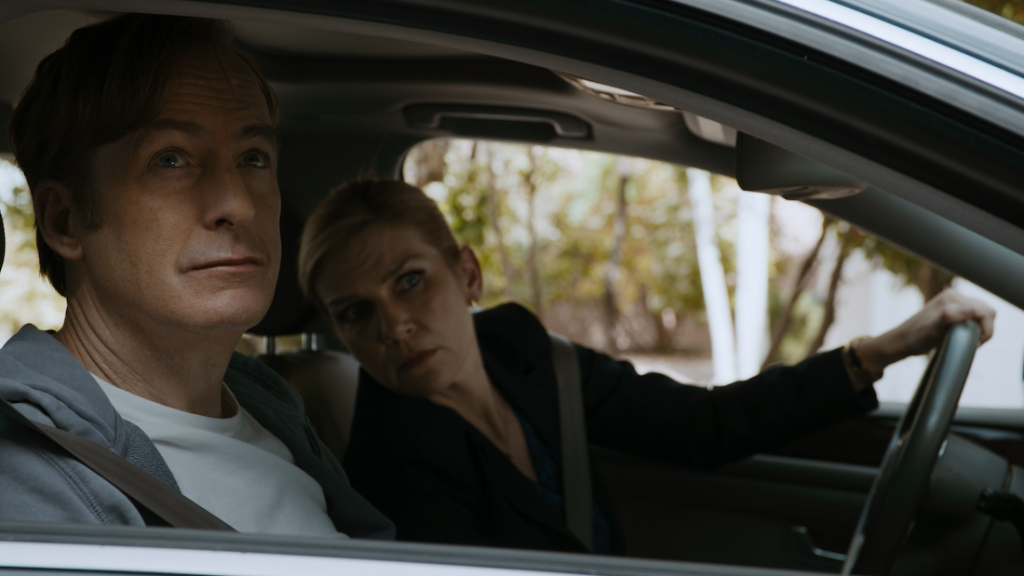 In Season 5, Jimmy McGill's decision to practice law as Saul Goodman creates unexpected changes for those in his orbit. Kim finds herself at a crossroads: should she accept and collude with Jimmy or stand by her old values. – Per Amazon
BETTER CALL SAUL is the BREAKING BAD spinoff series on AMC created by Vince Gilligan and Peter Gould. It stars Bob Odenkirk as the lead Jimmy McGill, Jonathan Banks as Mike Ehrmantraut, and Rhea Seehorn as Kim Wexler.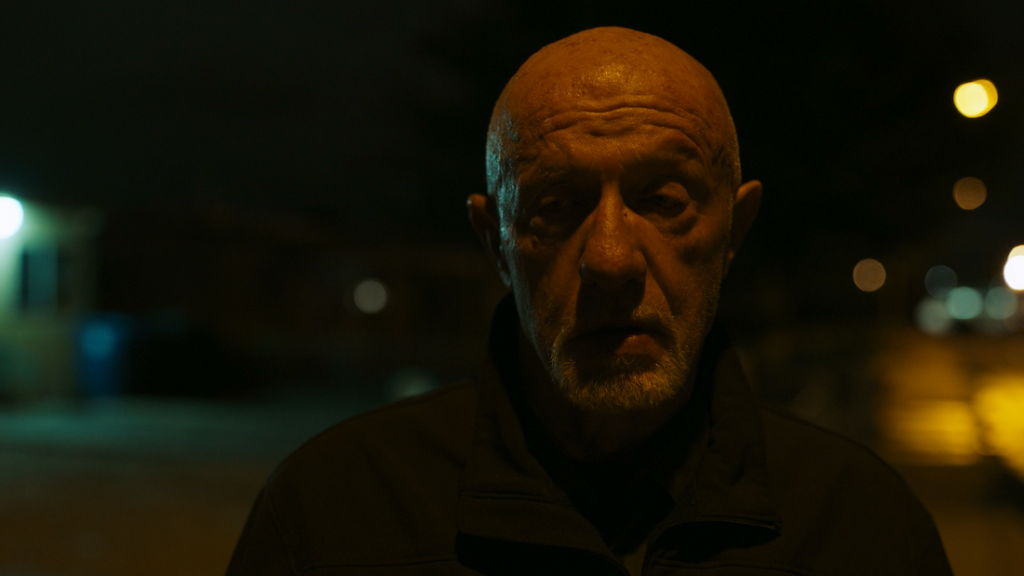 VIDEO QUALITY
The video is a 1080p AVC presentation that has a stellar transfer. The images are clean and don't seem to lose anything from TV to screen. The textures in clothing and even the aesthetic of these dingy settings have strong details. The close shots have a lot of detail with skin imperfections and hair. There are some points where there is noise but it is light and, honestly, welcome. The show wouldn't seem uncharacteristically clean without that light grain. Colors are strong when needed but the overall look is supposed to make a lot of the settings look dingy. The skin tones are warm and natural.
AUDIO QUALITY
The audio is a lossless DTS-HD Master Audio 5.1 mix and has been perfectly done for the release vs the broadcast. Due to the compression of broadcasting, the audio has a better shot at its full capabilities on the home release. Effects liven up the show in gunfire, vehicles, and just the everyday needs of the show. The music is prioritized well along with the dialogue to round off this excellent track.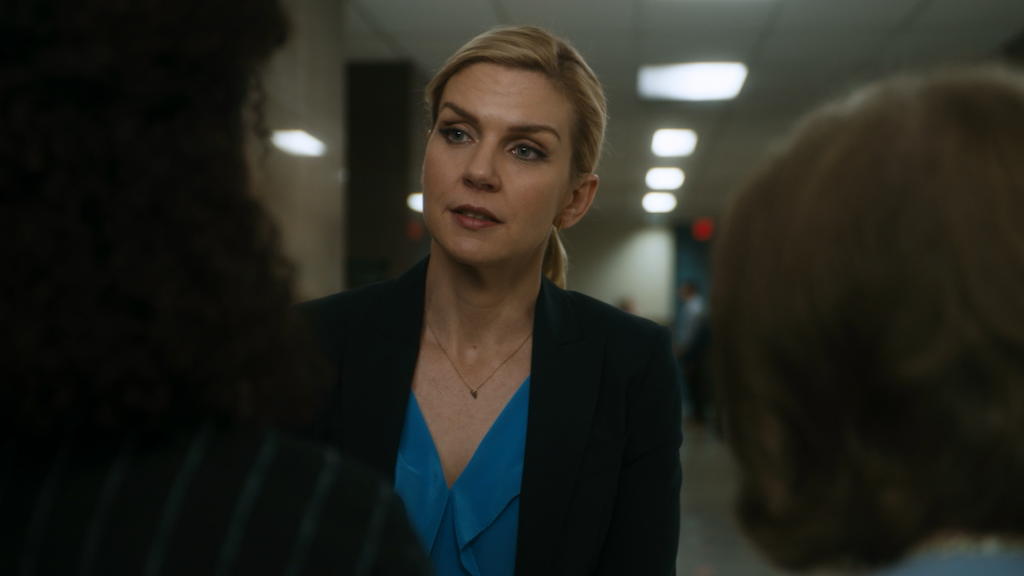 SUPPLEMENTS & PACKAGING
Disc One:
-Audio Commentaries:
Episode: Magic Man – with Peter Gould, Jennifer L. Bryan, Larry Benjamin, Thomas Golubic, and Chris McCaleb.
Episode: 50% Off – with Peter Gould, Norberto Barba, Alison Tatlock, Rhea Seehorn, Michael Mando, and Mark Freeborn.
Episode: The Guy for This – with Michael Morris, Ann Cherkis, Bob Odenkirk, Tony Dalton, and Dean Norris.
-Deleted Scenes
-Ethics Training with Kim Wexler: This nearly 30-minute 10-part educational course
Disc Two:
-Audio Commentaries:
Episode: Namaste – with Peter Gould, Gordon Smith, Mark Johnson, Diane Mercer, and Skip Macdonald.
Episode: Dedicado a Max – with Peter Gould, Jim McKay, Trina Siopy, Paula Dal Santo, and Jonathan Banks.
Episode: Wexler v. Godman – with Peter Gould, Thomas Schnauz, Michael Morris, Patrick Fabian, and Phillip W. Palmer.
Episode: JMM – with Peter Gould, Melissa Bernstein, Alison Tatlock, Rhea Seehorn, and Giancarlo Esposito.
-Deleted Scenes
-Vintage Mesa Verde Commercial: This is the full ad from the series.
-What Is Mesa Verde Hiding?: The ads that Jimmy makes in the series.
Disc Three:
-Audio Commentaries:
Episode: Bagman – with Peter Gould, Vince Gilligan, Gordon Smith, Bob Odenkirk, Jonathan Banks, and Dave Porter.
Episode: Bad Choice Road – with Peter Gould, Thomas Schnauz, Melissa Bernstein, Diane Mercer, Marshall Adams, and Cheri Montesanto.
Episode: Something Unforgivable – with Peter Gould, Ariel Levine, Mark Freeborn, Steve Brown, Al Goto, and Valerie Chu.
-Deleted Scenes
-The Good, The Bags, and the Ugly: This is the making of the episode "Bagman."
-The Ambush: The is Vince Gilligan as he explains and answers questions about the season.
-The Cannon Roll: This is multiple angles from the "Bagman" stunt.
-Tell Me Again: This is creating a particular scene from "Bad Choice Road."
-Gag Reel
-Crystal Balls: This tells the futures of certain characters.
-The Effects for This!: Comparing some of the VFX.
Episode List
Disc One:
1. Magic Man: Jimmy unveils his new legal persona, "Saul Goodman."
2. 50% Off: Jimmy's promotional stunt has unintended consequences.
3. The Guy for This: Jimmy's business enters uncharted territory.
Disc Two:
4. Namaste: Jimmy doubles down on "Saul," and Kim asks him for help.
5. Dedicado a Max: Mike takes an impromptu trip out of town.
6. Wexler v. Goodman: Kim tries to pump the brakes on Saul's latest scheme.
7. JMM: Jimmy and Kim build a legal firewall.
Disc Three:
8. Bagman: When an errand goes awry, Jimmy is pushed to the limit.
9. Bad Choice Road: Jimmy tries to return to business as usual. Kim takes stock.
10. Something Unforgivable: Jimmy and Kim make a sideways move that takes a turn.
Disc Details
3-Disc Blu-ray Set
Edition Ratings
Rated TV-14
Region Coding
Region A
Video Resolution
1080p AVC MPEG-4
Aspect ratio: 1.78:1
Audio Mixes
English DTS-HD Master Audio 5.1
French Dolby Digital 5.1
Subtitles
English
English SDH
French
Arabic
Dutch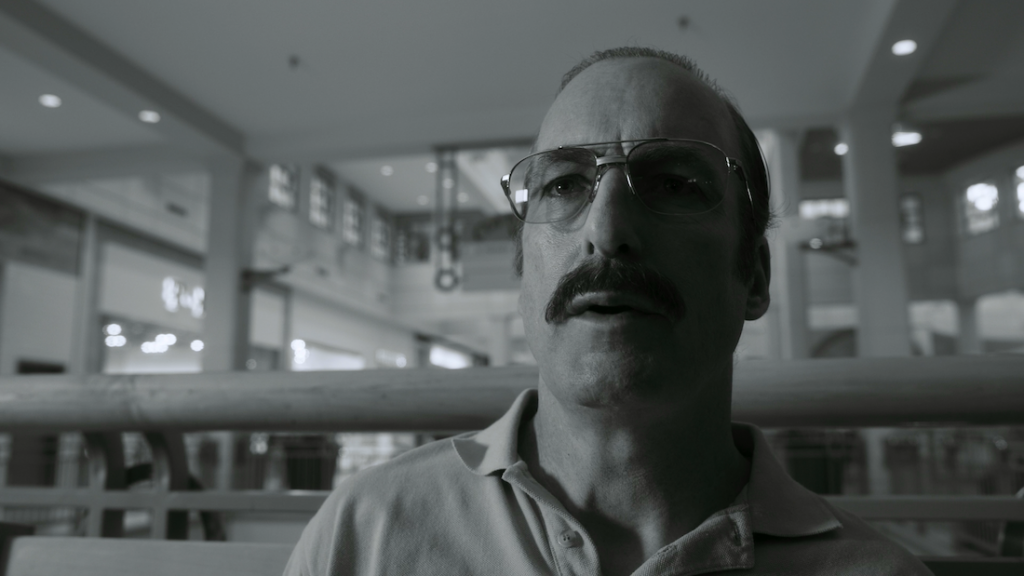 THE BOTTOM LINE
BETTER CALL SAUL has been well received by fans of BREAKING BAD and this season has kept up the quality of the series. The acting, writing, and character expansion has been on par. Both the audio and video are impressive plus there are plenty of extras included on the release. All in all, this is one for both the fans and newcomers to enjoy.