COME PLAY is a 2020 American horror film written and directed by Jacob Chase. It stars Gillian Jacobs, John Gallagher Jr., Azhy Robertson, and Winslow Fegley. The film follows the parents of an elementary school student with autism as they try to protect their young son from "Larry", a villainous nighttime monster that preys on the innocence of children.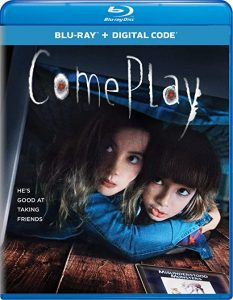 THE MOVIE:
The film focuses on a young boy named Oliver (Azhy Robertson) that is autistic and mute. He depends on his phone and iPad to communicate to others. Oliver comes across this strange digital story on his newly acquired iPad and that is when Larry makes his presence known to everyone. Larry is the main character in this story on the iPad and unlike normal story creatures Larry really wants to be friends with Oliver.
This heart of the film is more about the story rather than the cheap jump scares some suspense films aim for these days. The filmmaker really wanted to give this film a different vibe and be a little different than what movie watchers are used to seeing. Overall, COME PLAY gives me a vibe like past fan favorite film The Babadook. So if you are a fan of films that aren't about the jump scares then this will be a film for you to watch.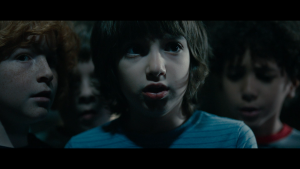 VIDEO/AUDIO QUALITY:
The video on blu-ray is a 1080p quality. The quality of this film was excellent considering the overall tone of the film was pretty dark. The low lights were able to be executed very well when the tablets and phones were being used. Obviously, this is supposed to be a very dark film since it has a creepy and scary monster vibe and the lighting/editing crew did a great job with all the shots.
The audio for the film was on key with how these kind of scary suspenseful films should be. The very loud noises that make you determine where the creature is going to be. The sounds of the lights flickering on and off as well as all the creeks that are throughout the film were well done.
Disc Details:
Blu-ray
Digital Copy
Running Time:
96 min.
Edition Ratings:
Rated PG-13
Region Coding:
Region A
Video Resolution:
Resolution: 1080p (2.39:1)
Audio Mixes:
English (Dolby Digital 5.1)
Spanish
French
Subtitles:
English
Spanish
French