FREAKY is a 2020 American slasher comedy film directed by Christopher Landon, from a screenplay by Michael Kennedy and Landon, and starring Vince Vaughn, Kathryn Newton, Katie Finneran, Celeste O'Connor, and Alan Ruck. A twist on Freaky Friday, the film centers on a teenage girl who unintentionally switches bodies with a middle-aged male serial killer.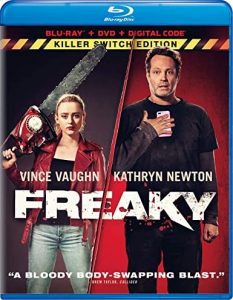 THE MOVIE:
WOW! This film was something else. I mean that in the absolute best way! I didn't know very much about this film before turning it on and right away I was pretty amused by what the film could deliver.
At first glance I was intrigued with having Vince Vaughn portraying a more edgy character since some of his previous roles in films such as "Brawl in Cell Block 99" and "Dragged Across Concrete" have been some of his best work in my opinion, showing that he isn't only a comedy actor.
Then, on the other end you have a young up and coming actress Kathryn Newton, that has done a lot of comedy films so far and you think she is going to play the sweet and innocent young high school teen that will eventually give the evil man his justice.
Well, that was not exactly what took place in the film FREAKY. For the majority of the film it is quite the opposite. All the sudden this film becomes a crazy twist off the classic film "Freaky Friday". So instead ion seeing Vince Vaughn as the evil mass murderer you see him as a young teenage girl trying to access her actual body again. Then, you get to witness Kathryn Newton portray will killer that is able to hide in plain sight for the first time in a long time.
Overall, this film was very fun watch. This gave both actors to play fun roles I imagine and it gave the classic "Freaky Friday" film a fun R rated twist. If you are in the mood for a very fun slasher comedy film then this is definitely one to watch. And, I gotta say it was awesome seeing Alan Ruck in  this film playing the role he did.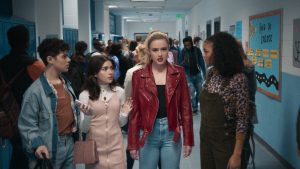 VIDEO/AUDIO QUALITY:
The video on blu-ray is a 1080p quality. The color and tones throughout the film was very well done. The film had a good bit of dark and foggy scenes but was able to keep the quality high where viewing wasn't an issue at all.
The audio for the film was very well done as well. This film stays true to most other Blumhouse Productions films where the bass can be noticed during the scary motets of the film but the dialogue tone wasn't lost. Another great turnout from Universal and Blumhouse.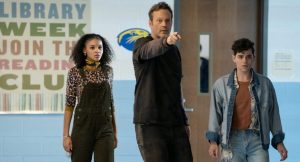 Bonus Features:
Deleted Scenes
Split Personalities: Millie vs. The Butcher
Christopher Landon's Brand of Horror
Crafting The Kill
Final Girl Reframed
Feature Commentary
Disc Details:
Blu-ray
DVD
Digital Copy
Running Time:
1 Hr. 42 Mins.
Edition Ratings:
Rated R
Region Coding:
Region A
Video Resolution:
Resolution: 1080p (2.39:1)
Audio Mixes:
English (Dolby Digital 5.1)
Spanish
French
Subtitles:
English
Spanish
French