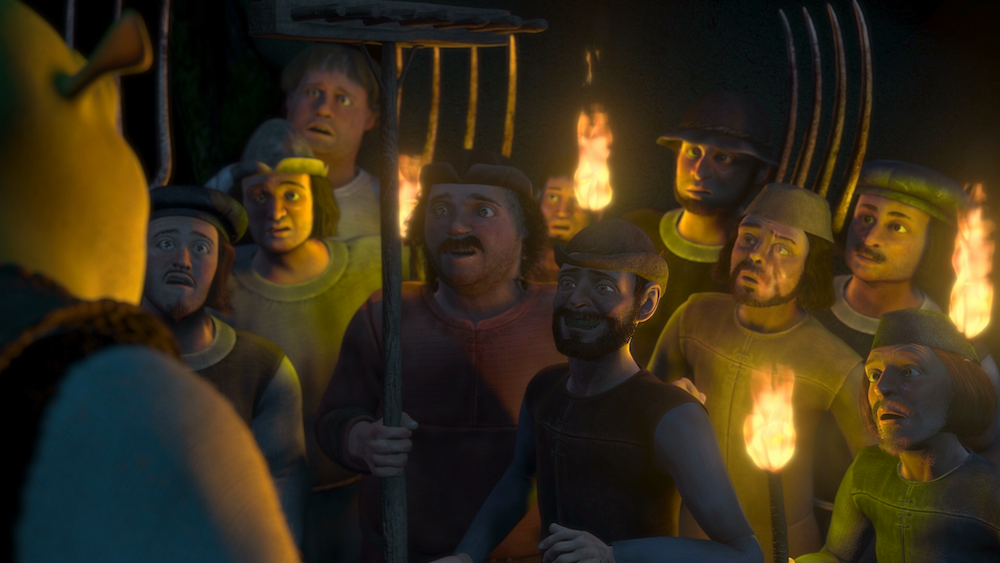 Shrek (Mike Myers) goes on a quest to rescue the feisty Princess Fiona (Cameron Diaz) with the help of his loveable Donkey (Eddie Murphy) and win back the deed to his swamp from scheming Lord Farquaad. – Universal Pictures Home Entertainment
SHREK was directed by Andrew Adamson and Vicky Jenson. The movie sparked a wild fandom for all ages. It has references to pop culture and jokes that some kids would miss. It was also when Mike Myers was one of the hottest actors from AUSTIN POWERS being a huge success so the studio pretty much let him make the movie how he wanted. A well-known example is that he wanted Shrek to have a Scottish accent and he re-recorded the voice after most of the movie was finished; adding 4 million dollars to the budget. Also, having Eddie Murphy and Cameron Diaz was a big get to legitimize the movie.
Cast
Mike Myers as Shrek and one of the Three Blind Mice
Eddie Murphy as Donkey
Cameron Diaz as Princess Fiona
John Lithgow as Lord Farquaad
Vincent Cassel as Monsieur Robin Hood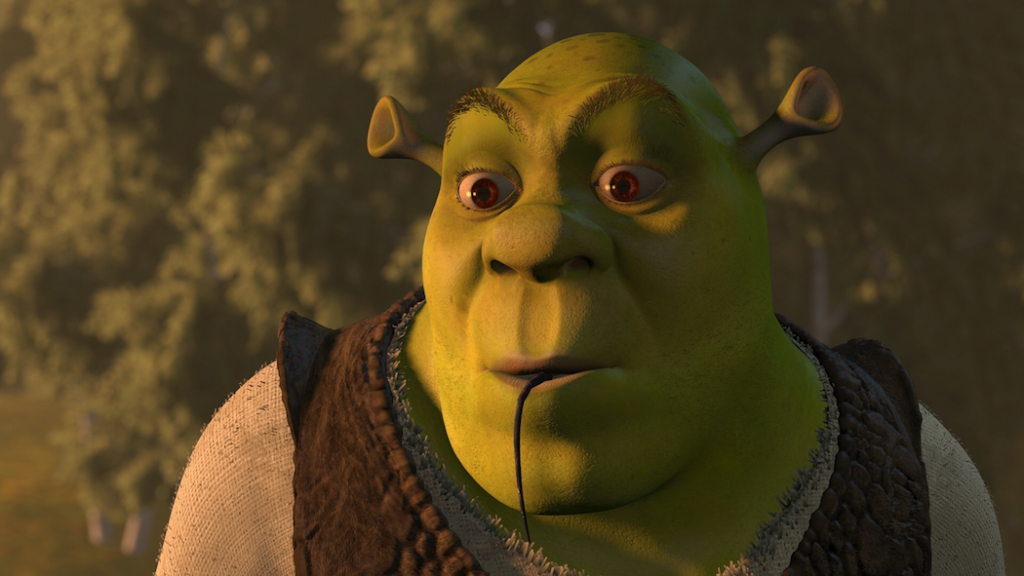 VIDEO QUALITY
The video is a 2160p HEVC is sharp but it may be a bit too sharp for the source material. One †hing †o keep in mind is that it was made 20 years ago so the animation is lacking some of the more modern elements. The animation is a little clunky in the sense that most of the textures lack depth. Being in 4k is a double-edged sword with clearer images but it also highlights the flaws. Colors do benefit from the format with nothing coming off as exaggerated and they look bold. There are some points of blocking and where the lines could be cleaner but these are sporadic at best.
AUDIO QUALITY
The audio is a DTS:X mix that does have a stronger presence than any of the previous releases. Scenes feel livelier from the music, expanded range of effects, and just an all-around renewed track for the film. As for the music, both the soundtrack and score are excellent in this new mix. There is good use of the upper channels that add depth with echoing halls, and the arena at Farquaad's castle, and especially when they enter the dragon's lair. The movement from the dragon and the setting of lava doom makes sound nice. Effects and dialogue are privatized well.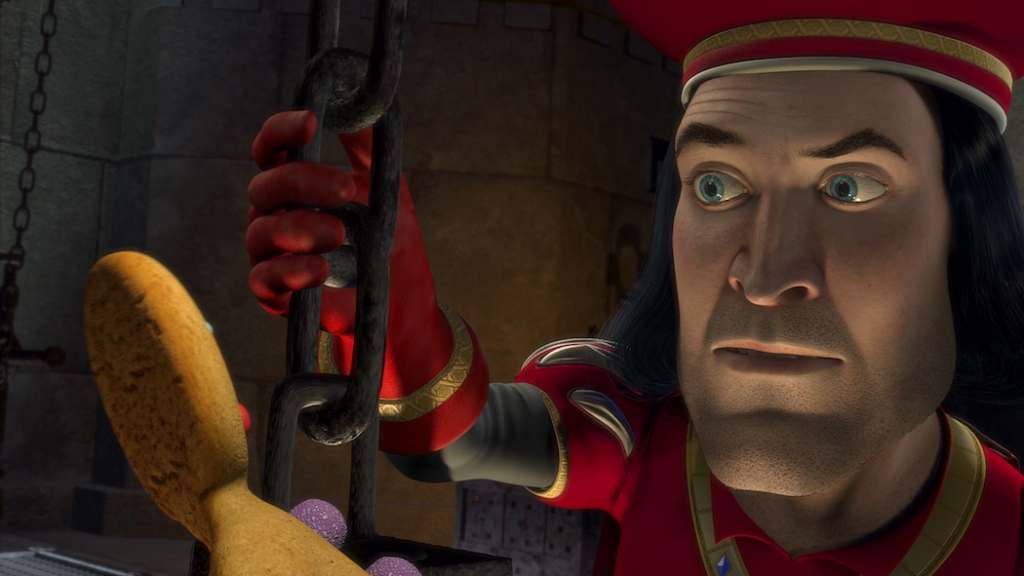 SUPPLEMENTS & PACKAGING
The extras are spread across the three discs:
Blu-ray Disc One:
-The Animators' Corner (1080p).
-Shrek's Interactive Journey: 1 (1080p).
-Spotlight on Donkey (1080i, 11:38).
-Secrets of Shrek (1080p, 3:52).
-Deleted Scenes (480i, 8:01).
-Audio Commentary: with Directors Andrew Adamson and Vicky Jenson and Producer Aron Warner.
-Shrek, Rattle & Roll: Included are Shrek in the Swamp Karaoke Dance Party
Blu-ray Disc Two:
-Shrek's Short Films
-Shrek's Halloween Favorites
-Shrek's Holiday Favorites (1080p): Included are Shrek the Halls (28:02), -Donkey's Caroling Christmas-tacular
-Shrek's Yule Log
The Adventures of Puss In Boots TV Episodes
4K UHD Disc:
-Shrek's Interactive Journey:
-Spotlight on Donkey
-Secrets of Shrek
-Deleted Scenes
-Shrek in the Swamp Karaoke Dance Party
-Shrek The Musical: "What's Up, Duloc?"
-Audio Commentary: with Directors Andrew Adamson and Vicky Jenson and Producer Aron Warner.
Disc Details
3-Disc Set w/ 2 Blu-rays and 1 4K UHD
Digital Copy
Slipcover included

Running Time
90 mins

Edition Ratings
Rated PG

Region Coding
Region Free

4k UHD
Video Resolution
2160p HEVC HEVC
Aspect ratio: 1.85:1
Audio Mixes
English DTS:X
English DTS-HD Master Audio 7.1
Spanish DTS 5.1
French (Canada) DTS 5.1

Subtitles
English SDH
French
Spanish
Blu-ray
Video Resolution
1080p AVC MPEG-4
Aspect ratio: 1.85:1
Audio Mixes
English Dolby TrueHD 7.1
Spanish Dolby Digital 5.1
French Dolby Digital 5.1

Subtitles
English SDH
French
Spanish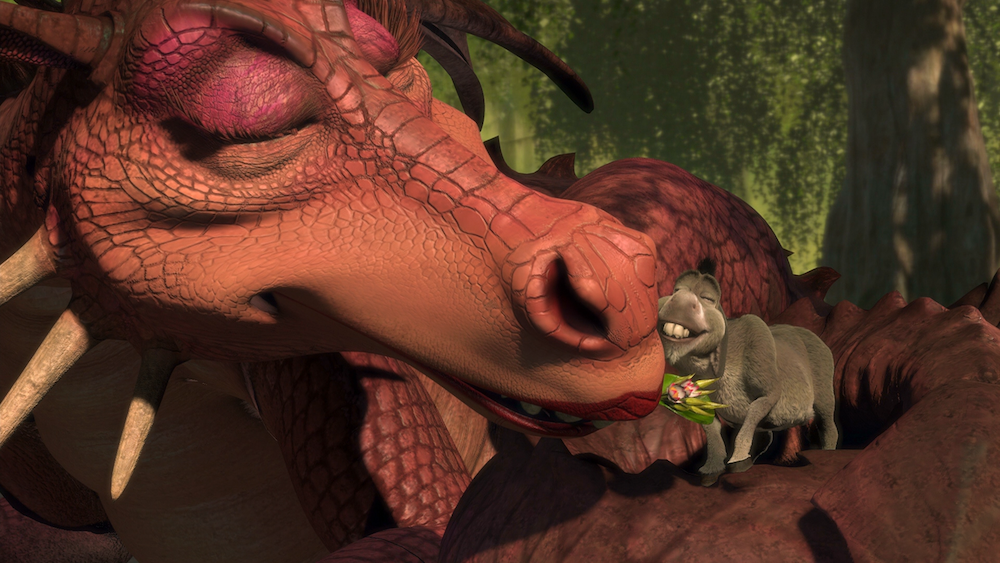 THE BOTTOM LINE
SHREK is one of those movies that, I feel, revitalized the idea that animated movies not made by the mouse are good and sprung forward a series of CG films from Dreamworks. Although the animation is dated now, the jokes and dialogue are still entertaining. With this release, the benefits of the new format outweigh some of the drawbacks. The video is top-rated and the audio is truly a step above the Blu-ray release. The extras are close to the same as the Blu-ray release but there are some PUSS IN BOOTS shorts that (I believe) are new. I can easily recommend this to the fans of this movie alone but if you're a fan of the series then you may want to wait for the complete box set. It hasn't been announced yet but I'm sure it is inevitable.