Greetings Friends! We have quite a treat for you all this week. We are taking one of our most beloved comic characters from the Marvel Universe and pairing him with one of our favorite artists working today, Chris Thornley (Raid71). Chris really amazed us with this one. We see "The Devil of Hell's Kitchen" overlooking the crime ridden streets of New York with an absolutely stunning backdrop of colorful stained glass windows and Chris's classic rain to finish off the mood! Daredevil comes released as an 18″ x 24″ Screen Print, Limited to only 175 Copies!
Daredevil by Chris Thornley (Raid71) Goes On Sale Thursday 05/20 @ 1 PM ET. in the GMA Shop!
_______________________________________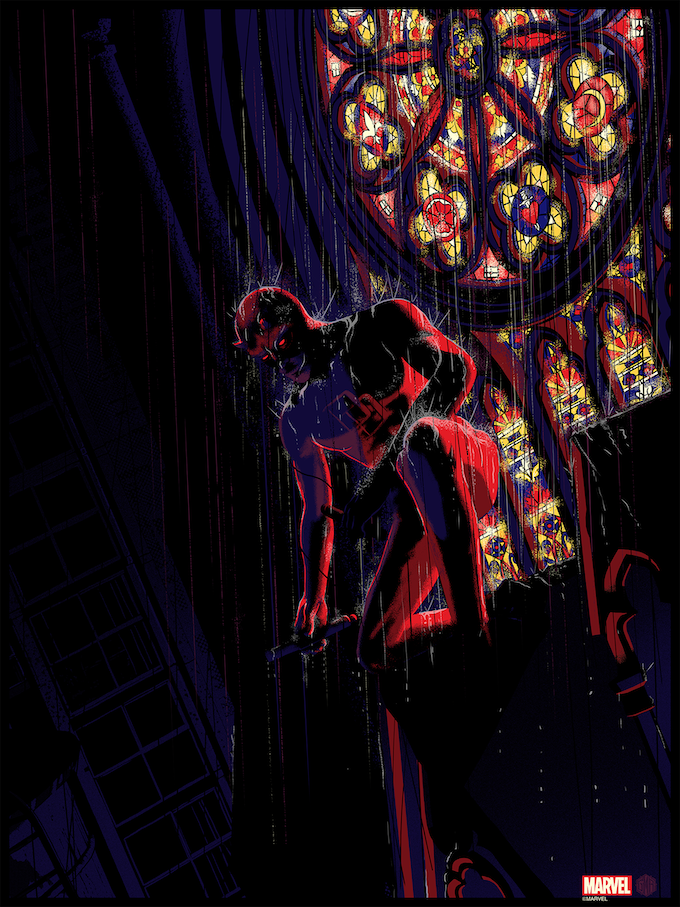 18″ x 24″ Screen Print
Hand-Numbered Edition of 175
Printed by Vahalla

$45
(6 – 8 weeks estimated shipping)
To stay up on all current releases & info, sign-up for the GMA Newsletter and be sure to follow us on Facebook, Twitter, and Instagram.
…And learn how to save when you purchase by signing up for our GMA Rewards!