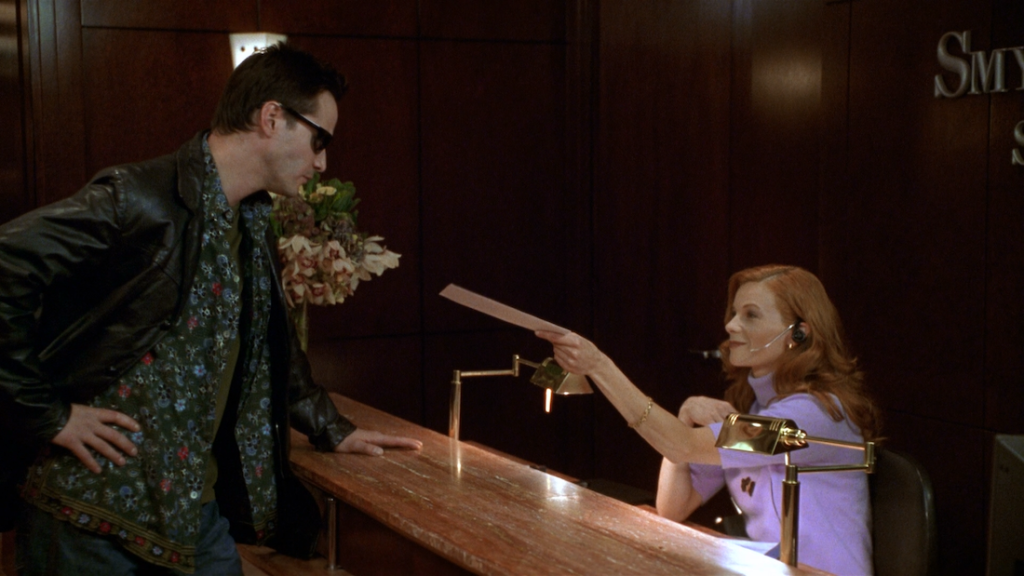 Keanu Reeves, Diane Lane, and D.B. Sweeney score in this uplifting story of triumph over adversity that "hits an emotional home run." Conor O'Neill (Reeves) is a down-on-his-luck gambler in debt to dangerous loan sharks. Desperate for cash, Conor reluctantly takes a job coaching a youth baseball team. The "team" turns out to be a ragtag group of tough-talking kids from Chicago's inner city. Secretly, Conor plans to desert the team after he wins a big bet. But the stakes are higher than Conor imagined: The kids need someone to believe in. As Conor wrestles with his past, the kids start to teach him some lessons that will forever change his future—that responsibility and trust must be earned and hope can appear in the most unlikely places. – Synopsis from Paramount Pictures.
HARDBALL is directed by Brian Robbins. He has done a lot of TV and a few movies such as GOOD BURGER and NORBIT. It's a mix of silly comedy and this is probably the most serious work that is on his resumé. This 20-year-old movie stars Keanu Reeves, Diane Lane, and features a very young Michael B. Jordan.
Cast
Keanu Reeves as Conor O'Neill
Diane Lane as Elizabeth Wilkes
John Hawkes as Ticky Tobin
Bryan C. Hearne as Andre Ray Peetes
Michael Perkins as Kofi Evans
DeWayne Warren as Jarius "G-Baby" Evans
Julian Griffith as Jefferson Albert Tibbs
Michael B. Jordan as Jamal
D. B. Sweeney as Matt Hyland
Sammy Sosa as Himself
Sterling "Steelo" Brim as Sterling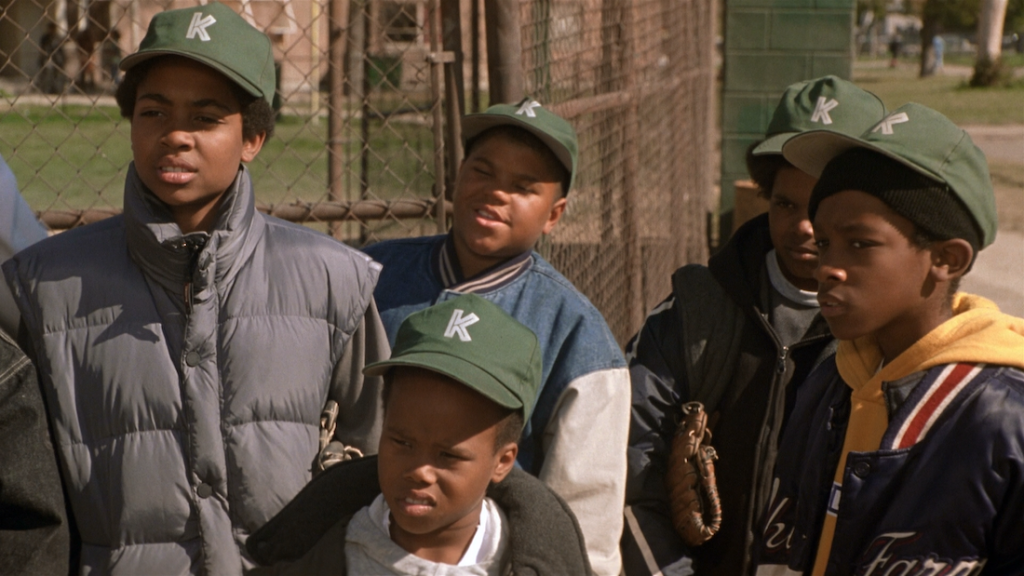 VIDEO QUALITY
The video is a 1080p AVC presentation that has a minimal look. What I mean is that the transfer a basic from the previous format. There are solid details in clothing and faces with some of the characters looking like life has been tough. Clothing and equipment are appropriately worn. The coloring is muted but there are some spots in neon and the shiny uniforms that are stronger. Skintones tend to be natural.
AUDIO QUALITY
The audio is a DTS-HD Master Audio 5.1 mix. The movie has a lot of busy scenes in bars or on the ball field and the ambient sound is well done. The music is also strong with some solid LFEs. The effects of punches being landed, gunshots, baseballs hitting the mitts, and the ping of the bats all round off this track to create a good experience. Also, voices are prioritized well.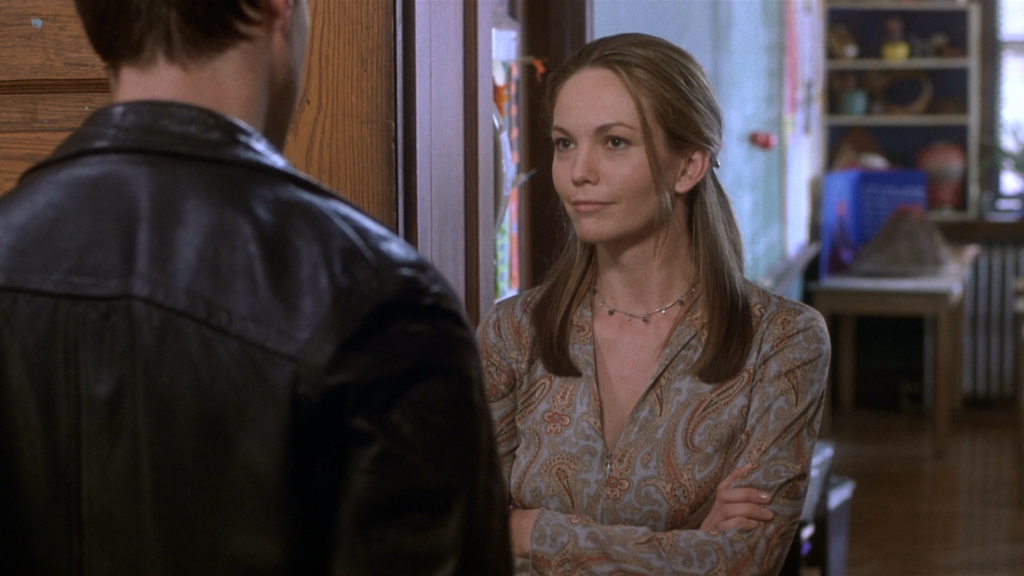 SUPPLEMENTS & PACKAGING
-The making of HARDBALL
-Deleted Scenes
-Music Video: Hardball by Lil' Bow Wow, Lil' Wayne, Lil' Zane, and Sammie.
-Interstitials
-Theatrical Trailer
Disc Details
1 Blu-ray Disc
Running Time
106 mins
Edition Ratings
Rated PG-13
Region Coding
Region Free
Video Resolution
1080p AVC MPEG-4
Aspect Ratio: 1.85:1
Audio Mixes
English DTS-HD Master Audio 5.1
French Dolby Digital 5.1
Subtitles
English
English SDH
French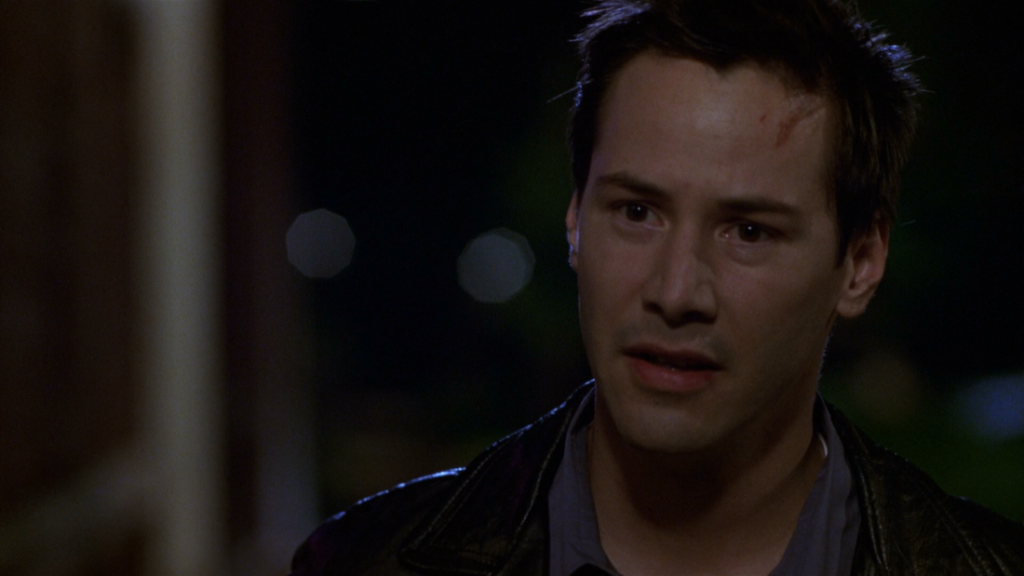 THE BOTTOM LINE
HARDBALL is a mix of emotions and intense but truthful in storytelling. Reeves makes a convincing degenerate gambler and man in need of some redemption. The Blu-ray has good marks in both the audio and video with average extras included. Overall, people looking to upgrade or fans of the movie should pick up this release.