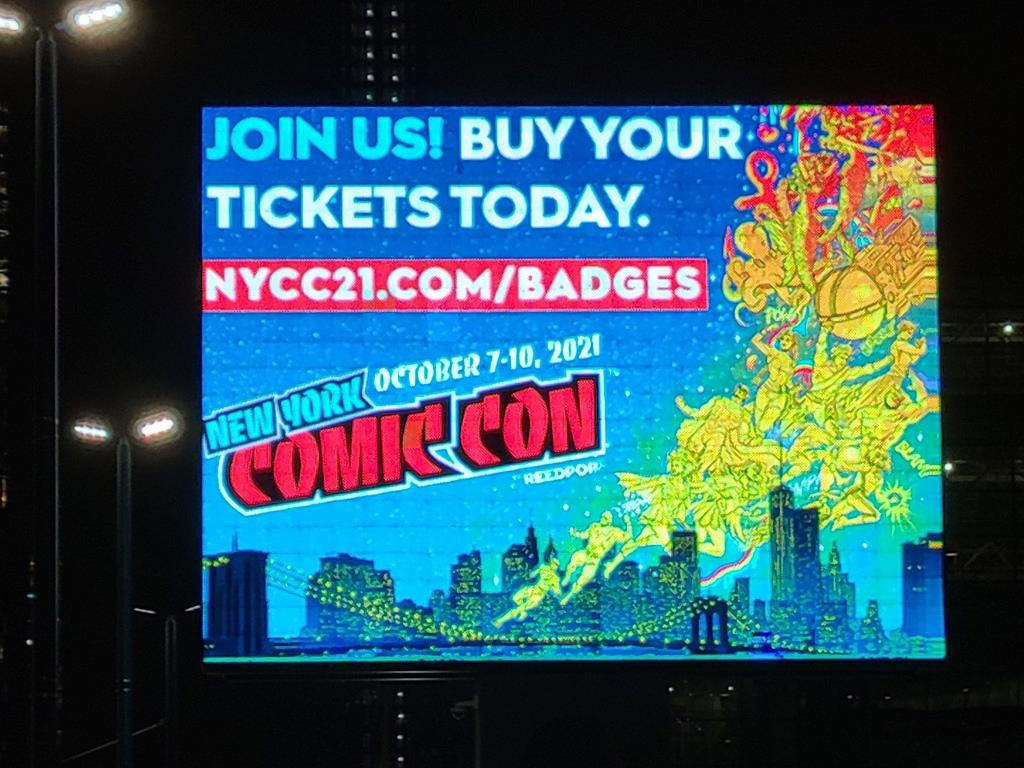 With four full days of programming and events New York Comic Con (NYCC) brings hundreds of thousands of fans each year to the Jacob K. Javits Convention Center in Manhattan to celebrate all things pop culture from comics, anime, video games, TV, movies, collectibles, posters, and of course the best artist alley there is. After being forced to go fully digital in 2020 due to the pandemic things began to feel semi-normal again when NYCC came back to in person conventions with their 2021 show. While the show did have some digital elements and did suffer from some larger and familiar exhibitors passing up on in person shows the ReedPop team should still be commended on likely putting on the largest convention since the pandemic started. Even though it was sad not seeing some familiar faces and not seeing any book publishers there was still plenty to do and see throughout the weekend and it just allowed newer companies that may have not exhibited in the past a chance to shine.
One of the other highlights that I like to cover from NYCC are the various activations that booths have throughout the show, usually the booths are working in tandem with panels to promote a new show or movie or to hype up upcoming season for a show. In the past Starz has had some amazing booths for American Gods and Outlander while Amazon and Audible have been there promoting their shows like Good Omens or Lore or upcoming books like the Harry Potter series. While this year the activations were a bit light HBO Max was on hand to promote the upcoming third season of Doom Patrol, Audible had a photo-op set up for the upcoming The Sandman: Act II – Enter The Dreaming Again, and SYFY and USA were on hand to promote the new Chucky series.
For the activation that had associated panels you can log into The Metaverse if you have an account to view these panels at your leisure!
We'll also take a look at a few straggler booths that I wanted to point out but didn't quite fit into the collectibles or art/artists round up.
HBO Max Doom Patrol Activation
Winning it this year was HBO Max with an amazing 1200 SQFT set up to promote the third season of Doom Patrol. Their carnival themed set-up had multiple points of interaction. First-up was Danny the Ambulance, which had an interactive LED screen experience to interact with the audience. Before heading into the 18-foot-high big top there were a few photo opportunities including the aforementioned Danny the Ambulance, a Flex Mentallo stand-in board, and an Elasti-Mirror. While also waiting to enter the big top tent fans were entertained by Drag Queen's interacting with attendees and traditional circus performers including magicians, contortionists, and sword swallowers.

More fun was found once you made your way inside the big top as there were a few opportunities to win some prizes which included a Doom Patrol t-shirt, a special edition Doom Patrol comic book, Doom Patrol pins, and a stuffed giraffe (inspired by Cliff's gift to Clara). But you weren't just handed these cool items; you had to win them carnival style either through skill with a Cyborg Claw Machine, or via winning a race at Cliff's Slot Car Speedway (with custom cars featuring charaters from the show), or through the hardest challenge of them all Larry's Negative Energy Maze!

The booth also hosted a Doom Patrol themed cosplay contest and hosted a few of the cast including Joivan Wade and April Bowlby being interviewed by Twitch streamer MANvsGAME.
All in all it was one of the more elaborate booths at the convention this year and a fun experience throughout the four day convention.

Audible's The Sandman: Act II – Enter The Dreaming Again
https://www.audible.com/pd/The-Sandman-Act-II-Audiobook/B098TWVZVD
Another activation on the outer roadway this year was Audible who usually do a very good job at setting up for content. This year they were out with a really nice set up to promote the upcoming Neil Gaiman audible book The Sandman: Act II – Enter The Dreaming Again.

The activation featured four immersive photo sets, designed to transport listeners into the realms of The Sandman. The sets included Dream's Palace, 1980's New York, Barbie's Dream World. and Hell with each set including a Instagram filter including snow in Barbie's Dream World, fire in Hell, and smoke in New York.
Additionally there was a virtual panel held for the show on the main stage with panelists Director Dirk Maggs; narrator, creative director and co-executive producer Neil Gaiman; and stars James McAvoy and Kevin Smith; and moderated by Tiffany Smith all discussing the continued adaptation of the iconic original graphic novel series and fan favorite moments, and new stories and characters.
From the publisher –
Enter the Dreaming again as the blockbuster audio adaptation of "the greatest epic in the history of comic books" continues in The Sandman: Act II. James McAvoy returns to voice Morpheus, the Lord of Dreams, in this sequel to the number-one New York Times audio best seller. Journey into a world of myths, imagination, and terror based on the best-selling DC comic books and graphic novels written by Neil Gaiman (returning as the Narrator), and lose yourself in another groundbreaking, immersive drama adapted and directed by the award-winning audio master Dirk Maggs.
In the absolutely packed Act II, the dark fantasy resumes and the Sandman expands into the French Revolution, ancient Rome, 19th-century San Francisco, eighth-century Baghdad, and beyond. New and familiar characters abound, voiced by a bright mix of performers, including Kat Dennings, Regé-Jean Page, Emma Corrin, Michael Sheen, Kristen Schaal, Brian Cox, John Lithgow, Jeffrey Wright, and so many more, including fan-favorite narrators Simon Vance and Ray Porter.
USA and SYFY's Chucky Trick and Treat Truck
https://www.syfy.com/chucky
While DC and Audible owned the outer roadway this year USA and SYFY's Chucky owned a portion of the show floor with their Trick and Treat Truck. If you could manage the long lines the famous murderous doll vandalized an ice cream truck and then crashed it right on the exhibit floor. Fans were treated to a few photo ops including sitting in the driver's seat of the truck along with a Chucky Doll. On the inside of the van an interactive scare frightened the daylights out of the brave, no-joke I had a friend that needed me to go through with them! Though in the end we were all treated to a nice blood-red cherry flavored ices.
Additionally ahead of it's TV debut there was a panel with showrunner Don Mancini and franchise icon Jennifer Tilly (Tiffany Valentine) along with a screening of the first episode

Com2uS Summoner Wars
https://sw.com2us.com/en
With 100 million players since its inception has branched out from it's two mobile games Sky Arena and Lost Centuria to include a comic series from Image Comics and an upcoming MMORPG game. Though traditionally a mobile RPG, Com2uS' Summoners Wars was on hand to not only promote the game but to show off figures, statues, apparel, and other products. Within the booth Com2uS had photo ops and a demo areas along with tournaments, raids, and PVP battles with influencers throughout the weekend. Visitors were also rewarded with swag based on the game including Funko POP!s, pins, large Angelmon plushies, and exclusive Summoners War Snowglobes.

Atsuko
https://atsuko.com/
Offering officially licensed anime apparel and created for fans of Japanese lifestyle and culture, Atsuko showed off their One Piece line at the show but if you head to their retail store there are plenty of other partnerships including Dragon Ball Z, Cowboy Bebop, My Hero Academia, Crunchyroll, and more.

Moss Fete
https://www.etsy.com/shop/MossFete
Though they were tucked in a nook of the show floor once I saw their booth I was enamored by the creations from Moss Fete. The exceptionally hand-crafted felted wool hats, neckwear, wings, dragon scarves, and other accessories come in a wide range of vintage and fantasy inspired themes.