DON'T BREATHE 2 is a 2021 American horror thriller film directed by Rodo Sayagues in his directorial debut, from a screenplay he co-wrote with Fede Álvarez, the director of the first film, 2016's Don't Breathe. The sequel is produced by Álvarez, Sam Raimi, and Robert Tapert, and stars Stephen Lang, reprising his role as Norman Nordstrom / "The Blind Man", with Brendan Sexton III and Madelyn Grace in supporting roles.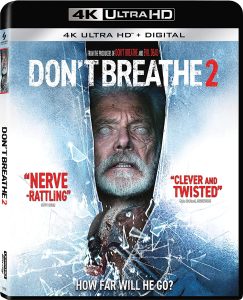 THE MOVIE:
DON'T BREATHE 2 is the sequel to the 2016 cult favorite critically acclaimed film DON'T BREATHE. The first film had a pretty simple but interesting story. A few teens breaking into a blind mans home to rob him after learning he might have a ton of money within the house. This film was so well received that a sequel was demanded fairly quickly. The film could have been a one and done and most of the fanbase would have been ok with that. The story made sense with a small glimmer at a "what happens next" ending.
After a few years, the sequel has arrived. This one right off the bat feels a lot different than the original. Seems to have a more back story driven plot. The story begins eight years after the events from the original film. The original house has burned down and The Blind Man (Stephen Lang) is now raising a young girl named Pheonix (Madelyn Grace).
This one takes a little bit of a slow burn story telling approach but with fast paced scenes. The Blind Man's new home begins to be attacked as mysterious men are trying to abduct Pheonix. The reason as to why doesn't come into play until later in the story but this film is defiantly a little more violence.
After all the pieces to the puzzle becomes known the story really tied together quite well. The reason for the attacks and abduction on top of another side story all makes sense. Overall, the original will always hold a special place in thriller/suspense/horror fans hearts but the follow up film is an enjoyable watch.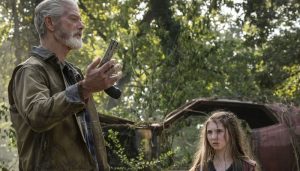 VIDEO/AUDIO QUALITY:
The video on 4K Ultra HD film is very enjoyable to watch. The overall tone of the film is quite dark and not very well lit but due to the excellent quality all the aspects in the scenes are very easy to view the way the filmmakers wanted the viewers to see. Very pleased with the viewing experience. The audio was also very well done. With the story having to do with a blind character having to use his other senses to help navigate through a physically demanding film the audio of what he must hear instead of see came across excellent. Much like the original this audio quality was great.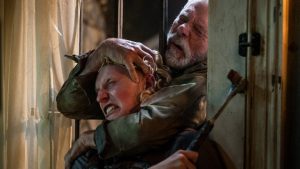 Disc Details:
4K Ultra HD Disc
Digital Copy
Bonus Features:
Alternate Ending
"Friends and Filmmakers" Featurette
"Bad Man (Slang is Back)" Featurette
"Designing Deception" Featurette
Running Time:
98 Min.
Edition Ratings:
Rated R
Region Coding:
Region A,B,C
Video Resolution:
Resolution: Native 4K (2160p)
Audio Mixes:
English
Spanish
French
Subtitles:
English
Spanish
French