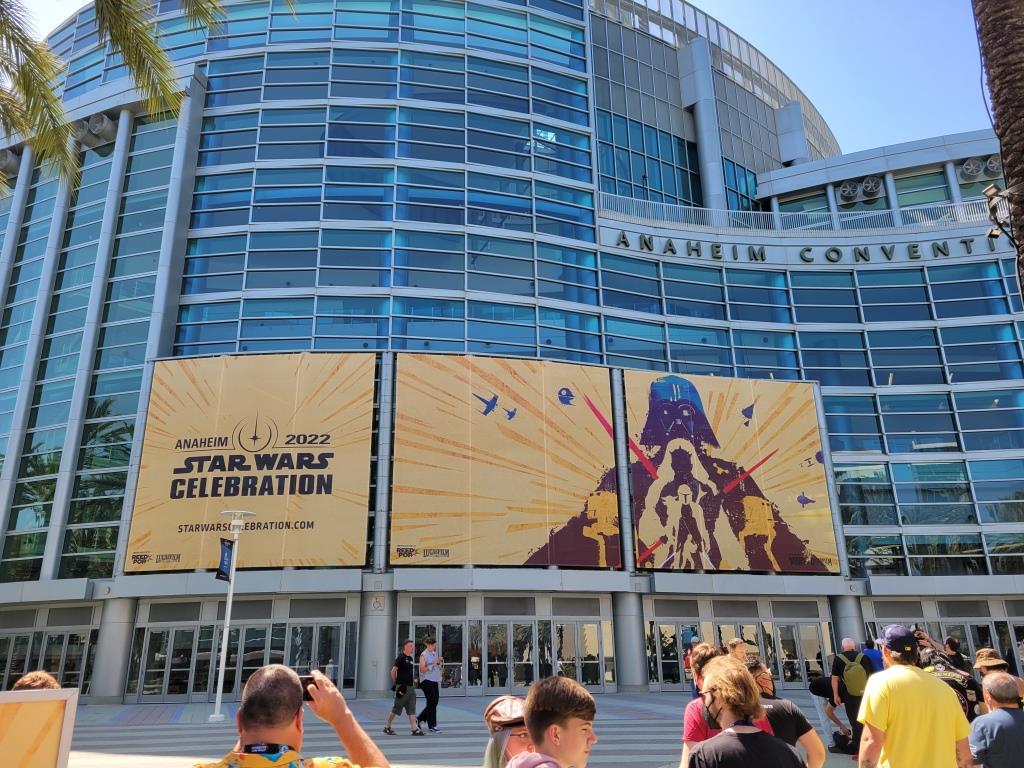 After an almost three year break from conventions Star Wars Celebration was back in business; this time returning to the Anaheim Convention Center right across the street from Disneyland and Galaxy's Edge. Unlike other comic cons that feature an extremely wide array of fandoms Star Wars Celebration, as the name implies, bring together fans for a four day showcase of all things Star Wars related.
While the show is just Star Wars focused four days still never feels like enough time to fully experience everything happening during the show with so much to going on from panels, exhibitors, exhibits, dioramas, art booths, cosplaying, and even a tattoo parlor. Pin and swag collecting and trading even have their own strong presence at the show. As normal I'll therefore be breaking down my coverage based on the different aspects of the show.
Since there are always a wide array of things fans can experience at any convention I split my coverage into the different aspects of a show. Unlike New York Comic Con exhibitors finally seemed to feel a bit more comfortable returning to in person events and it really did show on the show floor with the likes of Sideshow, Hasbro, LEGO, Funko, Citizen, and many more companies exhibiting at the show.
The Exhibit Floor for Star Wars Celebration while obviously being focused only on Star Wars remains one of the most diverse show floors from booths large and small like Disney, EFX, Asmodee and Hallmark, to the Art Show, Autograph Area, and even a Tattoo Pavillion. The other unique aspect is that unlike at other conventions where third-party items are allowed to be sold by exhibitors booths are strictly limited to officially licensed products which is why you won't find any third party lightsaber companies exhibiting.

Here I'll be taking a look at a small portion of the show floor exhibitors with the exception of art galleries and artists which I plan on covering separately.

Hasbro
https://hasbropulse.com
Hasbro finally came back to celebration with a fairly elaborate booth showing off all things Star Wars related. Unfortunately they did not have a sales portion of their booth at the convention and instead opted for a code scan to be able to order their convention exclusive but their display was still full of attendees passing by to view everything they've released as well as take a peek at the items they revealed during the Hasbro Panel.
The displays included samples of almost all products including figures they had just revealed like the Obi-Wan Kenobi figures, L0_LA59 figures, and everything from the Vintage and Retro collections to the Black Series line. Additionally they were displaying the roleplay items including the upcoming Vader's Helmet, a slew of the current Force FX lightsabers, and the Third Sister Force FX Elite Lightsaber that is currently being funded in Haslab through July 11 and needs to hit 5,000 backers to move forward.

LEGO
https://www.lego.com/en-us
LEGO was on hand showcasing the latest releases in their Star Wars line throughout the weekend. Plenty of sets, a display with every Star Wars minifigure, and photo-ops with a beach Vader and Luke mural. The booth was also selling sets which included an early release of their Obi-Wan Kenobi and Darth Vader Brickheadz set.

Sideshow Collectibles
https://www.sideshow.com
Sideshow creates some of the highest-end pop culture statues and figures across almost all fandoms which includes fully licensed Star wars Products. Sideshow did an exceptional job showcasing those figures at Celebration with a display of figures. As seemed to be the theme of the convention Sideshow was selective in what they brought opting to focus not just on the new shows but the Attack of the Clones movie as well.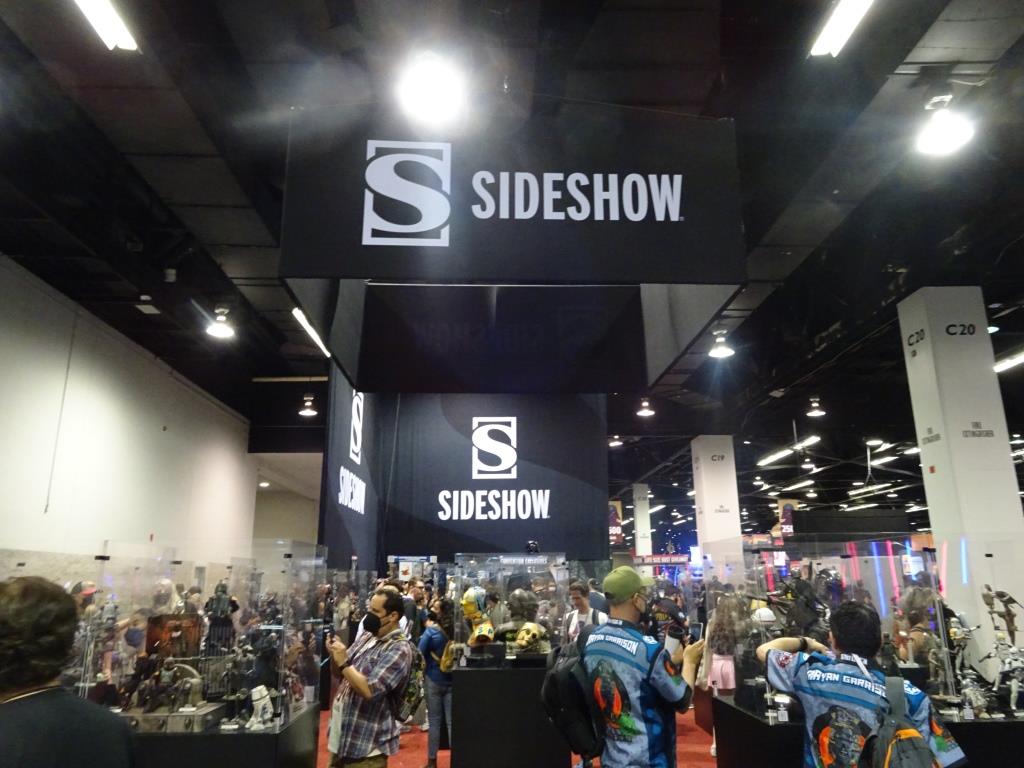 Bandai
https://www.bandai.com/
Along with selling model kits throughout the weekend Bandai had a display of ships and figures.

Bandai is a booth I am very familiar with at various conventions and usually at Toy Fair they have a huge set-up with figures, collectibles, toys, and hobby products across a wide array of products from the Star Wars universe. That said one of the best exclusives from the show and it was neither a figures or model sets but instead was an R2-D2 skinned Tamagotchi Nano which came in a sleek platinum version and collectible box.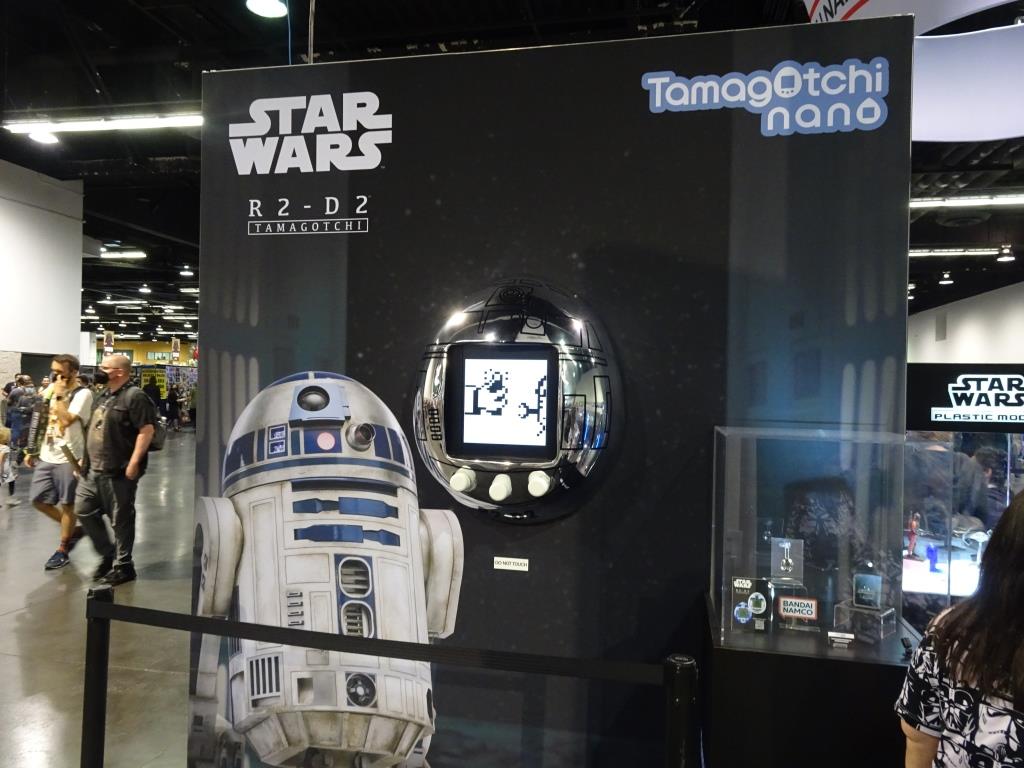 Disney Parks
https://disneyworld.disney.go.com/star-wars-galactic-starcruiser/overview/
https://disneyland.disney.go.com/destinations/disneyland/star-wars-galaxys-edge/
Disney Parks was on hand promoting the new Halcyon Galactic Starcruiser experience with a display of an area of the ship as well as products that can be found on board for smuggling. A first-of-its-kind fully immersive vacation experience the stay lets you live and breathe Star Wars over a two-night adventure where you see, feel and live Star Wars.

Across the aisle Disney Parks also had a display showcasing some of the newest products that can be found in Batuu as well as at the Star Wars Trading Post in Downtown Disney. Sadly no live samples of the new Savi lightsaber designs were on hand.

Citizen
https://www.citizenwatch.com/us/en/
Citizen the watch company brought out a their collection of Star Wars themed watches which feature unique designs and packaging paying tribute to the iconic Star Wars series including themes that incorporate favorite characters, locations, and scenes into the watches themselves. Many themes were incorporated including C-3P0, R2-D2, Mandalorian, Boba Fett, Han, Death Star, and even a show exclusive Yoda.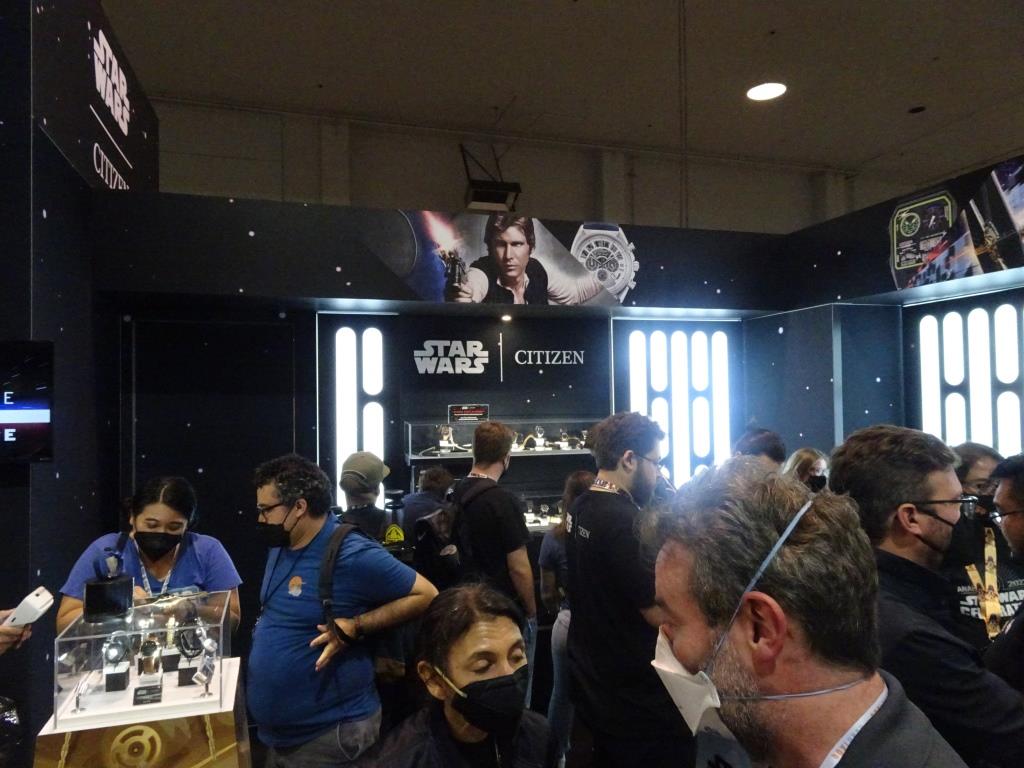 eFX Collectibles
https://efxcollectibles.com/
eFX creates the highest quality screen accurate limited-edition prop replicas and collectibles including lightsabers, helmets,, and replica ships. eFX has a really nice Ahsoka Tano lightsaber set. For the convention they also had a Grand Inquisitor badge pin limited to 1,000 pieces.

RockLove Jewelry
https://www.rocklove.com/
From the first time I saw RockLove's creations I've been hooked on creator and designer Allison Cimino sense of style. RockLove makes jewelry that fuses Allison's training as a silversmith and her love of fandom. Handmade in NY the RockLove line uses the highest quality precious metals, genuine gemstones, antique relics, and fair trade organic materials. For Celebration RockLove revealed four new Kyber Crystals adding to the eight already in the Star Wars™ X RockLove Kyber Crystal™ line which had launched in 2021.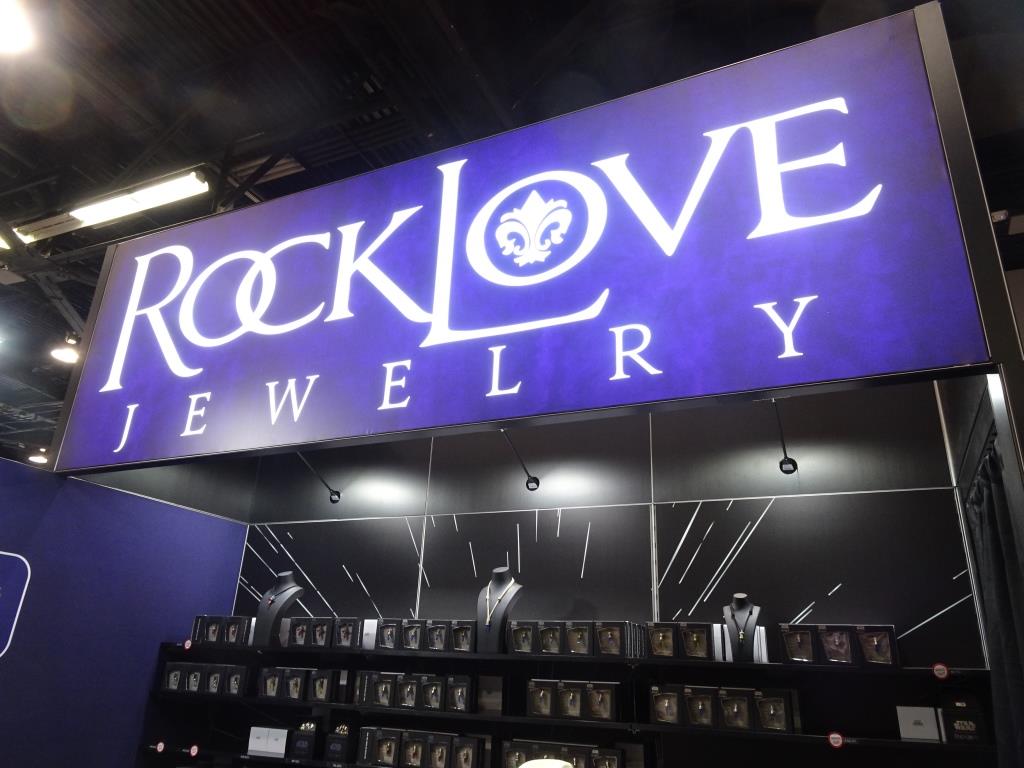 Koto Inc.
https://www.kotous.com/
Koto Inc. is a leading global developer and distributor of licensed merchandise. Serving as an exclusive distributor of Kotobukiya brand over a decade. They had a nice display of figures from the Mandalorian, The Book of Boba Fett, Ahsoka, and Attack of the Clones.

Kotobukiya
https://en.kotobukiya.co.jp/
Though Kotobukiya is distributed by Koto in the US they are still a distinct presence at Celebration. A Japanese manufacturer and retailer Kotobukiya produces high quality Japanese figures and statues across the Star Wars universe.

Mattel
https://about.mattel.com/
Though they were absent their life size Hot Wheels Darth Vader car at Celebration Mattel was still on hand showing of their Star Wars products including Star Wars Hot Wheels Starship Selects, Star Wars Galactic Pals, Darth Vader premium plush, Pictionary Air, and UNO all Star Wars themed. As a small piece of swag Mattel was giving away a Galactic Pals themed Star Wars Celebration pin!

Jazwares
https://www.jazwares.com/
Jazwares who I was introduced to at Toy Fair in 2020 is an award winning global leader in consumer products including toys, plush, collectibles, musical instruments, and consumer electronics. Founded in 1997 the company has years of experience in design, development, and manufacturing. At TTPM last month Jazwares was teasing to me a special release for Celebration which turned out to be the launch of their Micro Galaxy Squadron line of ships and figures. Perfect for introducing children to Star Wars or adult collectors that maybe want to make a diorama scene!

Insight Editions
https://insighteditions.com/
Insight Editions is an independent, global publisher of extraordinary books and collectibles. Our creative, boundary-pushing approach has led to partnerships with fan-favorite brands including Star Wars, Marvel, Disney, Harry Potter, and Pokémon, among others, as well as direct collaborations with world-class creators such as James Cameron and Guillermo del Toro. We bring the art of pop culture to life!
Insight Editions produces illustrated books that cover a wide range of topics in pop culture, entertainment, history, and the arts. For years they've been producing some of the highest quality pop culture books out there. Part of their portfolio includes their incredi-builds collection featuring do-it-yourself, customizable, freestanding models and educational guidebooks and Popcraft Greeting cards featuring pop-up greeting cards.

Regal Robot
https://regalrobot.com/
Creating everything from life-sized characters, props, replicas, and even furniture and art Regal Robot has anything for a Star Wars fans home and life. Their booth at Celebration had a wide array of their collection on display!

Lladró
https://www.lladro.com/
A Spanish brand, Lladró, is a world leader in the design, manufacturing and distribution of porcelain art. On display were a selection of their Star Wars products including Rey, Darth Vader, Ahsoka, Padme, and Leia.

Asmodee
https://shop.asmodee.com/universe/star-wars-main
Asmodee a leader in the board games world with one lof the largest games portfolio. At Celebration they had many Star Wars branded games inclunding Star Wars: UNLOCK!, Jabba's Palace: A Love Letter Game, and Spot it! The Mandalorian, Star Wars: Legion, and after acquiring Fantasy Flight Games Star Wars: X-Wing.

The Prop Store of London Inc
https://propstore.com/
Propstore sells original movie and television props, costumes and other entertainment memorabilia. They regularly host live and online auctions with items from across all of Hollywood. At Celebration they had a display of products soon to be auctioned off.
Themed Cars
On the show floor there were an assortment of Star Wars themed cars
Costumes
Star Wars Stage
The Star Wars Stage feature interviews and happenings all weekend long!