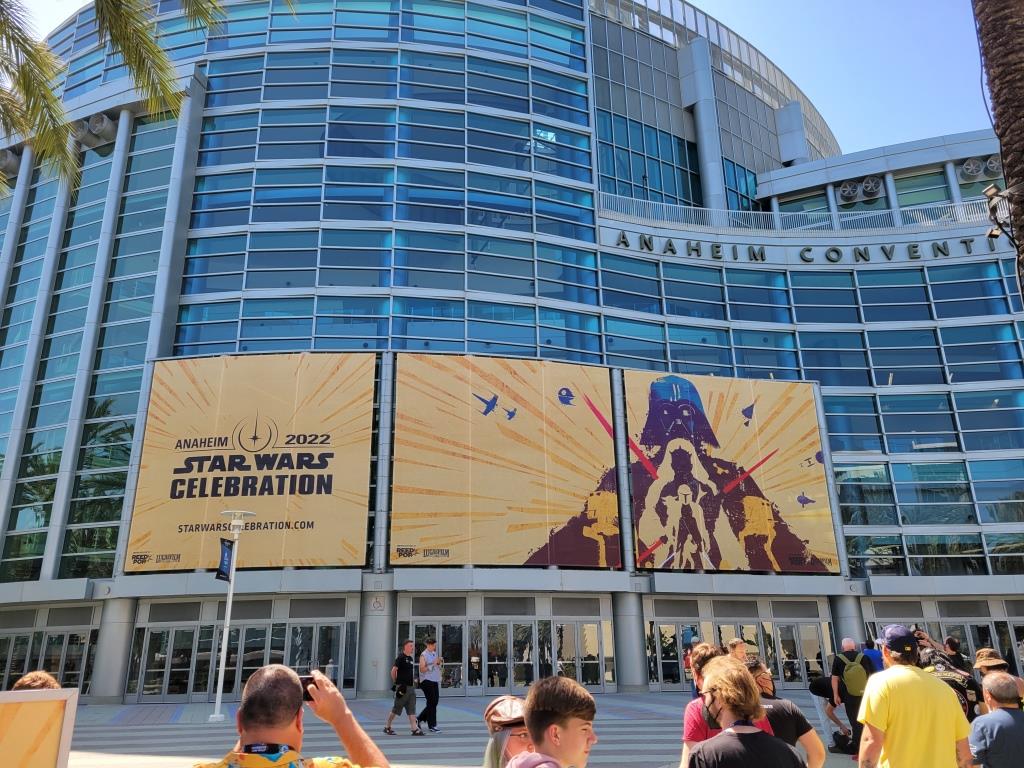 After an almost three year break from conventions Star Wars Celebration was back in business; this time returning to the Anaheim Convention Center right across the street from Disneyland and Galaxy's Edge. Unlike other comic cons that feature an extremely wide array of fandoms Star Wars Celebration, as the name implies, bring together fans for a four day showcase of all things Star Wars related.
While the show is just Star Wars focused four days still never feels like enough time to fully experience everything happening during the show with so much to going on from panels, exhibitors,  exhibits, dioramas, art booths, cosplaying, and even a tattoo parlor. Pin and swag collecting and trading even have their own strong presence at the show. As normal I'll therefore be breaking down my coverage based on the different aspects of the show. Since there are always a wide array of things fans can experience at any convention I split my coverage into the different aspects of a show. Outside of the typical exhibitor booths art plays a major role on the show floor at Star Wars Celebration. Plenty of artists and art galleries were on hand displaying some of the most amazing Star Wars related art out there. Additionally as part of the show Dark Ink Art with license through Acme Archives puts on an art show with a select group of artists selling official Star Wars Celebration prints making for even more unique pieces as these have the official show logo on them.

So let's take a look at some of the amazing artwork found at Star Wars Celebration 2022…

Art of Entertainment/ Thomas Kinkade Studios
https://artofentertainment.com/
https://thomaskinkade.com/

Art of Entertainment provides a wide array of limited edition fine art and collectibles across a wide array of properties including DC, Marvel, Disney, and Star Wars. Perfect for movie and entertainment fans looking for amazing artwork to add to their home Décor and with different sizing, editions, and framing options available for each print fans can get the perfect piece of art for their home collection.

At Celebration Art of Entertainment and Thomas Kinkade studios were on hand showing off a host of art from their Star Wars line. The booth was showcasing four of their artists throughout the show – Dirk Wunderlich, Monte Moore, Brian Rood, and Jenna McMullins. Debuting at the show were artist Monte Moore's Star Wars: The Mandalorian Colletion and Brian Rood's trio of limited edition paintings which are part of his Star Wars: Book of Boba Fett collection.

Brian Rood Art
https://brianrood.com/
Along with the art showcased at the Art of Entertainment booth artist Brian Rood Art had his own dedicated booth with plenty of artwork on display at Celebration. On display were dozens of original paintings across his portfolio from various franchises and across Brian's career. Everything from artwork seen on published merchandise as well as unpublished pieces were on display along with new fine art prints.

Steve Anderson Designs
https://www.steveandersondesign.com/
Since 1993 Steve Anderson has worked on Star Wars artwork for Lucasfilm Licensing. Steve has worked with Hallmark and Hasbro working on calendars, puzzles, gift wrap and handle bags, game box tops, game boards and action figure packaging. At Celebration Steve had a wide array of prints but what immediately caught my eye was a gorgeous triptych for the original trilogy!

Lee Kohse
http://www.kohse.com/
Lee Kohse brought a wide array of art to his booth at Celebration including a few non-Star Wars pieces. Lee had an amazing Voltron and Speed Racer piece as well as an assortment of card sized Star Wars pieces.

Russell Walks Illustration
http://russellwalks.com/
On top of designing the 2022 Badge Art for Celebration Russell Walks had an amazing assortment of other Star Wars pieces including a slew of destination prints of various Star Wars planets. Russell has also worked for Marvel and Paramount along with Lucasfilm.

Jerry Vanderstelt
https://www.store.vandersteltstudio.com/main.sc
VanderStelt Studio was on hand with several Licensed Star Wars pieces. On top of pieces he had work on for Sideshow Collectibles, Vanderstelt Studios also had original art pieces as well. The portrait pieces of Obi-Wan, Vader, Padme, and Leia were very eye catching when passing by the booth. Adrianna Vanderstelt was also on hand featuring her official piece for the show titled, "A Friend", showcasing a heart-felt moment with Grogu and R2-D2.

Woodside Illustrations
https://woodsideillustrations.com/
Brent and Kayla Woodside, the dynamic pair behind Woodside Illustration cover all things nerdy with a portfolio that spans many Disney, Lucas Arts, Acme Archive, Beacon Pictures, and Onyx Path Publishing properties. At Celebration the pair had a wide range of their Star Wars pieces on display!

Cliff Cramp Illustration
https://www.cliffcramp.com/
Cliff Cramp had a host of originals and prints of his Star Wars artwork with lots of focus on The Mandalorian pieces though with a sprinkling of all generations and even some Indiana Jones as well.

Jason Palmer Art
https://jason-palmer-art.square.site/
If Jason Palmer's art looks familiar it's likely because you saw the huge mural he painted for the Star Wars Celebration 2019 show that was hanging in the main entranceway. For 2022 Jason was on hand and showing off a slew of character and collage prints.

Joe Corroney
http://www.joecorroney.com/
Joe has been illustrating Star Wars art for over 20 years along with a host of other properties, seriousl read his bio! With an official piece in the Star Wars art show (more on that below), a set Empire and First Order propaganda, and character focused pieces showing different iterations of a character through the Star Wars saga Joe had a bit of everything for everyone.

S. Preston Art + Designs
https://sprestondesigns.com/
Though he may be more recognized for his work in various major sports leagues S. Preston has also worked with Warner Brothers, and Star Wars throughout his career. His minimalistic designs are very eye catching and perfect for a more adult home décor.  

Chris Trevas
http://www.christrevas.com/
Chris Trevas has worked with nearly everyone over his 20 plus career including Lucasfilm, Hasbro, Mattel, Disney Interactive, and DK Publishing. He's worked on vintage series packaging from Hasbro as well as the Star Wars Galaxy's Edge: Traveler's Guide to Batuu. He has had pieces in the official art show multiple times including this year.

Art of Al Abbazia
http://martiniavenue.com/
Al Abbazia is an official artist for Star Wars/Lucasfilm and Acme Archives. Al also had a print that was featured in this year's art show entitled "Reflective Power."

Art Show
https://www.darkinkart.com/collections/star-wars-celebration-anaheim-2022-art-show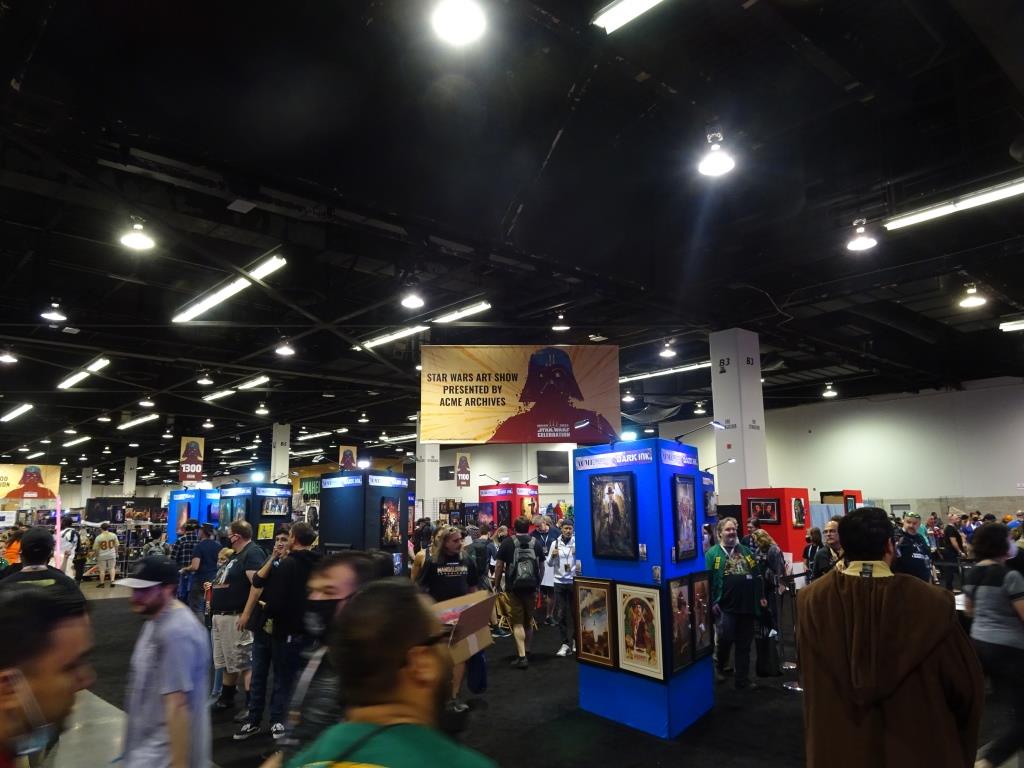 As I alluded to in some of the profiles above each Celebration Dark Ink Art with license through Acme Archives chooses a number of artists and presents an art show. Each artist has a lithographic print that is limited to 250 pieces and is only available for show attendees. What makes the pieces most unique is that they are the only official ones with the 2022 Star Wars Celebration logo printed on them. This year the art show included 21 artists with a wide range of art styles.
The art show area typically includes other artwork form the artists which I have shown off below and after that I have included a picture of the 21 art show pieces from the 2022 show.