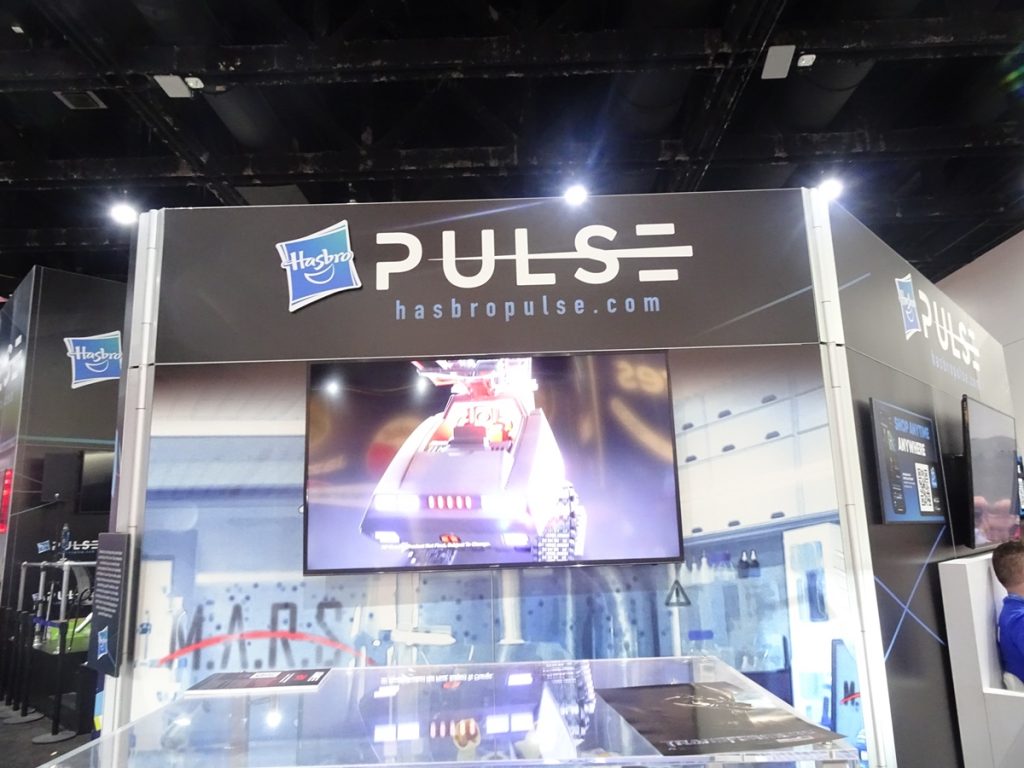 At almost the exact center of the convention floor Hasbro occupies one of the larger booth spaces on the show floor. As normal they had huge displays from their top brands displaying their wide array of toys, games, figures, and roleplay items for their youngest fan to the most fervent collector. Going to the booth towards the beginning of the convention is always interesting as many display cases are left empty and only once Hasbro holds a panel for the specific property will those displays get updated with all the figures revealed during that panel.

The booth space is also a spot where there are plenty of opportunities to interact with the teams involved with the different properties. There are also plenty of signings and some trivia with giveaways. For 2022 the two big things were the new NERF Gelfire Mythic blaster and the launch of the Selfie Series line. While I am sure supply chain delays and increasing production costs played a role in the decision to not have the Hasbro Pulse sales booth this year it was still a bit disappointing not seeing it on the floor and not having the ability to purchase convention exclusives in person. There was an opportunity to purchase two convention exclusives online at the convention but the overall thrill of going to the pulse booth and walking out with huge amounts of exclusives like in years past was lessened.

I have posted images of nearly all the revealed figures in their respective threads on our internal boards but there is really nothing comparable to walking through the Hasbro booth and seeing their amazing displays in person. So let's take a look at all the properties on hand at the Hasbro booth at Comic-Con.
Selfie Series
To me the clear winner throughout the entire convention was the announcement of Hasbro's upcoming Selfie Series. While the new line was not a limited convention exclusive and is going to be fully available in the fall the fact that at Comic-Con there was an opportunity for a small amount of fans that visited the Hasbro booth first thing each morning to be amongst the first fans to get their own figures made is what made this the best of con.

Essentially the Selfie Series is a new product line that will allow fans to get their face 3D printed onto a premium six inch scale, fully articulated figure, from one of Hasbro's top brands including Ghostbusters, Marvel, Star Wars, Power Rangers, and G.I. Joe. At $60 each the figures will set you back a bit more than their standard six inch figures but I don't think that will stop the masses from signing up to get their very own action figure made when they are fully available in the fall. The team in charge of the line were on hand, each with their own displayed figure, to answer questions for those interested in learning more, showcase what the process entails, and help and advise the lucky fans who were able to secure a figure spot at the convention on making their own figures.

I was lucky enough to be able to secure my very own spot so a full review including the customization process of creating a figure will come later when my very own figure arrives around September. You'll also have to wait and see which property I chose, though I am sure that I'll eventually add more than one figure to my collection!

I fully expect to see plenty of other companies playing catch up in the near future and trying something similar with their own properties.
Transformers
Transformers showcased a number of figures from across the various running series including Earthspark, Shattered Glass, Studio Series, and Legacy. For the 15th anniversary of the Transformers movie the Bumblebee Camaro was a centerpiece display.
Star Wars
There was plenty of Star Wars to go around with continued releases across Hasbro's different levels of products. Highlights included a new Mandalorian Credit series line, a Halloween Black Series line, a Vintage Collection Boba Fett's Starship, and a Obi-Wan Kenobi series Darth Vader Force FX Elite lightsaber which is already available to ship. You can check out individual product images here and head to Hasbro Pulse to purchase!
Marvel
Marvel also had plenty of reveals throughout the convention with a new line of Black Panther: Wakanda Forever figures plus a new full scale Tesseract with Loki figure! Check out our running Hasbro Marvel thread here.
G.I. Joe
Plenty of new releases were on display in the G.I. Joe area including a Sgt. Slaughter figure with his own mini Sgt. Slaughter figure. Part of the G.I. Joe area also included the Haslab H.I.S.S. Tank which is still currently funding.
Magic: The Gathering
A new Secret Lair X Fortnite series was showcased including seven cards and five lands. Be sure to be ready for this loot drop when it is available from Magic: The Gathering!