San Diego Comic-Con (SDCC), the premier US convention, was finally able to come back to in person shows after an almost three year break and the premier convention needs to also have premier content whether that covers comic books, gaming, retrospectives, cosplay, educator discussions, representation across the industry, or upcoming TV shows and movies. Panels serve as the lifeblood of any convention allowing fans a chance to hear about and discuss their favorite content and Comic-Con curates hundreds of hours of content for almost every fandom.

Each year there are so many panels to experience that it becomes impossible to cover them all and since getting into Hall H is a task in and of itself once the full Comic-Con schedule is revealed I tend to choose a Hall H day, usually Friday or Saturday, that interests me most and spend that day in the panel room. Because it's been three years and because some of the major studios decided to show up getting into Hall H on Saturday once again required hours and hours of spending time in lines just to secure a spot in the room. All that effort paid off though when I got into Hall H for the Saturday which included a stacked line-up of panels including a Shazam! and Black Adam DC panel, a Netflix The Sandman panel, HBO's Game of Thrones: House of the Dragon, Entertainment Weekly: Bold School, and Marvel.

Unfortunately without a streaming option and video not being allowed most of what you'llbe able to enjoy are the photos of cast and crew that were on hand.
Shazam! Fury of the Gods
Zachary Levi, Lucy Liu, and crew came out to discuss the upcoming movie and tease a trailer for it.
Black Adam
Dwayne "The Rock" Johnson literally electrified fans as he came out in full costume before joining cast and crew to talk about his upcoming stint as Black Adam.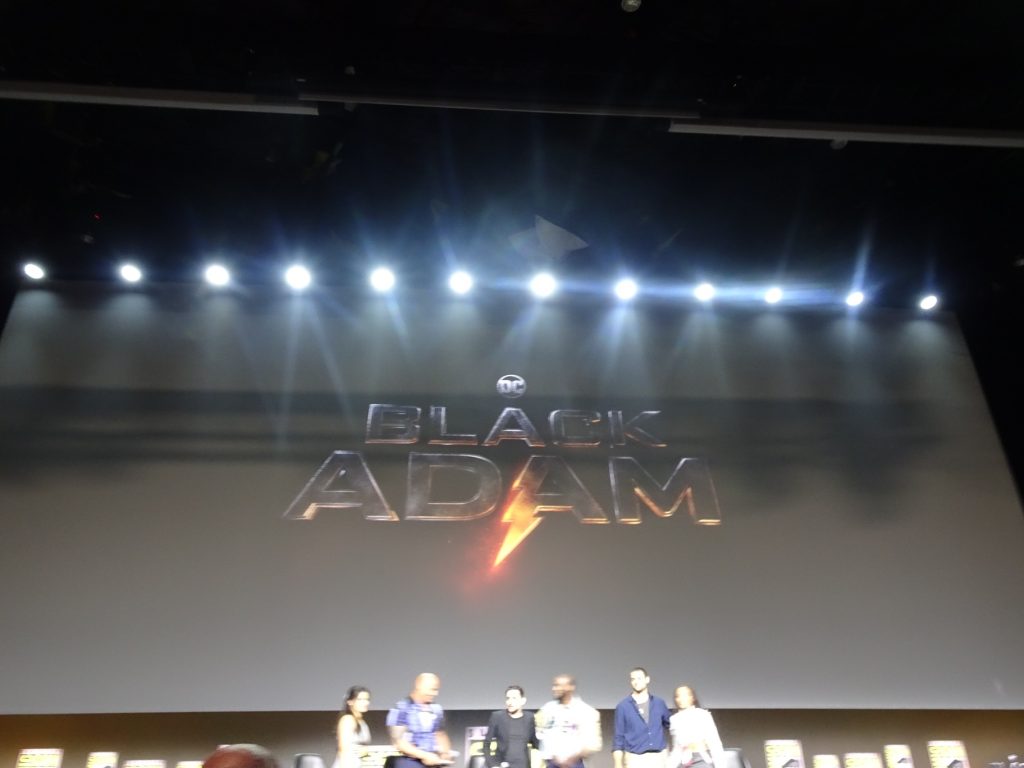 HBO's Game of Thrones: House of the Dragon
Based on George R. R. Martin's Fire & Blood, the HBO Original series House of the Dragon is set 200 years before the events of Game of Thrones and tells the story of House Targaryen. Check out my coverage from the House of the Dragon: The Dragon's Den experience here.
Entertainment Weekly: Bold School
Emily Hampshire (Schitt's Creek), Katja Herbers (Evil), Dulcé Sloan (The Great North), and Shantel VanSanten (For All Mankind) came out swinging with this wildly entertaining panel on being a fearless female and/or nonbinary forces in entertainment.
Netflix's The Sandman
Neil's Gaiman's live-action adaptation of beloved DC comic series hits Netflix this week. There is another world that awaits us when we close our eyes and sleep–a place called the Dreaming, where The Sandman, Master of Dreams (Tom Sturridge), gives shape to our deepest fears and fantasies. But when Dream is unexpectedly captured and held prisoner for a century, his absence sets off a series of events that will change both the dreaming and waking worlds forever.
Marvel
What was supposed to be a quick hour long panel turned into a 90 minute explosion of reveals and news. Kevin Feige came out to a raucous audience to drop detail after detail. Before bringing out the cast of She-Hulk which will end Phase Four of the Marvel Cinematic Universe Kevin dropped the entire Phase Five timeline which includes the return of Daredevil and the announcement that Thunderbolts will conclude the phase.
It was then time to bring on the casts of some of the upcoming shows and movies including the aforementioned She-Hulk, Cobie Smulders for Secret Invasion, and Ant-Man and the Wasp which included Jonathan Majors returning as Kang. A very emotional James Gunn and Guardians of the Galaxy cast which included Chris Pratt, Pom Klementieff, Sean Gunn, Will Poulter, Karen Gillan, Maria Bakalova, and Chukwudi Iwuji in full High Evolutionary suit discussed the conclusion of the trilogy which hints at a likely focus on the origins of Rocket.
Then it was time for the most emotional part of the evening. Starting with a musical performance the Black Panther: Wakanda Forever portion of the panel brought a somber note to the panel. Ryan Coogler and the cast which included Letitia Wright, Dominique Thorne, Daniel Kaluuya, Lupita Nyong'o, Danai Gurira, Winston Duke, and Tenoch Huerta as Namor talked about the emotion around the new movie and ended the panel by revealing a very emotional first trailer.