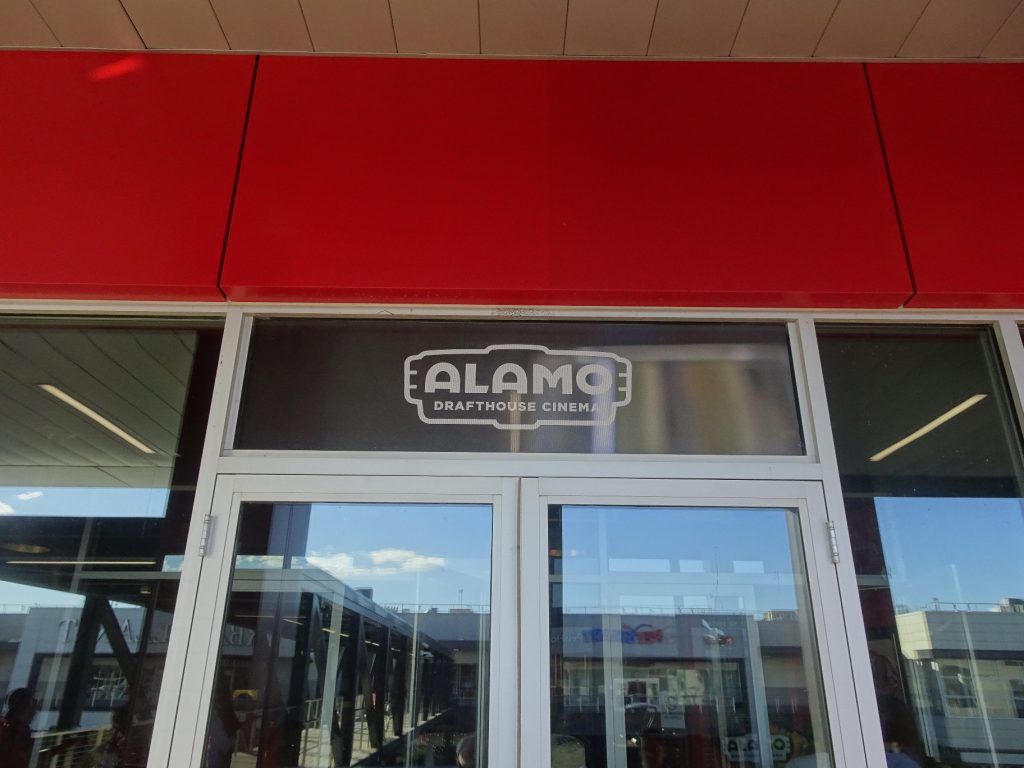 The Staten Island Alamo Drafthouse Cinema, the fourth New York theater, officially opened its doors to the public on Saturday August 14. Alamo Drafthouse founder and owner Tim League along with rap group Wu-Tang Clan leader RZA (who collaborated on the design of the theater's bar The Flying Guillotine) and managing staff were all on hand to officially celebrate the opening of the nine auditorium, 893 seat theater.

Though Staten Island is a bit out of the way, unless you live there like I do, each Drafthouse is chosen based on their ease of getting to. Situated on Hylan Boulevard the theater is a short ride from multiple New York and New Jersey points and is fairly accessible for those in Manhattan via the Staten Island Ferry and a quick ride on the Staten Island Railway.
Kung-fu. Kung-fu is most definitely the theme of the newest addition to the Alamo Drafthouse family, which came about because of the theaters collaboration with RZA the founder of Staten Island hip hop group Wu-Tang Clan who, for those who are unaware, were heavily inspired by kung-fu movies. From the time you enter the lobby and are greeted with the theaters kung-fu themed banner showcasing the vastness of kung-fu film's history as well as the theaters bar The Flying Guillotine the theaters theme definitely can't be missed. Within the theater there is a small lobby area with some classic arcade games and a claw game along with a wall of merchandise.
Walking the hall to each auditorium the halls while featuring posters for the new movies playing in the theater are vastly outnumbered by the amount of kung-fu inspired posters and art.
About the theater itself; the new Alamo Drafthouse features nine auditoriums with a total of 893 seats. The auditoriums range from a small 37-seat theater, which will likely be used for older or indie showings, to two larger 200-seat theaters for more mainstream movies. As Tim League described when the Brooklyn Drafthouse opened having an indie film in a 200-seat theater with only 30 attendees would be a colossal failure, but in a 40-seat theater it would be a huge success; which is why it is important to have the different size auditoriums.

All auditoriums are equipped with Sony 4K laser projection, with one screen featuring Dolby Atmos® partner cinema and another theater with 35mm capability. Each auditorium features comfortable seating, tables for food, and table side food service.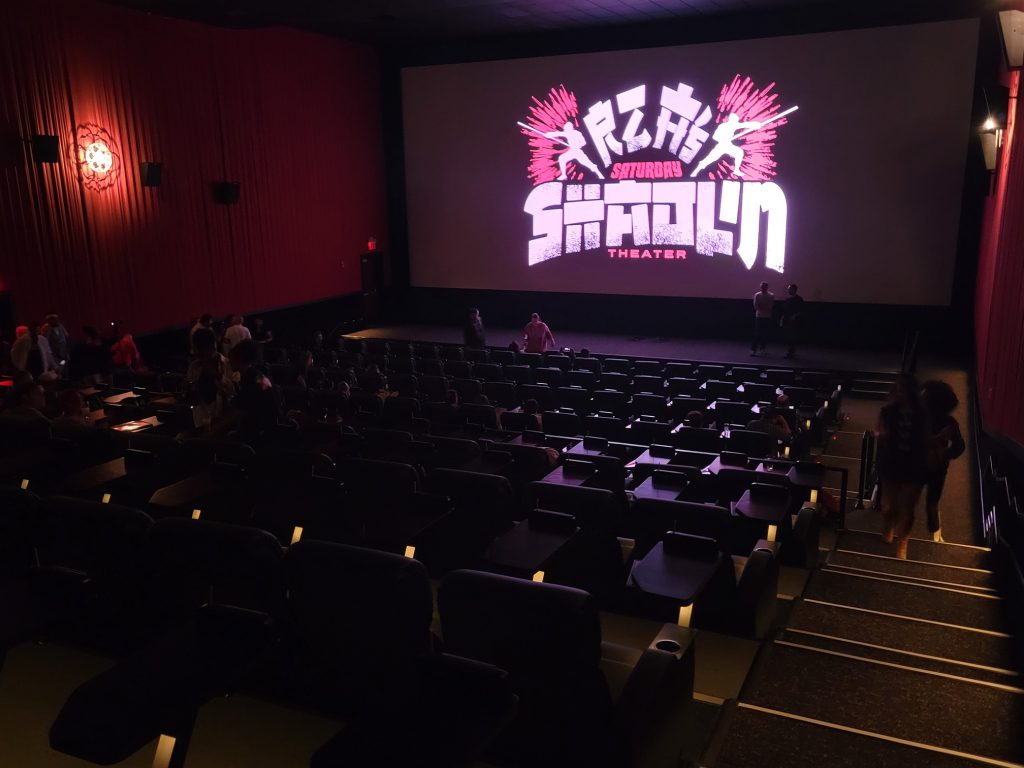 Head chef John Alberici joins the Alamo Drafthouse team with over 17 years of restaurant management experience in New York City. The menu features a diverse array of options for starters, appetizers, and snacks that are almost fully prepared in-house. In addition to their core menu there are vegetarian and vegan options. Finally the kitchen will also feature seasonal specials as well as specific movie and event themed options.

Orders are taken, preferably before the movie starts, by writing your order on a card and a "ninja" server dressed in black will come, take your order, give you a thumbs up, and get you your order all while keeping quiet so as to preserve the experience of the movie. The Staten Island theater is also the first Drafthouse to feature a call button to help get you your order quicker!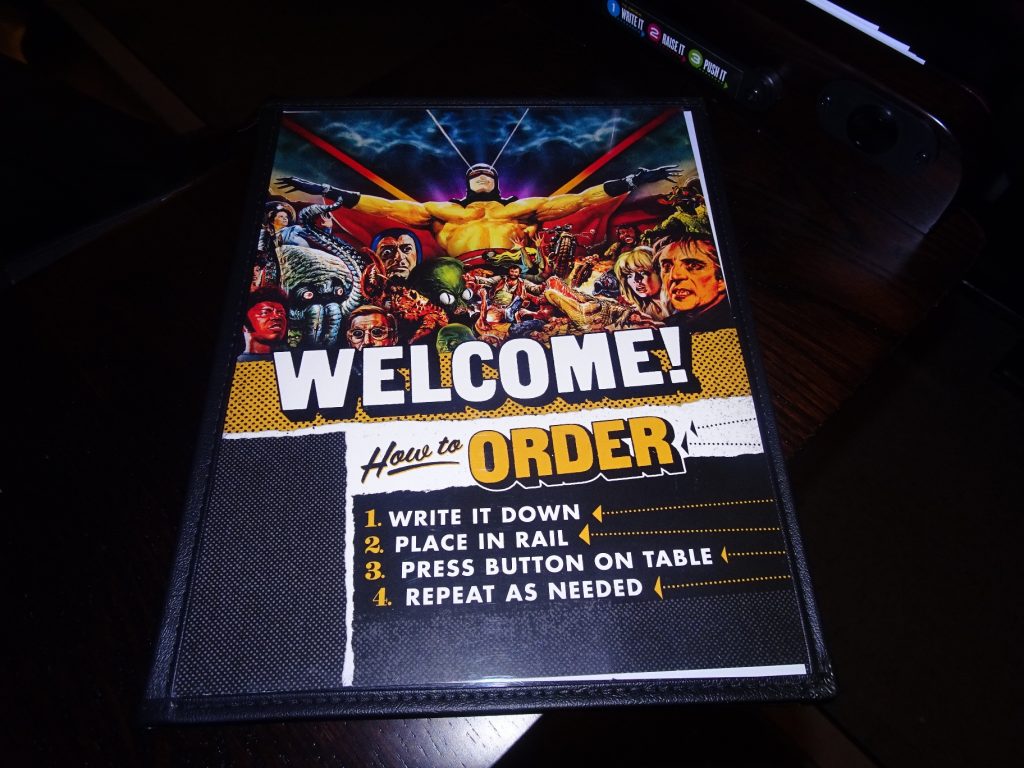 The theater is set to play everything from first run mainstream titles as well as a diverse array of curated genre offerings. Specialty programming will include monthly series like Movie Parties and Brunch Screenings, as well as RZA's Saturday Shaolin Theater, a monthly series of martial arts titles spanning old school rarities to recent classics.
On a final note the Alamo Drafthouse is meant for serious moviegoers, instead of ads before each movie there is a curated program of shorts, cartoons, and other video content usually with relevance to the film while you wait for the movie to begin. Additionally they have a strict no late arrival policy (latecomers will be refunded or given tickets to a later showing) and a no cellphone or talking policy (that will get you removed if broken after your first warning). So sit back and enjoy your movie in peace and quiet.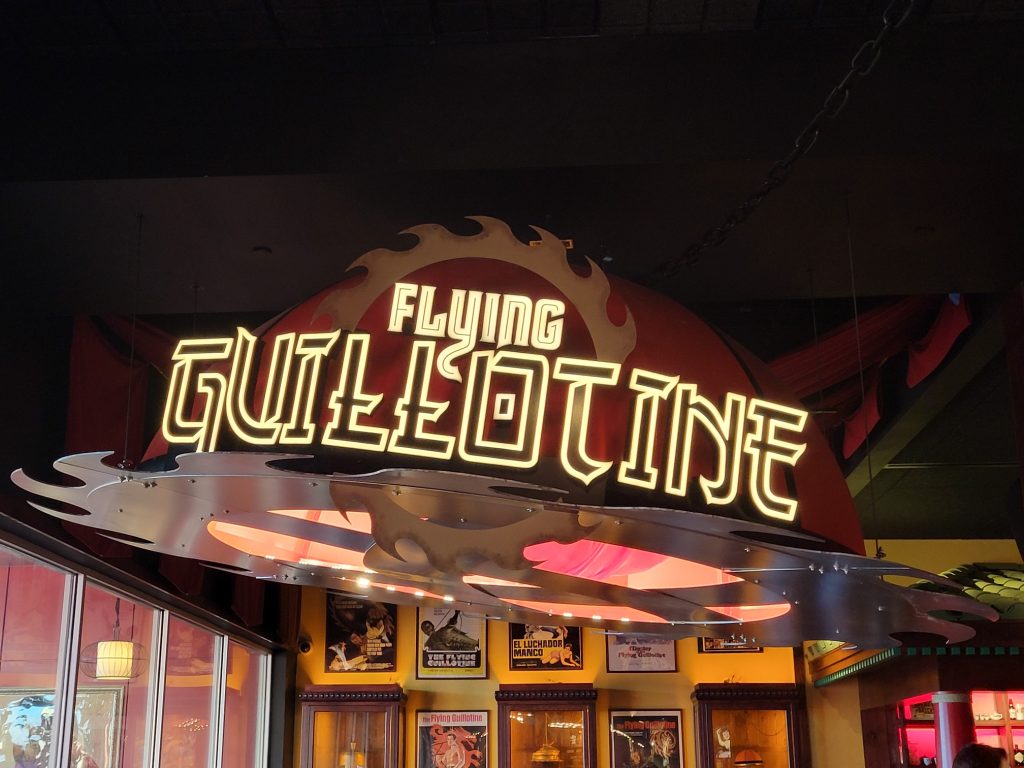 Within the theater is the kung-fu themed bar The Flying Guillotine. As mentioned above the bar came about with the collaboration with Wu-Tang Clan founder RZA. Along with movie memorabilia and posters throughout the bar area the entrance features a huge flying guillotine and chopping block photo op. The bar area also has a Shaolin Monk Temple theme it and sitting dead center on the bar top is the legendary Wu-Tang Clan "W."

The bar overseen by former House of Wax and Press Room manager Vincent Favella has a large selection of local draft beers including a collaboration with local brewery Flagship Brewery for their Flying Guillotine Session Pale Ale as well as Allagash White a personal favorite of mine. The cocktail menu has a large selection of offerings broken into two sections; Shaolin featuring nine classic cocktails and Wu-Tang highlighting nine original cocktails and is a neat callback to the movie that inspired Wu-Tang Clan's name and a reference to Staten Island's nickname.

There is even an outside seating area to enjoy drinks when the weather is nice while waiting for your movie to begin.
To celebrate the opening of the Staten Island Alamo Drafthouse an opening ceremony was held this past Saturday, August 13. Top executives and press were invited to take an official tour of the theater, meet and mingle with the amazing team in charge of the new theater, and sample some of the drinks and food. An official cork popping ceremony with Tim League and RZA and the first official movie The Man with Iron Fists was screened.
Those in attendance were also given a special Alamo Drafthouse Staten Island variant Mondo poster for Master of the Flying Guillotine by artists Denys Cowan, Bill Sienkiewicz, and Chris Sotomayor.
Finally you may want to check out Z2 Comics collaboration with RZA on his upcoming graphic novel RZA Presents: Bobby Digital and The Pit of Snakes. Z2 Comics, who I became familiar with just this past year at the San Diego Comic-Con Fandom Party, were on hand to promote the new graphic novel.