Group Buy Close Date

20.12.2018
Please specify t-shirt size in the confirmation email you will be sending after signing up in the GB. Available sizes:
S/M/L/XL/XXL.
If you will not include this information in the email size L will be automatically ordered.
Shipping is NOT included in the price and will be paid/requested separately via PM when purchased item will be in hand after its released.
Release thread:
Terminator 2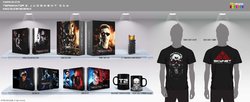 Price: 4000 CZK
Paypal Fee: 7% - 280 CZK
HDN GB Fee: 7,5% - 321 CZK
Total: 4601 CZK
When sending payment ensure to write following details in paypal notes and after the payment was completed please send an email to

[email protected]

with the same information in the subject of the email:
* PURCHASED ITEM
* HDN USERNAME
* NAME
* COLLECTABLE NUMBER (if you have one)
T2 BOX / carllenc / Karel Lenc / 001
When purchasing we strongly recomment doing so in
incognito mode
via Google Chrome due to some technical errors which can result in copies not being added to the GB list, hence not ordered.