Release Date

August 29, 2017
Hey members!
I'm hosting a group buy for any of you people out there that are interested in the
The Lion King Blu-ray digibook from Target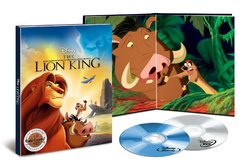 Pre-order cost is $27.99
Sales tax of 5.5% per copy
HDN GB Fee of 7.5%
Paypal fees are included in final cost. Shipping TBD later.
Original link -
http://goto.target.com/c/1263516/20...ve-storybook-blu-ray-dvd-digital/-/A-52711158
You'll note that the price will not likely drop further, but in order to guarantee the number of copies requested, I order from Target.com ahead of time and cannot price match.
Paypal fees will be included in any invoice sent.
Limit of 2x copies per request.