Ltd. Ed./Birthdays/Video Game Mod
Moderator
Premium Supporter
[CONTAINER][MOVIE1]
Title:
13 Hours: The Secret Soldiers of Benghazi (2016)
Genre:
[GENRE]Thriller[/GENRE], [GENRE]Drama[/GENRE], [GENRE]Action[/GENRE]
Director:
[DIRECTOR]Michael Bay[/DIRECTOR]
Cast:
[ACTOR]Pablo Schreiber[/ACTOR], [ACTOR]John Krasinski[/ACTOR], [ACTOR]David Denman[/ACTOR], [ACTOR]Toby Stephens[/ACTOR], [ACTOR]Max Martini[/ACTOR], [ACTOR]James Badge Dale[/ACTOR], [ACTOR]David Costabile[/ACTOR], [ACTOR]Elektra Anastasi[/ACTOR], [ACTOR]Alexia Barlier[/ACTOR], [ACTOR]Liisa Evastina[/ACTOR], [ACTOR]Dominic Fumusa[/ACTOR], [ACTOR]Demetrius Grosse[/ACTOR], [ACTOR]Steffi Thake[/ACTOR], [ACTOR]Kerim Troeller[/ACTOR], [ACTOR]Kenny Sheard[/ACTOR]
Release Date:
[RELEASE]2016-01-15[/RELEASE]
Runtime:
[RUNTIME]0[/RUNTIME]
Plot:
An American Ambassador is killed during an attack at a U.S. compound in Libya as a security team struggles to make sense out of the chaos.[/MOVIE1][POSTER1]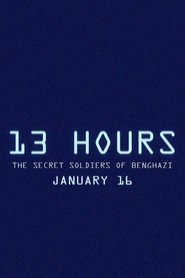 [/POSTER1][/CONTAINER]
Source:
ComingSoon.net
From director Michael Bay, the true Benghazi tale is based on Mitchell Zuckoff's recently released book, officially described as follows:
"13 Hours" presents, for the first time ever, the true account of the events of September 11, 2012, when terrorists attacked the US State Department Special Mission Compound and a nearby CIA station called the Annex in Benghazi, Libya. A team of six American security operators fought to repel the attackers and protect the Americans stationed there. Those men went beyond the call of duty, performing extraordinary acts of courage and heroism, to avert tragedy on a much larger scale. This is their personal account, never before told, of what happened during the thirteen hours of that now-infamous attack.
The feature film version, from Paramount Pictures, is set to star Pablo Schreiber, John Krasinski, James Badge Dale, David Denman, Max Martini and Dominic Fumusa and will hit the big screen
January 15, 2016
. Chuck Hogan (The Town) has adapted the screenplay for the project, which is set up at Paramount Pictures with Erwin Stoff producing.
Last edited by a moderator: