Use the code CYBER15 at check out to get your deal!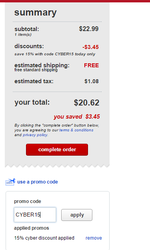 Of some interest to members here -
FOR TODAY ONLY: 15% off any Target Mondo steelbook
$22.99 reduced $3.45
Cost after sales tax $20.62 per copy - The Thing, Flash Gordon, Shaun of the Dead
All other fees apply.
See my group buy here for ANY NEW ORDERS -
https://www.hidefninja.com/communit...do-steelbooks-wave-1-thing-shaun-flash.71212/
USA customers - order direct and use CYBER15 code for any order placed.
Shaun of the Dead
Flash Gordon
The Thing
Also works on Highlander and Reservoir Dogs