[CONTAINER][MOVIE1]
Title:
Alien: Covenant (2017)
Genre:
[GENRE]Thriller[/GENRE], [GENRE]Science Fiction[/GENRE], [GENRE]Adventure[/GENRE]
Director:
[DIRECTOR]Ridley Scott[/DIRECTOR]
Cast:
[ACTOR]Michael Fassbender[/ACTOR], [ACTOR]Danny McBride[/ACTOR], [ACTOR]Billy Crudup[/ACTOR], [ACTOR]Katherine Waterston[/ACTOR], [ACTOR]Jussie Smollett[/ACTOR], [ACTOR]Demián Bichir[/ACTOR], [ACTOR]Carmen Ejogo[/ACTOR], [ACTOR]Amy Seimetz[/ACTOR], [ACTOR]Callie Hernandez[/ACTOR], [ACTOR]Alexander England[/ACTOR], [ACTOR]Benjamin Rigby[/ACTOR], [ACTOR]Noomi Rapace[/ACTOR]
Release Date:
[RELEASE]2017-08-04[/RELEASE]
Runtime:
[RUNTIME]0[/RUNTIME]
Plot:
Ridley Scott returns to the universe he created in ALIEN with ALIEN: COVENANT, the second chapter in a prequel trilogy that began with PROMETHEUS — and connects directly to Scott's 1979 seminal work of science fiction. Bound for a remote planet on the far side of the galaxy, the crew of the colony ship Covenant discovers what they think is an uncharted paradise, but is actually a dark, dangerous world — whose sole inhabitant is the "synthetic" David (Michael Fassbender), survivor of the doomed Prometheus expedition.[/MOVIE1][POSTER1]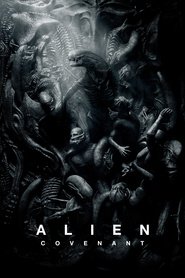 [/POSTER1][/CONTAINER]
As per
IMDB:
Source:Bloody Disgusting
During a press panel for The Counselor, director Ridley Scott was asked about the current state of Prometheus 2 (Paradise), which has been in development hell since the departure of screenwriter Damon Lindelof.

Good news for fans of the quasi-Alien prequel (that's me!), he confirms that the screenplay is still being written. Transcendence scribe Jack Paglen was hired back in June to figure out a way to continue the story of Elizabeth Shaw (Noomi Rapace) and the Engineers, which was left in a state of flux when the original one-shot was changed to make way for a trilogy.
Last edited by a moderator: