Ltd. Ed./Birthdays/Video Game Mod
Moderator
Premium Supporter
[CONTAINER][MOVIE1]
Title:
Annabelle 2 (2017)
Genre:
[GENRE]Horror[/GENRE]
Director:
[DIRECTOR]David F. Sandberg[/DIRECTOR]
Cast:
[ACTOR][/ACTOR]
Release Date:
[RELEASE]2017-05-19[/RELEASE]
Runtime:
[RUNTIME]0[/RUNTIME]
Plot:
The possessed doll named Annabelle returns.[/MOVIE1][POSTER1]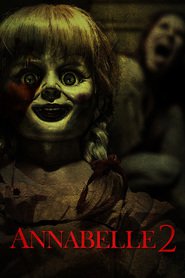 [/POSTER1][/CONTAINER]
Annabelle Sequel in Development With Screenwriter Returning
http://screenrant.com/annabelle-2-sequel-gary-dauberman/
While the horror genre tree has many branches, perhaps the most successful of this decade is the ghost/haunting film. Movies like

Paranormal Activity, The Conjuring,

and

Insidious

really hit a sweet spot for Hollywood, costing little to make but absolutely raking in the bucks at the box office. This was also true for 2014's

Annabelle

, a spin-off of

The Conjuring

starring the demonic haunted doll that managed to capture the attention of audiences during her short supporting role in the original film.

Annabelle

made an astounding $256 million at the worldwide box office on a $6.5 million budget, and a sequel seemed almost inevitable at that profit margin. Sure enough, it seems that

Annabelle 2

is already in active development at Warner Bros.

The Tracking Board

reports that Warner Bros. is bringing back

Annabelle

screenwriter Gary Dauberman to pen her sequel, although it looks like original director John Leonetti might not be returning. His status is apparently not 100% certain yet, but Warner Bros. has reportedly begun a search for his potential replacement just in case.

Annabelle 2

is in development, and has no current release date.
Last edited by a moderator: