Ltd. Ed./Birthdays/Video Game Mod
Moderator
Premium Supporter
Source:
ComingSoon.net
Batman v Superman Soundtrack!
(CD and Vinyl)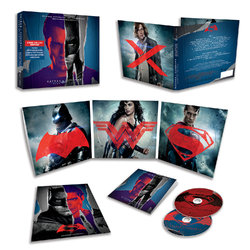 WaterTower Music

officially announced today the March 18 release of the Batman v Superman soundtrack! Below, you can check out a spoiler free track listing and even listen to a preview of the new score by Hans Zimmer and Junkie XL (aka Tom Holkenborg).

The Batman v Superman soundtrack is available digitally, on CD, 2-disc deluxe CD, and as a Limited Edition 3-disc deluxe vinyl.

The 2-CD deluxe package, the digital deluxe version, and the 3-disc deluxe vinyl set feature over 90 minutes of music, five bonus tracks, an exclusive fold-out poster and liner notes from the composers. Additionally, the vinyl set features etched vinyl art and an album download card.

The Batman v Superman soundtrack listing reads as follows:

Beautiful Lie

Their War Here

The Red Capes Are Coming

Day Of The Dead

Must There Be A Superman?

New Rules

Do You Bleed?

Problems Up Here

Black and Blue

Tuesday

Is She With You?

This Is My World

Men Are Still Good (The Batman Suite)

Blood Of My Blood (Bonus Track)**

Vigilante (Bonus Track)**

May I Help You, Mr. Wayne? (Bonus Track)**

They Were Hunters (Bonus Track)**

Fight Night (Bonus Track)**

** On deluxe versions only
1st Preview!