Super Moderator
Super Moderator
Premium Supporter
The highly-anticipated
Black Adam
raked in $67M domestically and $140M globally this past weekend —Dwayne Johnson's largest domestic opening ever in a leading role!
The movie doesn't have to end when the credits roll: continue the action with
Spin Master
's official movie action figures and play sets! You know they're must-haves when Dwayne and Aldis love their mini-me's, as seen on
Good Morning America
and
3rd Hour TODAY
.
Available now at all major retailers, these toys have meticulous attention to detail and stylized sculpts, combined with great accessories and innovative features. They're designed to be fun, playable and capture the movie magic.
Black Adam 4-inch Action Figures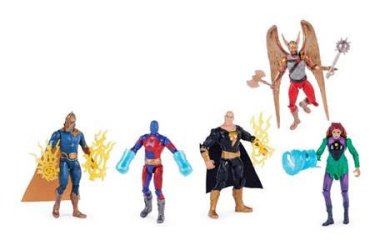 Get ready to bring these characters to life! Each 4-inch figure features incredible details, authentic Black Adam movie styling and 9 points of articulation, so you can pose them into dynamic stances and recreate epic adventures. Collect Black Adam, Hawkman, Dr. Fate, Atom Smasher and Cyclone in the 4-inch scale. Each figure comes with 2 accessories. Figures sold separately.
MSRP: $8.99. Age: 3+. Available at
Amazon
,
Walmart
and
Target
Black Adam 12-inch Action Figures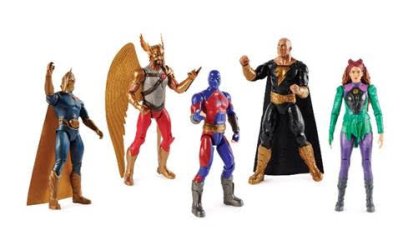 Black Adam, Hawkman, Dr. Fate, Atom Smasher and Cyclone come in 12-inch form! These action figures feature 11 points of articulation, incredible details and true-to-film movie styling. Engage your imagination, take down evil, and pose your figures however you'd like! Each sold separately.
MSRP: $10.49. Age: 3+. Available at
Amazon
,
Target
and
Walmart
Black Adam Power Punch Black Adam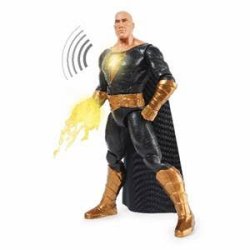 Unleash justice on the modern world with this poseable, 12-inch Black Adam feature figure with 11 points of articulation, authentic move sculpts and detailing. Squeeze Black Adam's legs to throw a power punch at enemies. Press his chest to light it up and hear 20+ movie phrases and sounds. Includes two interchangeable accessories—punch blast and lightning—with unique sounds and light effects.
MSRP: $24.99.
Age: 4+. Available at
Amazon
,
Target
and
Walmart
.

Black Adam Hawk Cruiser Patrol Play Set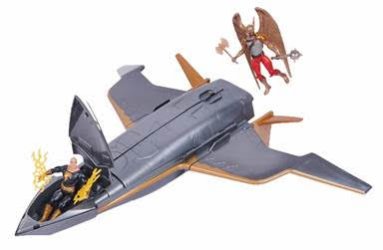 With an impressive 16-inch wingspan, the Hawk Cruiser Patrol playset is sure to be a movie merch favorite! Recreate epic movie action at home with this authentic Hawk Cruiser featuring detailed sculpt and movie styling, plus two included 4-inch figures of Black Adam and Hawkman. Open the bay doors, load Black Adam and Hawkman into the Hawk Cruiser and go wherever the action happens. Compatible with all 4-inch action figures.
MSRP: $34.99. Age: 4+. Available at
Amazon
,
Target
and
Walmart