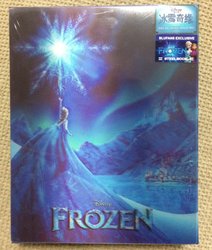 Here is a mini GB for Blufans Frozen. The item is new and sealed, the number will be sent randomly.
The price include international shipping will be :
Ultimate(1)
: 130USD
Empty gift box
: 50USD
If you are in Africa or S.America or Iceland, the price may higher because of the distance.
There is no quantity limit for member. However the total quantities is
VERY
limited.
You are welcomed to combine shipping with my other GB.
Imovie Let the Bullet Fl
Blufans Kung Fu Panda
Blufans WallE lenticular
Kimchi Cinderella
Hdzeta Saving Private Ryan
Also, there are some blufans leftovers.Most of them only 1 in stock.
Wait Alone digibook
45USD
Face Off(1)
60USD
Jacker Reacher(1)
60USD
Rocky(1) NO.017
75USD
G.I Joe(1) No.017
75USD
Thor 2 Dark World Lenti Slip(1)
100USD
Please leave the quantities you need and pay to
lingliww@sina.com
. When you pay, pls cover 5% pp fee. Thanks.
1,
MCMXCII
Olaf RH216769508CN
2,
Joe
Olaf RH216769485CN
3-5,
SK117
Elsa,Anna,Ultimate RH028073348CN
6,
Bengaloo
Olaf RH216769508CN
7,
amicro

Ultimate

RH027694408CN
8,Hiroyuki Ultimate RH028073759CN
9,jammmy Ultimate RH027694399CN
10,damdos94 Ultimate RH027524973CN

11,Shayid Ultimate RH026927755CN
12,Ultron96

Ultimate RH027351116CN
13,
AFCFanChris
Ultimate RH227264284CN
14,Maximus15 Olaf RH030885230CN
15,ste22 RH031100295CN
16,BulleTooth13 Ultimate Paid
17,nycomet Ultimate LN158784675CN
18,
Sajid Ali
Ultimate
Last edited: