Official HDN release videos on Youtube
This HDN Exclusive Edition is limited to 500 total across all 3 versions.
*All tripacks editions are sold out.
A few single editions still available at
http://shop.hidefninja.com/collecti...ae-tripack-hidefninja-black-label-exclusive-1
Order a single copy here:
3 variants:
Vincent Aseo
[SOLD OUT]
Quiltface
[SOLD OUT]
The Dark Inker
[SOLD OUT]
Actual pics, courtesy of @Hamill82
Official Synapse Press Release/Info on Disc/Extras:
A 3-DISC (BLU-RAY, DVD & CD) LIMITED STEELBOOK™ EDITION OF DARIO ARGENTO'S HORROR CLASSIC! ONLY 3000 UNITS PRODUCED!
Italian terror master Dario Argento elevates the Giallo genre to new heights with 1982's TENEBRAE, a darkly humorous, futuristic and notoriously grisly horror film many consider to be one of his finest works.
American mystery author Peter Neal (Anthony Franciosa) comes to Italy to promote his newest novel, TENEBRAE. Unfortunately, a razor-wielding serial killer is on the loose, taunting Neal and murdering those around him in gruesome fashion just like the character in his novel. As the mystery surrounding the killings spirals out of control, Neal investigates the crimes on his own, leading to a mind-bending, genre-twisting conclusion that will leave you breathless!
This all-new 1080p high-definition release of TENEBRAE is presented here, for the FIRST TIME EVER, with rare English insert shots never-before-seen on any optical disc release! Starring John Saxon (A NIGHTMARE ON ELM STREET), Daria Nicolodi (Dario Argento's PHENOMENA) and John Steiner (CALIGULA), this slasher-horror classic also features an amazing music score from Claudio Simonetti, Fabio Pignatelli and Massimo Morante (formerly of Italian progressive-rock band, Goblin).
RAZOR-SHARP SPECIAL FEATURES INCLUDE:




All-new Synapse Films supervised color correction and restoration of a 1080p scan from original uncut negative elements, presented in the original aspect ratio of 1.85:1

Dual English and Italian language options with newly-translated English subtitle tracks for both

Audio commentary track featuring film critic and Argento scholar, Maitland McDonagh

Original international trailer

Booklet containing liner notes by Derek Botelho, author of THE ARGENTO SYNDROME, with additional technical notes by Vincent Pereira and Don May, Jr.

Collectible Steelbook™ Packaging by Silver Ferox Design
SPECIAL FEATURES EXCLUSIVE TO THE BLU-RAY DISC INCLUDE:




Rare high-definition 1080p English sequence insert shots, playable within the film via seamless branching

Feature-length in-depth documentary, YELLOW FEVER: THE RISE AND FALL OF THE GIALLO by High Rising Productions, chronicling the giallo film genre from its beginnings as early 20th century crime fiction, to its later influences on the modern slasher film genre. Featuring interviews with Dario Argento, Umberto Lenzi, Luigi Cozzi, Lamberto Bava, Richard Stanley, and more!

Original UNSANE (U.S. version of TENEBRAE) end credits sequence

Alternate opening credits sequence

Japanese SHADOW theatrical trailer
INCLUDES A BONUS COMPACT DISC (19 Tracks) featuring an all-new 2015 remaster of the TENEBRAE motion picture soundtrack, containing additional tracks not included on the original 1982 album.
BLU-RAY SPECIFICATIONS
Video: High-Definition 1080p Widescreen (1.85:1) Presentation / AVC Codec
Audio: DTS-HD MA English 2.0 Mono / DTS-HD MA Italian 2.0 Mono
Subtitles: English
REGION: A
DVD SPECIFICATIONS
Video: Anamorphic Widescreen (1.85:1) Presentation / NTSC
Audio: Dolby Digital English 2.0 Mono / Dolby Digital Italian 2.0 Mono
Subtitles: English
REGION: 1
Standalone Steelbook available at:
synapse-films.com
Edition Details:
Original WEA slip box art work by
3
distinguished, accomplished artists
Brushed alloy limited edition exclusive 'Black Label' sticker
Matching artist-designed HDN Exclusive Art Challenge Coins
Matching artist-designed silk-screened art cards with one metallic ink
Order the Platinum, Gold or Silver tripack here
[ALL PACKAGES SOLD OUT]
Sneak peek of stunning art coins:
Beautiful slips by our 3 artists:


Actual pics of Steelbook case (glossy):


Premium envelope for cards: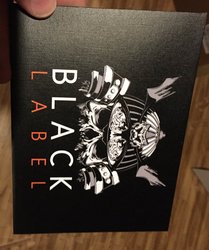 TRIPACK PURCHASES
[SOLD OUT]
Option A - Platinum
. ONLY 10 platinum packages. For price of
$174.99
you get all the slips, cards, and both BLACK and RED challenge coins. Guaranteed red coins.
1 of EACH in Black & Red COINS.
Low number sticker first come first served based on order number!
​
[SOLD OUT]
Option B - Gold.
Only 20 gold packages. For price of
$164.99
you get all the slips, cards, BLACK coins.
Guaranteed 1 red coin of your three coins
, or
RANDOM winners, all 3 coins as red
. Random insertion into these packs. Low number sticker first come first served based on order number!
​
[SOLD OUT]
Option C - Silver.
Only 20 silver packages. For price of
$159.99
, you get all slips, cards, and Black coins. Random award of SINGLE red coin!!! 1 out of every 2 packages will get a red.
50% chance for a red coin of your three coins!
Some might just receive all black coins!
Low number sticker first come first served based on order number!
​
SINGLE EDITION PURCHASES
*21% chance to get a red coin in single pack allocation, all members will get either a black or red coin with their purchase.
ASEO - $49.99
DARK INKER -$49.99
[SOLD OUT]
QUILTFACE - $49.99
Last edited by a moderator: