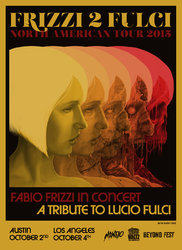 The day before Mondo Con kicks off features an event of RAD proportions!
Mondo & Death Waltz Recording Co are pleased to announce they are presenting the first ever US performance of Italian Composer Fabio Frizzi, and his traveling Frizzi 2 Fulci live show.
Fabio will be joined on stage by his 8-piece Frizzi 2 Fulci Orchestra, performing suites from such classic Italian horror films such as ZOMBI 2 (AKA ZOMBIE FLESH EATERS), SEVEN NOTES IN BLACK, THE BEYOND, CITY OF THE LIVING DEAD, MANHATTAN BABY and more. Orchestral performances will also be accompanied by live visuals derived from Fulci's iconic filmography.
Highly influential to this day, Fabio Frizzi is one of the most celebrated Italian film composers, and respected in the same iconic pantheon as Ennio Morricone, Bruno Nicolai, Goblin and Gianni Ferrio. Frizzi's influence has been cited by a vast range of contemporary artists ranging from Boards Of Canada to Wu Tang's RZA, and he is heavily referenced by the rising stars of synth-horror including Umberto and Zombi. Frizzi's work also resonate with cinephiles as Quentin Tarantino used the theme from SEVEN NOTES IN BLACK for his soundtrack to KILL BILL VOL 1.
Ticket price: $40 general admission / $90 VIP
VIP package is limited to 50 tickets and includes:
Meet and greet signing session with Fabio Frizzi
Early entry to view soundcheck
First access to seating
A lathe-cut square shaped clear vinyl 7" pressed exclusively for VIP ticket holders (50 only, one time pressing)
Last edited: