Super Moderator
Super Moderator
Premium Supporter
Tomorrow, Tuesday June 29th we will be releasing a brand new, officially licensed Flash Gordon screen print by award-winning illustrator Peter Diamond and we would be very grateful if you had the opportunity to feature it on your website!
Peter's work has been exhibited across the world and has been featured on websites like Juxtapoz, Comics Alliance, and Squidface & The Meddler. He has been published in books by Taschen and Die Gestalten; and the Eisner-award winning Little Nemo: Dream Another Dream as well as previously working with Black Dragon Press and Bottleneck Gallery.
Peter grew up in Canada and studied Fine Arts at NSCAD University in Halifax, Nova Scotia and is now based in Vienna, Austria.
Flash Gordon will be printed by White Duck and comes in a regular edition of 250, and a matte foil variant of 150.
We have also re-stocked Florey's Flash Gordon collector coin along with a small number of pin sets. Last time we released the coins, they sold out super quick, and we are pleased to have a small number back in stock!
Flash Gordon by Peter Diamond will be available exclusively at Vice Press at 6pm British Summer Time on Tuesday the 29th of June www.Vice-Press.com.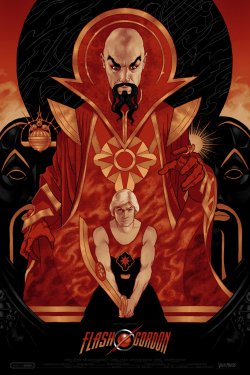 Flash Gordon by Peter Diamond
Edition of 250
24x36 inches
Hand numbered screen print
Printed by White Duck
£44.99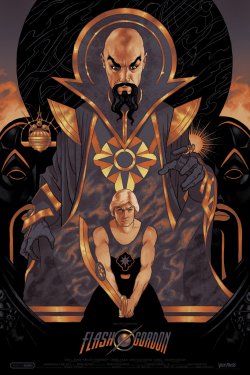 Flash Gordon Foil Variant by Peter Diamond
Edition of 150
24x36 inches
Hand numbered screen print
Printed on matte gold mirri foil
Printed by White Duck
£54.99