Super Moderator
Super Moderator
Premium Supporter
Tomorrow we've got two new posters for a pair of new films we're really excited about. First up is a new film from our friends at Neon called PIG. There's not a whole lot else to say other than this movie features an incredible performance by Nic Cage as a truffle hunter whose pig gets stolen. Watch it. We're proud to have this new poster with positively gorgeous new artwork from Teagan White.
Next up is another new release: Navot Papushado's hyper kinetic, action-noir-beat 'em up GUNPOWDER MILKSHAKE. This film is a lot of fun, features some great fight scenes (keywords: duct tape), and a wonderful ensemble of talent led by the awesome Karen Gillan. We worked with our friends over at Netflix on this poster. Greg Ruth lent his talents for this bonkers illustration and we love it. There were mini-posters included as giveaways for folks who went to the premiere screening at the New Beverly yesterday, but here's your shot at a full-size screenprinted version!
Both posters available tomorrow, July 16th, at 12 PM CT on
The Drop
.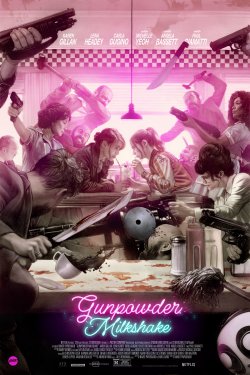 GUNPOWDER MILKSHAKE Screenprinted Poster
Art by Greg Ruth
$50
Edition Size - 145
24 x 36
Printer - DL Screenprinting