[CONTAINER][MOVIE1]
Title:
Independence Day Sequel (2016)
Genre:
[GENRE]Action[/GENRE], [GENRE]Adventure[/GENRE], [GENRE]Science Fiction[/GENRE]
Director:
[DIRECTOR]Roland Emmerich[/DIRECTOR]
Cast:
[ACTOR]Liam Hemsworth[/ACTOR], [ACTOR]Bill Pullman[/ACTOR], [ACTOR]Jeff Goldblum[/ACTOR], [ACTOR]Charlotte Gainsbourg[/ACTOR], [ACTOR]Jessie Usher[/ACTOR], [ACTOR]Patrick St. Esprit[/ACTOR]
Plot:
Plot is unknown.[/MOVIE1][POSTER1]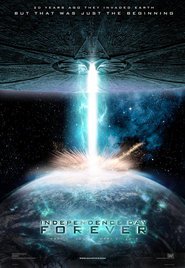 [/POSTER1][/CONTAINER]
IMDB links:
ID Forever Part I
ID Forever Part II
Per Coming Soon:
Nearly 17 years after the original hit theaters, a two-film sequel to Roland Emmerich's Independence Day is in the planning stages. Tentatively titled ID Forever, Part I and ID Forever, Part II, the film will, according to a new report from EW, pick up 20 years after the original.

"The humans knew that one day the aliens would come back," says Emmerich. "And they know that the only way you can really travel in space is through wormholes. So for the aliens, it could take two or three weeks, but for us that's 20 or 25 years."

Emmerich goes to say that, while Bill Pullman is set to reprise his role as President Whitmore, leading man Will Smith has not signed on to return as Captain Steven Hiller. The film will, instead, follow the character's stepson, Dylan, in addition to a number of new, younger leads.

"It's a changed world," Emmerich says of the world's post-invasion reality. "It's like parallel history. [Humans] have harnessed all this alien technology. We don't know how to duplicate it because it's organically-grown technology, but we know how to take an antigravity device and put it in a human airplane."

Scripts for both sequels are now being rewritten by James Vanderbilt, who worked with Emmerich on his latest, White House Down, slated to hit theaters June 28.
Last edited by a moderator: