[CONTAINER][MOVIE1]
Title:
It's Only the End of the World (2016)
Genre:
[GENRE]Drama[/GENRE]
Director:
[DIRECTOR]Xavier Dolan[/DIRECTOR]
Cast:
[ACTOR]Marion Cotillard[/ACTOR], [ACTOR]Léa Seydoux[/ACTOR], [ACTOR]Vincent Cassel[/ACTOR], [ACTOR]Gaspard Ulliel[/ACTOR], [ACTOR]Nathalie Baye[/ACTOR]
Release Date:
[RELEASE]2016-01-01[/RELEASE]
Runtime:
[RUNTIME]0[/RUNTIME]
Plot:
A writer returns to his hometown with the intention of telling his family that he's dying.[/MOVIE1][POSTER1]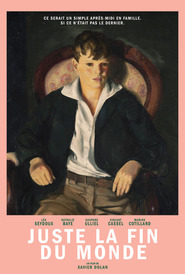 [/POSTER1][/CONTAINER]
title : It's Only the End of the World [2016], original French : Juste la fin du monde
director : Xavier Dolan (Mommy)
plot : After 12 years of absence, a writer goes back to his hometown, planning on announcing his upcoming death to his family. As resentment soon rewrites the course of the afternoon, fits and feuds unfold, fuelled by loneliness and doubt, while all attempts of empathy are sabotaged by people's incapacity to listen and love.
cast : Marion Cotillard , Vincent Cassel , Léa Seydoux
note : future PA release ?
Last edited by a moderator: