EDIT:Shop closed for now.
Hi All

I'm selling a few steelbooks to acquire some funds to feed my ever growing digital movie library.

Postage costs from Japan are actually quite good. I'll get exact quotes per order, but a rough guide is:
(SAL shipping with tracking and insurance. Takes about 3 weeks)
1 steelbook: $9.50
2 steelbooks: $12
3 steelbooks: $14.50
1 premium steelbook: $13
2 premium steelbooks: $17
Faster shipping is available but costs more.
Paypal as gift or please add 5%

Individual photos on request

Sealed and new Steelbooks: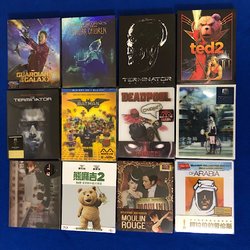 Terminator Genisys (Filmarena) $33
Ted 2 (Filmarena) $35
Deadpool (Manta Lab) $93
JSA (Nova) $35
Ted 2 (Taiwan?) $32
Moulin Rouge (Blufans) $50
Laurence of Arabia (HD Zeta) $40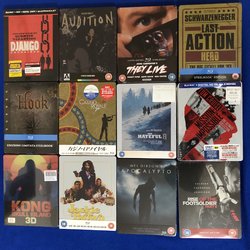 Django Unchained (USA) $20
Audition (UK) $20
They Live (UK) 43
Last Action Hero (UK) 43
Hook (Italy) $23
Casino Royale (Japan) $30
Kong Skull Island (Thailand) $30
Jackie Brown (UK) $33
Apocalypto (UK) $28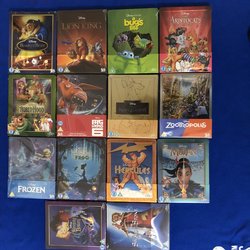 The Girl who Leapt through Time (Nova Media)
Terminator (HDZeta)
Guardians of the Galaxy Ultimate (Blufans)
Miss Peregrine's home for Peculiar Children (Filmarena)
LEGO Batman movie (Manta Lab)
Mission Impossible Ultimate Collection (Canada)
Beauty and the Beast
The Lion King
Robin Hood
The Princess and the Frog
Hercules
Mulan (small tear in plastic)
Sleeping Beauty
The Sword in the Stone
A Bug's Life
The Aristocats
Big Hero 6
The Emperor's New Groove
Zootopia Zotropolis
Frozen
Hateful 8 (UK)
Last edited: