Est. 2011
Super Moderator
Premium Supporter
Exclusive to Yes24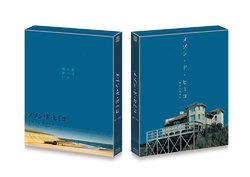 Announced today on The Blu Collection Facebook page.
Scheduled for release TBA 2014.
More info to come!
View attachment 67402
About LA MAISON DE HIMIKO:
Saori is a young woman who struggles to make a living, with no financial or romantic prospects in her life. One rainy day, she receives a visit at work from a handsome young man called Haruhiko. He claims to be the boyfriend of her estranged father, Himiko, who now runs a seaside rest home for elderly gays. He tells her that her father is dying of cancer. Saori still harbors resentment toward her father for abandoning her and her mother years ago. However, Haruhiko makes her a financial offer she can't refuse, and she agrees to go and work at House of Himiko.
Last edited: