Release date:
May 20, 2016
Purchase link:
Amazon DE
(currently unavailable)
Price:
TBA
Note:
Rating and BD logos are stickers only as usual with Capelight releases.
Final Artwork: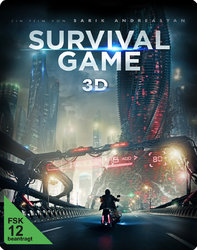 Capelight announced a limited cinematic screening in Germany for the russian movie
"Mafia: Survival Game" (2016)
, which is called the russian version of "Battle Royale", for March. They also announced the home video release of the movie and confirmed a
3D Steelbook
will be released, most likely in 2016.
http://capelight.de/survival-game
A twist on the classic game of Mafia. 12 competitors take part in a game of life and death where the innocent must take out the Mafia in order to win the cash prize. Those that are voted out must face their biggest fears in a computer simulation.
(Source: IMDb)
Last edited: