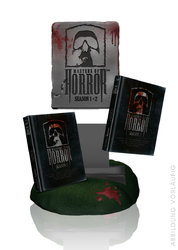 translate via google:
MASTERS OF HORROR p. 1 + 2 - UNCUT incl. NEW bonus material
Hello, now it's nearly time, Christmas is coming and the new year is within reach. For the start of the new year, we have something very special for you at the start. We were able to make a very nice deal with the Splendid, they remastered the complete series of Masters of Horror in HD and gave us the uncut version of it exclusively. Of course there is a lot to see, such as over 20 hours bonus material, the long version of Dream Cruise, an extra bonus disc * and much more. We have made two very nice, different MBs for this edition. An old Bible, with a feel of an old book and once a beautiful artwork cover, drawn by Adrian Keindorf and both MBs have received a very nice spot varnish refinement. On top, there is also a beautiful, very limited, gravestone bust, which has the two Bibles in the bag and every season has its own Mediabook.
Everything at a glance:
- High quality bust (limited to 222 pieces)
- Incl. Nameless Bible MEDIABOOK (each season in single MB)
- Incl. Booklet written by Nando Rohner
- All follow in HD (many episodes for the first time in HD)
- Incl. NEW, never used bonus material
- Over 20 hours bonus
- Including bonus disc *
- Each season has its own Mediabook
- Exclusive long version of Dream Cruise **
Also available as INDIVIDUALS:
- Mediabook - Bible, limited to 333 pieces
- Mediabook - Artwork, limited to 444 pieces
(Season 1 + 2 - Bundle)
* this is not yet evaluated by Splendid.
** this is not evaluated by Splendid.
We hope you enjoy shopping -
www.nameless-media.de
Your Nameless Team
Last edited:
2

2