Ltd. Ed./Birthdays/Video Game Mod
Moderator
Premium Supporter
MONOPOLY®: Jurassic World™ Edition
Jurassic World MONOPOLY delivers more dinosaurs, more attractions and lots of buying and selling as you attempt to rule Jurassic World. Collectible tokens, Jurassic World money, and a custom Jurassic World dinosaur-inspired game board provide an exciting twist to classic MONOPOLY. Perfect for the Jurassic World fan or anyone who loves dinosaurs.
Ages 8+ | 2-6 Players | MSRP: $39.95
FOR SALE ONLY IN THE UNITED STATES AND CANADA.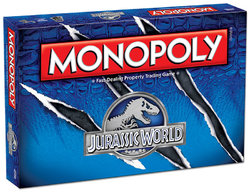 Order Online: