Super Moderator
Super Moderator
Premium Supporter
Z2 Comics
is proud to announce a collaboration with multi-GRAMMY nominated hard rock quartet
NOTHING MORE
for
NOTHING MORE: SPIRITS VOL. I
, a graphic novel that will dive deeper into the mystical narrative behind the band's upcoming LP of the same name, due October 14th via Better Noise Music. Writer
Dan Watters
(
Lucifer
,
Sword of Azrael
,
King Diamond's Abigail
) and artist
Christian Rosado
join the band for a story that ignites in 1952 and spans decades, driven by four disparate souls as their spirit selves search for greater purpose. Their trajectories will weave through continents and neighboring lives, building off
NOTHING MORE
's arcanic Spirits Test and Spirit Types—an original system developed by lead singer
Jonny Hawkins
.
"The comic book focuses on four of the Spirit Types. As we were making the album, I came up with the concept for the Spirits Test. Imagine if the zodiac had a baby with the Myers-Briggs personality test, and that baby came out fascinated by cryptic iconography and metal music… that is this test," Hawkins explains. "Each of us has a Spirit Type and this comic book is an artistic expression of how those Spirit Types come to life in a world very much like our own."
Guitarist
Mark Vollelunga
proposed a deeper exploration to be revealed in the comic, debuting in late
winter 2023
.
"I set forth on this collaboration with
Z2 Comics
, and our manager,
Will Hoffman
, with the idea to expand the
NOTHING MORE
world and elaborate on what these Spirit Types mean; where they came from and why they exist. We wanted to write stories that invoke a sense of empathy and wonder, while maintaining a personal connection to
NOTHING MORE
songs," Vollelunga continues.
"
Dan Watters
is such a brilliant, captivating writer. Both of us shared inspiration from shows like
The OA
and
Sense8
; we wanted to accentuate the differences people express when something wrecks you… and even though these differences may seem polarizing, we still need each other. These differences force us to survive and grow. This story shows that great strength and mutual respect come to those who learn how to embrace one another."
Started in 2003 by
Hawkins
and
Vollelunga
in San Antonio, Texas,
NOTHING MORE
has ascended to be one of the most respected hard rock outfits touring today, merging careening melodies with dynamic arrangements and pounding rhythms. Their 2017 breakthrough LP
The Stories We Tell Ourselves
garnered three GRAMMY nominations, cementing the group as one of the most ambitious and honed bands in their genre and beyond. The group will embark on a national tour from August to October alongside In This Moment.
"
NOTHING MORE
's songs have consistently challenged their audience to refuse a passive approach as they navigate life,"
SPIRITS VOL. I editor Rantz Hoseley
says. "Songs like 'Tired of Winning' dare the listener to not simply accept the life they are told awaits them, and to question assumptions fed to them by the powers that be. That outlook served as the backbone running through the core of the graphic novel. It's a vital element that influenced every aspect of developing this book with the band, making it such a rewarding experience where we've all pushed each other to not simply create a 'comic book,' but to conjure a new mythos that, like the new album and the Spirits Test, can inspire the audience to become the best versions of themselves."
Z2 Comics
and
NOTHING MORE
present
NOTHING MORE: SPIRITS VOL. I
in hardcover, as well as an oversized hardcover deluxe, and an oversized hardcover deluxe hand-signed edition. Ghonz provides cover art.
NOTHING MORE
will offer an exclusive softcover "Tour" edition with cover art courtesy
Christian Rosado
at
store.nothingmore.net
. Deluxe editions include an ornamental octahedron as well as four (4) Spirit Art Prints and Spirit Cards representing the eight (8) Spirit Types.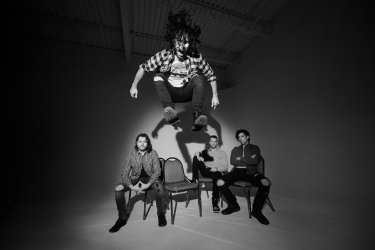 About Nothing More:
Rock audiences count NOTHING MORE among the most cherished acts, the kind of band who straddle the line between populism and intimacy with every performance. The San Antonio, Texas-born quartet builds unapologetically massive anthems from catchy hooks. Crowd-pleasers clear a path for heady, confessional, thought-provoking emotionalism. Fresh rewards reveal themselves with repeat listens, welcoming like-minded seekers with rich melodicism, like the best of Deftones or Tool. Those who saw the band on tour with hard rock heavyweights like Shinedown, Five Finger Death Punch, Breaking Benjamin, Papa Roach, and Disturbed will attest to what The Guardian observed: "There's a sophistication to NOTHING MORE's angst that raises them above the tumult-tossed pit." Kerrang! named NOTHING MORE one of 22 Artists Shaping the Future of Rock, alongside Nine Inch Nails, Twenty One Pilots, and Bring Me The Horizon. And frontman Jonny Hawkins, who met guitarist Mark Vollelunga before they were old enough to drive, appeared with Billie Joe Armstrong, Dave Grohl, and Hayley Williams in the English tastemaker's Top 50 Greatest Rockstars in the World.Hawkins and Vollelunga started the band in 2003 and were quickly joined by bassist Daniel Oliver and later by drummer Ben Anderson. The band's blend of explosive bombast and nuanced storytelling resulted in a half dozen Top 10 singles at Mainstream Rock Radio, including the No. 1 hit "Go to War" and the Sirius XM Octane song of the decade and Active Rock chart-topper "This is the Time (Ballast)." The Stories We Tell Ourselves earned a head-turning three Grammy nominations. They're set to follow it up with a new album in 2022, which is filled with their most philosophical and primal music to date. The first offering, "TURN IT UP LIKE," released in March 2022, is a fitting first taste of what's to come. NOTHING MORE appeals to fans of Linkin Park, Incubus, Rage Against The Machine, and all crucial acts that stoke relatable passion with authenticity and integrity. Memorize the arena-ready hooks. Get mesmerized by the intimate, communal live show. Dig deeper down the rabbit hole into the work of philosophers and artists like Eckhart Tolle, Carl Jung, and Alan Watts, who inspire the band. There's a place for every type of rock fan with NOTHING MORE. Built to last, here to stay.
Bundle Options​
$24.99 EXCLUSIVE TOUR EDITION (SOFTCOVER) INCLUDES:
Tour Edition Graphic Novel (SC)
Special Edition cover art by Christian Rosado
Tour Edition is available for purchase exclusively at store.nothingmore.net and in person at Nothing More's concert venues
$29.99 STANDARD EDITION (HARDCOVER) INCLUDES:
Standard Edition Graphic Novel (HC)
$99.99 DELUXE EDITION (OVERSIZED HARDCOVER, LIMITED EDITION OF ONLY 1999) INCLUDES:
Deluxe Edition Graphic Novel (Oversized HC)
Graphic Novel Slipcase
Four (4) Nothing More Spirit Art Prints
Eight (8) Nothing More Spirit Cards
$199.99 SUPER DELUXE EDITION (HAND-SIGNED BY NOTHING MORE, OVERSIZED HARDCOVER, LIMITED EDITION OF ONLY 999) INCLUDES:
Deluxe Edition Graphic Novel (Oversized HC)
Signed by NOTHING MORE
Graphic Novel Slipcase
One (1) Eight-Sided Nothing More Spirits Octahedron
One (1) Nothing More Spirits enamel pin
One (1) Nothing More Spirits Album with exclusive pink quartz color way
Four (4) Nothing More Spirits Art Prints
Eight (8) Nothing More Spirit Cards
Creator Credits
ARTIST(S): Christian Rosado
WRITER: Dan Watters
EDITOR: Rantz Hoseley
ASSOCIATE EDITOR: Jasminne Saravia
COLORS: DC Alonso
COVER ARTISTS: Ghonz with special tour edition cover by Christian Rosado
DESIGNER: Lauryn Ipsum
Tied to themes of Nothing More's hotly anticipated new album, SPIRITS VOL I is a globe-spanning puzzle box narrative written by Dan Watters (King Diamond's Abigail, Lucifer, Azrael). This powerfully human epic follows the lives of four individuals from1952 to modern day, and examines how the...