Contributor Steels/Arrow
Contributor
Premium Supporter
Release Date:
16th February 2016
USA release only
Purchase Links:
Amazon USA
Price:
$29.95
Diabolik DVD
Price:
$21.99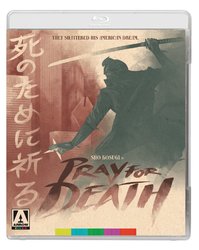 Pray for Death will only be available from US stores, it won't be on our site or any UK sites as we only have US rights so cannot sell it outside the US.
Region: A
THEY SHATTERED HIS AMERICAN DREAM.
In Pray for Death, martial arts legend Sho Kosugi (Enter the Ninja, Ninja 3: The Domination) stars as a family man driven to exact vigilante justice – ninja style!
Japanese Restauranteur Akira (Kosugi) has taken his wife and two boys to the United States in search of a better life. But their slice of the American Dream is quickly soured when they fall foul of a group of vicious jewellery thieves. Unfortunately for the bad guys, they didn't count on Akira being a secret black ninja.
The samurai sword of vengeance falls swift and hard in this classic slice of '80s ninja action from director Gordon Hessler (Scream and Scream Again, The Golden Voyage of Sinbad), culminating in an action-packed showdown with a bodycount worthy of Commando.
·
SPECIAL EDITION CONTENTS:
•High Definition Blu-ray (1080p) presentation from a transfer of original elements by MGM of the unrated version
•Optional English SDH subtitles for the deaf and hard of hearing
•Brand new interview with star Sho Kosugi
•Archive interview and Ninjutsu demonstration with Kosugi from the film's New York premiere
•Original Theatrical Trailer
•Reversible sleeve featuring original and newly commissioned artwork by Matthew Griffin
•Collector's booklet featuring an extract from Sho Kosugi's upcoming biography
Last edited: