[CONTAINER][MOVIE1]
Title:
Resident Evil: Afterlife (2010)
Tagline:
She's back...And she's bringing a few of her friends.
Genre:
[GENRE]Action[/GENRE], [GENRE]Adventure[/GENRE], [GENRE]Horror[/GENRE], [GENRE]Science Fiction[/GENRE]
Director:
[DIRECTOR]Paul W.S. Anderson[/DIRECTOR]
Cast:
[ACTOR]Milla Jovovich[/ACTOR], [ACTOR]Wentworth Miller[/ACTOR], [ACTOR]Ali Larter[/ACTOR], [ACTOR]Kim Coates[/ACTOR], [ACTOR]Kacey Barnfield[/ACTOR], [ACTOR]Shawn Roberts[/ACTOR], [ACTOR]Sergio Peris-Mencheta[/ACTOR], [ACTOR]Boris Kodjoe[/ACTOR], [ACTOR]Sienna Guillory[/ACTOR], [ACTOR]Spencer Locke[/ACTOR], [ACTOR]Norman Yeung[/ACTOR], [ACTOR]Ray Olubowale[/ACTOR], [ACTOR]Christopher Kano[/ACTOR], [ACTOR]Tatsuya Goke[/ACTOR], [ACTOR]Fulvio Cecere[/ACTOR]
Release Date:
[RELEASE]2010-09-09[/RELEASE]
Runtime:
[RUNTIME]97[/RUNTIME]
Plot:
In a world ravaged by a virus infection, turning its victims into the Undead, Alice continues on her journey to find survivors and lead them to safety. Her deadly battle with the Umbrella Corporation reaches new heights, but Alice gets some unexpected help from an old friend. A new lead that promises a safe haven from the Undead takes them to Los Angeles, but when they arrive the city is overrun by thousands of Undead - and Alice and her comrades are about to step into a deadly trap.[/MOVIE1][POSTER1]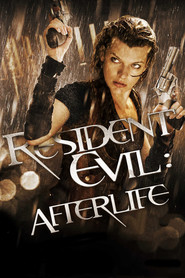 [/POSTER1][/CONTAINER]
Film enthusiasts Shocktillyoudrop.com have got wind that Sony Pictures is aiming to have Resident Evil: Afterlife in theatres on September 17, 2010, citing info obtained via a ?studio insider.?
Some of you may recall director Paul W. S. Anderson mentioning late last year that he was in the process of working on a script for the long rumored zombie sequel, which will supposedly be set in Alaska and Tokyo. Anderson also divulged that Capcom was getting involved with the project.
Little else is known on the film, including whether or not Milla Jovovich intends on reprising her role as virus-enhanced zombie slayer Alice. Given the conclusion of RE: Extinction, though, we reckon there?s a high probability.
Stay tuned for more information as it breaks.
________
Wendie 99
Last edited by a moderator: