Hi there -

in urget need of selling part of my collection.

All items are
sealed and mint
, unless stated otherwise. They come from a smoke-free, pet-free home and most of them are in the exact same condition as the day they arrived


Additional photos upon request.

Prices
include PP fees
and are
negotiable
, especially if you take several items.
Most items are also open to
trades
.
These would be my
highest wants
:
STEELBOOKS:
- Blufans Premium Steelbooks
- Dr Who Series 9, Amazon Excl. Steelbook
- Sherlock Holmes 1-4, HMV Excl. Steelbook
- Martian, extended version, ZAVVI Steelbook
COLLECTOR'S EDITIONS:
- Lost, The Complete Series, US
- Charmed, The Deluxe Book of Shadows, US
- Godfather trilogy, wooden box, Japan
DIGIPACKS:
- The Amazing Spider-Man, digipack, Japan
SLIPS:
- Pet Sematary, lenticular
- Trick 'r Treat, lenticular

Items are also on sale/offered for trade elsewhere (my blog, other forums).

SHIPPING
:
- EUROPE: registered with tracking via GLS courier
- ROW: registered priority airmail (no tracking number, but you do need to sign for the package)

I'm not an eBay seller, but I use/d the same nickname in other forums (the late Import Forums, See-nema, etc). Most of the buying/selling I've done here anyway, so please feel free to check feedback.

Thanks for stopping by, I appreciate your time

DIGIBOOKS/DIGIPACKS:
Alice in Wonderland (OOP Triple Play digipack), slight dent on spine = 18 EUR

Dirty Dancing, Keepsake edition (UK) = 18 EUR

Gangster Squad (FR), slight dent on spine = 10 EUR

Hansel and Gretel 3D (Target Exclusive) = 50 EUR

Hobbit: An Unexpected journey = 35 EUR

Illuminati (Angels and Demons) (DE) = 35 EUR

Les Miserables (UK) = 18 EUR

Matrix (DE) = 18 EUR

Schindler's list (UK) = 35 EUR
SPECIAL/COLLECTOR'S EDITIONS:
1. Sex and the City: The Movie (The Wedding Collection) (US), DVD
Condition: near mint, opened, discs never played
Trade or sale for
15 EUR
2. The Lion King (Disney Special Platinum Edition, Collector's Gift set) (US), DVD
Condition: good (has a dented corner), opened, discs never played; very rare and OOP
Reserved
3. The Lion King 1-3 (Trilogy, Wooden Box Limited Edition) (DE), BD
Condition: mint, sealed
Trade or sale for
100 EUR
4. Ratatouille Coffret Deluxe, Collector's Box (FR), 3D + 2D BD
Condition: mint, sealed, digipack inside
Trade or sale for
38 EUR
5. The Wizard of Oz, 75th anniversary edition (US), 3D + 2D BD
Condition: near mint, opened, discs never played
Trade or sale for
50 EUR
6. Carriers (Special Edition Tin including 'Survival Kit') (DE), DVD
Condition: mint, sealed
Trade or sale for
30 EUR
7. The Mist (3-disc Limited Collector's Edition)(DE), DVD
Condition: near mint, opened, discs never played; digipack, numbered
Trade or sale for
20 EUR
8. The Chronicles of Narnia: The Lion, The Witch and The Wardrobe (Ultimate Box Set, Amazon.co.uk Worldwide Exclusive Edition) (UK), DVD
Condition: good, opened, discs never played; includes book & keychain; very rare and OOP
Trade or sale for
70 EUR
9. La Môme (La Vie En Rose)(Collector's set) (FR), BD
Condition: near mint, opened, discs never played; very rare and OOP
Trade or sale for
60 EUR
10. Hellraiser: The Scarlet Box Limited Edition Trilogy by Arrow (UK), BD
Condition: sealed, OOP
Trade or sale for
100 EUR
11. National Treasure: Limited Edition Leather Set (the presidential edition) (SWE), DVD
Condition: good, opened, discs never played, no presentation box; rare and OOP
Trade or sale for
35 EUR
12. Monsters (Coffin Edition with Amarays) (FR), BD
Condition: near mint, opened, discs never played; numbered, OOP, rare
Trade or sale for
50 EUR
13. Halloween (Rob Zombie), 3-disc Limited Collector's Edition, BD
Condition: sealed, mint, numbered; digipack
Trade or sale for
35 EUR
14. The Texas Chainsaw Massacre: 40th annviersary collector's edition (US), BD
Condition: sealed, mint; digipack
Trade or sale for
32 EUR
15. The Walking Dead s4, Limited edition with PRISON KEY (US), BD
Condition: sealed, mint; digipack
Trade or sale for
60 EUR

16. Perfume: The Story of a Murderer (Wooden Box with perfume samples)(DE), DVD
Condition: near mint, opened, discs never played; OOP, rare
Note: the only difference between this set and the numbered Müller exclusive is the limitaiton number
Trade or sale for
60 EUR
17. The Big Lebowski (Tin with T-Shirt and shot glasses) (DE), DVD
Condition: sealed, mint; OOP, rare
Trade or sale for
90 EUR
18. Notebook (Collector's edition with a heart necklace and a journal) (US), BD
Condition: sealed, mint; OOP, rare
Trade or sale for
50 EUR
19. Tinker Tailor Soldier Spy (Deluxe Edition with book) (UK), BD
Condition: sealed, bent corner
Trade or sale for
25 EUR
20. Once Upon a Time in the West (US), BD
Condition: sealed, mint
Trade or sale for
30 EUR
21. The Town (US), BD
Condition: sealed, mint, digipack
SOLD elsewhere
22. Les Miserables (Target excl. with art cards) (US), BD
Condition: sealed, mint
Trade or sale for
35 EUR
23. Christmas Story (US) DVD
Condition: sealed, mint
Trade or sale for
40 EUR
24. Jurassic Park Trilogy (Wooden Box) (DE), BD
Condition: sealed, mint
Trade or sale for
140 EUR
25. Hellboy Gift Set (US), BD
Condition: sealed, mint
Trade or sale for
65 EUR
26. The Big Lebowski (Bowling edition) (US), BD
Condition: sealed, mint
Sold elsewhere
27. Nightmare Before Christmas (Gift set with bust) (US), BD, very rare
Condition: open, mint (never used, only shrink-wrap removed)
Trade or sale for
120 EUR

28. Marylin Monroe Diamond Box (Japan, DVD)
Condition: sealed, mint
Trade or sale for 90 EUR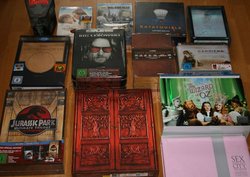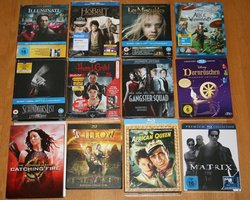 Last edited: