Super Moderator
Super Moderator
Premium Supporter
Hey everyone! We truly hope that you're staying safe and healthy out there while we try and see our way through these unusual times. We hope to brighten up your day as best we can by releasing some beautiful pieces by two artists we respect and admire greatly,
Mark Chilcott
&
Dave Perillo!
Mark has created two incredible pieces for everyone's favorite Marvel Superheroes, Spider-Man, and Daredevil. Also, as an added bonus, Mark was kind enough to offer two Original works for Daredevil and Venom that will be randomly inserted into two lucky customers' orders!
It's so great to see Dave continue his Marvel Character Series, and we have been waiting a very long time to see this one make the wall of greats. We are pleased to finally feature none other than X-Men's most revered character, Wolverine! First gracing us with his appearance in the comic world in 1974, Wolverine receives the badge of SAVAGE by Dave and what a perfect way to describe him in one word!
Spider-Man, Daredevil, & Wolverine
Goes On Sale Today, March 26th at 1 PM ET in the GMA Shop!
Spider-Man
by
Mark Chilcott
14" x 24" Hand-Numbered Fine Art Giclee (Hot Press Bright)
Edition of 75
Printed by Grey Matter Printing
$40
(Two Orders will be Randomly Selected to win an Original Drawing by Mark Chilcott)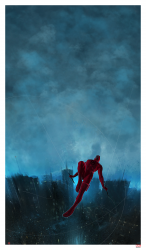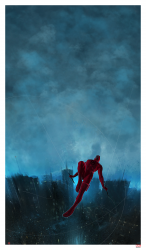 Daredevil
by
Mark Chilcott
14" x 24" Hand-Numbered Fine Art Giclee (Hot Press Bright)
Edition of 75
Printed by Grey Matter Printing
$40
(Two Orders will be Randomly Selected to win an Original Drawing by Mark Chilcott)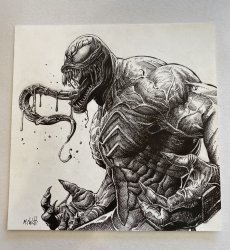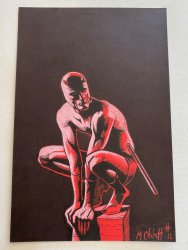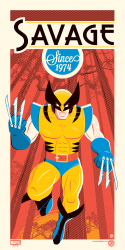 Wolverine
by
Dave Perillo
12" x 24" Hand-Numbered Screen Print
Edition of 125
Printed by DL Screen Printing
$40