Release date:
November 6, 2017
Purchase Links:
Zavvi
-
Amazon UK
-
HMV
-
Zoom UK
Price:
£99.99
(Zavvi - Zoom)
- £119.99
(Amazon - Hmv)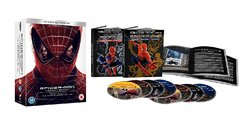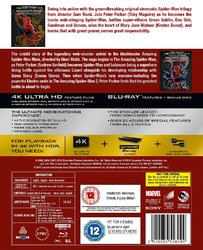 SPIDER-MAN TRILOGY – ORIGINS COLLECTION
Swing into action with the groundbreaking original cinematic Spider-Man trilogy from direction Sam Raimi. Join Peter Parker (Tobey Maguire) as he becomes the iconic web-slinging Spider-Man, battles super-villains Green Goblin, Doc Ock, Sandman and Venom, wins the heart of Mary Jane Watson (Kirsten Dunst), and learns that with great power, comes great responsibility.
THE AMAZING SPIDER-MAN – EVOLUTION COLLECTION
The untold story of the legendary web-shooter unfolds in the blockbuster Amazing Spider-Man films, directed by Marc Webb. The saga begins in The Amazing Spider-Man, as Peter Parker (Andrew Garfield) becomes Spider-Man and balances being a superhero doing battle against the villainous Lizard alongside his developing relationship with Gwen Stacy (Emma Stone). Then when Spider-Man's new enemies – including the powerful Electro – unite in The Amazing Spider-Man 2, Peter Parker finds that his greatest battle is about to begin.
Add Special Features:
EXTRAS INCLUDE:
SPIDER-MAN TRILOGY – ORIGINS COLLECTION
Spider-Man 3 Editor's Cut – All New Alternate Version of the Movie
Spider-Man 2.1 – Includes both Theatrical & Extended Versions
The Stan Lee Legacy: From Comic Book to Homecoming featurette
Over 18 Hours of Special Features from all 3 films
THE AMAZING SPIDER-MAN – EVOLUTION COLLECTION
The Stan Lee Legacy: From Comic Book to Homecoming featurette
15 Rare Archival featurettes
Over 7 Hours of Special Features from both films
Last edited by a moderator: